---
Pro and cons Nokia 2720 Flip
Folded = very compact
Room for two SIM cards (Dual SIM)
Install apps like WhatsApp and Facebook
Old-fashioned long battery life
---
Reviews about the Nokia 2720 Flip
| | | |
| --- | --- | --- |
| 5 stars | | 0 reviews |
| 4 stars | | 0 reviews |
| 3 stars | | 1 review |
| 2 stars | | 0 reviews |
| 1 star | | 0 reviews |
Give your opinion
Write your very own user opinion and let us and others know what you think about this product. Click the button to start.
---
---
Nokia 2720 Flip product details
The Nokia 2720 Flip may look a bit old fashioned, but it was announced in 2019! It's equipped with modern features like 4G and an app store where you can find apps like WhatsApp and Facebook. It's a remake of the 2009 2720 Fold and Nokia's nod to today's new modern foldable phones.
Simple but not stupid
The 2720 Flip is a simple phone but therefore a reliable one. It is a remake of the classic folding phone of yesteryear with large buttons and a folding mechanism for satisfying hang up phone calls by folding it shut. And no matter how old-fashioned this all sounds, its modern features make it totally up to date. For example, you can quickly browse the web on the go with 4G, use WhatsApp and give voice commands by using Google Assistant.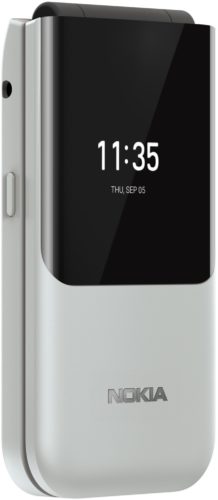 Retro but also for seniors
So the Nokia 2720 Flip is a folding phone consisting of two parts; a screen and a numeric keypad. The latter consists only of numbers. You can enter text by pressing a number several times, or via T9, which allows you to 'guess' words by pressing a number only once per letter. There is no touch screen. The screen measures a diagonal of 2.8 inches which is nowadays considered 'small'. When folded down, there is also a screen on the outside for time and notifications. The buttons and text are nice and large. This allows the 2720 Flip to also serve as a senior phone. Also because it is nice and simple without extensive menus and unnecessary functions. There is even a special button on the side to send a message, ideal for emergencies. The Flip can also ring up to 5 contacts until someone answers.
Main Nokia 2720 Flip specifications
Old and familiar design with hinge mechanism
Compact 2.8 inch color screen inside, 1.3 inch outside
4G internet on the go
2-megapixel camera on the back with flash
Run apps thanks to KaiOS operating system
Dual SIM, so room for two nano SIM cards
Memory card slot for up to 32 GB extra memory
Special emergency key on the side with call list and emergency message
No battery stress
Despite its simple appearance, the Nokia 2720 Flip is a full-fledged smartphone. That's because it runs the KaiOS operating system, which is also suitable for apps like WhatsApp and Facebook. None of this has a negative impact on its battery life. It's large and old-fashioned. Nokia itself quotes a duration of 28 days, but you are not going to achieve that in real life. Still, several days should be feasible. Ideal for those who sometimes forget to put their mobile phone on the charger for a night.
---
Most important Nokia 2720 Flip specifications
Dimensions
104.8 x 54.5 x 18.7 mm
Weight
118 grams
EAN code
6438409041975, 6438409038593, 6438409038586, 6438409038579, 6438409038562
Color display
2.8 inch, TFT
Camera
2 MP
Processor
Qualcomm 205, Dual Core
Secondary camera
Dual SIM
4G (LTE)
Internal memory
512 MB (Size (RAM)), 4 GB (Storage)
Battery
1500 mAh, user replaceable
---
Video about the Nokia 2720 Flip
HMD Global breathes new life into a Nokia classic once again. This time the 2720 Flip. The flip phone is back!
---
Alternatives of the Nokia 2720 Flip
Scroll the table below to see more
| | | | | | |
| --- | --- | --- | --- | --- | --- |
| | | | | | |
| | | | | | |
| | Current product | | | | |
| Color display | 2.8 inch, TFT | 6.1 inch, Curved Dynamic AMOLED Quad HD+, hole-punch display | 6.4 inch, Curved Dynamic AMOLED Quad HD+, hole-punch display | 6.8 inch, Dynamic AMOLED Infinity-O Display | 6.1 inch, IPS, notch |
| Camera | 2 MP | 12 MP, 12 MP, 16 MP | 12 MP, 12 MP, 16 MP | 12 MP, 12 MP, 16 MP, VGA camera | 12 MP |
| Processor | Qualcomm 205, Dual Core | 1.7 GHz, 2.4 GHz, 2.8 GHz, octa core | 1.7 GHz, 2.4 GHz, 2.8 GHz, octa core | Octa core | Apple A12 Bionic |
| Secondary camera | | | | | |
| Dual SIM | | | | | |
| 4G (LTE) | | | | | |
| Internal memory | 512 MB (Size (RAM)), 4 GB (Storage) | 8 GB (Size (RAM)), 128 GB (Storage), 512 GB (Storage) | 12 GB (Size (RAM)), 8 GB (Size (RAM)), 1 TB (Storage), 128 GB (Storage), 512 GB (Storage) | 12 GB (Size (RAM)), 256 GB (Storage), 512 GB (Storage) | 3 GB (Size (RAM)), 128 GB (Storage), 256 GB (Storage), 64 GB (Storage) |
| Battery | 1500 mAh, user replaceable | 3400 mAh | 4100 mAh | 4300 mAh | 2942 mAh |
Complete comparison between the Nokia 2720 Flip and these alternatives or compare with other models
---
Questions and answers about the Nokia 2720 Flip