---
---
Pro and cons Nokia 4.2
Dual camera for sharpness/depth effect
Special Google Assist button
Update guaranteed thanks to Android One
Premium design of rounded glass
Misses some computing power
---
Prices Nokia 4.2 Unlocked
---
Reviews about the Nokia 4.2
| | | |
| --- | --- | --- |
| 5 sterren | | 0 reviews |
| 4 sterren | | 0 reviews |
| 3 sterren | | 1 review |
| 2 sterren | | 0 reviews |
| 1 ster | | 0 reviews |
Want to earn $50?
Every month we select a winner among all user opinions that were submitted. That person wins a voucher of $50. The only thing you need to do to is write your very own user opinion and let us and others know what you think about this product. Click the button below to start.
---
---
---
Nokia 4.2 Product details
The Nokia 4.2 is a smart Android phone that provides instant access to your own personal assistant thanks to a dedicated Google Assistant button. This and other properties are combined in a product with an accessible price.
Dual camera, unlimited storage
The Nokia 4.2 is one of the cheapest Android smartphones from Nokia with a dual camera. This system consists of a 13 + 2 megapixel sensor. This allows the 4.2 depth to distinguish between foreground and background. This gives your photos a nice bokeh effect with a blurry background that makes them quickly look professional. If you are still not completely satisfied, you can edit photos directly on the Nokia 4.2. You don't have to be afraid of lack of space. The device runs Android One and you get free online storage, unlimited.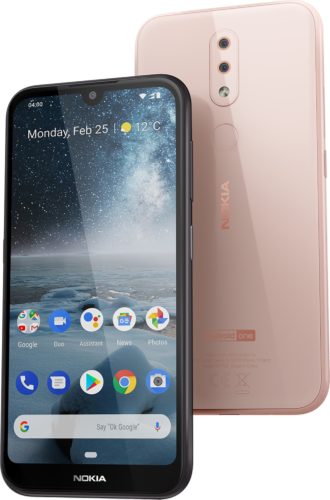 Benefit Android One and Google Assistant
Android One has even more advantages besides unlimited photo storage. It's a clean version of Android without bloatware so you have maximum space for your own apps. What's more, it's fast and requires less of your battery. It's safe, too. This way you get monthly security updates and you're guaranteed an update to the next Android version for a few more years. The Google integration is even so big that there is a special Google Assist button on the left. You use this to ask questions and give assignments so that you have your hands free for a while and can keep your eyes on something else.
Main Nokia 4.2 specifications
5.71 inch large HD+ display with rounded 2.5D glass
13+2 MP rear camera with sharpness/depth effect (bokeh)
8 MP self-image camera with wide-angle lens
Dual SIM and ability to insert memory card (max 400 GB)
Snapdragon 439 processor at up to 1.8 GHz
Snapdragon 439 processor at up to 1.8 GHz
High-speed mobile surfing thanks to 4G
Premium housing but modest computing power
Despite its relatively low price, the Nokia 4.2 is beautifully designed with premium materials. For example, both the front and back are made of high quality 2.5D glass. This is neatly rounded at the edge, so he lies comfortably in the hand. At the front is a nice large 5.71 inch screen with an HD+ resolution and 19:9 ratio. That's nice and modern and handy for watching content for a long time. The 8 megapixel self-image camera with wide-angle lens is halfway in the screen. The notch has been kept to a minimum so that the screen area is maximum. The built-in processor is of the Snapdragon 439 type, which is not Qualcomm's most powerful processor. He's not really slow, but I'm sure he's not fast either.
---
Most important Nokia 4.2 specifications
Dimensions
148.95 x 71.3 x 8.39 mm
Weight
161 grams
EAN code
6438409041135, 6438409035189, 6438409030771, 6438409030764
Fingerprint recognition
Android
9.0 (Pie)
Color display
5.71 inch, TFT, notch
Camera
13.0 Mpixel camera, 2.0 Mpixel camera, dual camera sensor
Processor
1.8 GHz, Qualcomm Snapdragon 439, octa core
Secondary camera
8.0 Mpixel camera
Dual SIM
LTE (4G)
Internal memory
2 GB, 3 GB, 16 GB, 32 GB
Battery
3000 mAh
---
Alternatives of the Nokia 4.2
Scroll the table below to see more
| | | | | | |
| --- | --- | --- | --- | --- | --- |
| | | | | | |
| Photos relative in size | | | | | |
| | Current product | | | | |
| Fingerprint recognition | | | | | |
| Android | 9.0 (Pie) | 9.0 (Pie) | 7.1 | 9.0 (Pie) | 9.0 (Pie) |
| Color display | 5.71 inch, TFT, notch | 6.1 inch, Curved Dynamic AMOLED Quad HD+, hole-punch display | 5.7 inch, IPS | 6.7 inch, Infinity U Full HD+ | 6.4 inch, Curved Dynamic AMOLED Quad HD+, hole-punch display |
| Camera | 13.0 Mpixel camera, 2.0 Mpixel camera, dual camera sensor | 12.0 Mpixel camera, 12.0 Mpixel camera, 16.0 Mpixel camera | 16.0 Mpixel camera | 32.0 Mpixel camera, 5.0 Mpixel camera, 8.0 Mpixel camera | 12.0 Mpixel camera, 12.0 Mpixel camera, 16.0 Mpixel camera |
| Processor | 1.8 GHz, Qualcomm Snapdragon 439, octa core | 1.7 GHz, 2.4 GHz, 2.8 GHz, octa core | 1.4 GHz, Qualcomm Snapdragon 430, octa core | 1.7 GHz, 2.0 GHz, Qualcomm Snapdragon 675, octa core | 1.7 GHz, 2.4 GHz, 2.8 GHz, octa core |
| Secondary camera | 8.0 Mpixel camera | 10.0 Mpixel camera | 20.0 Mpixel camera, 8.0 Mpixel camera, flash | 32.0 Mpixel camera | 10.0 Mpixel camera, 8.0 Mpixel camera |
| Dual SIM | | | | | |
| LTE (4G) | | | | | |
| Internal memory | 2 GB, 3 GB, 16 GB, 32 GB | 8 GB, 128 GB, 512 GB | 4 GB, 64 GB | 6 GB, 128 GB | 12 GB, 8 GB, 1 TB, 128 GB, 512 GB |
| Battery | 3000 mAh | 3400 mAh | 3000 mAh | 4500 mAh | 4100 mAh |
Complete comparison between the Nokia 4.2 and these alternatives or compare with other models
---
Questions and answers about the Nokia 4.2