Similar with 5.1 Plus but available
---
---
Reviews about the Nokia 5.1 Plus
| | | |
| --- | --- | --- |
| 5 stars | | 1 review |
| 4 stars | | 0 reviews |
| 3 stars | | 0 reviews |
| 2 stars | | 0 reviews |
| 1 star | | 0 reviews |
Want to earn $50?
Every month we select a winner among all user opinions that were submitted. That person wins a voucher of $50. The only thing you need to do to is write your very own user opinion and let us and others know what you think about this product. Click the button below to start.
---
---
Nokia 5.1 Plus product details
The Nokia 5.1 Plus is a mid-range smartphone made of glass. This means that it has reasonable specs for a reasonable price. We will take a closer look at all these specs in this review.
Modern screen with notch
Modern phones must have a notch nowadays. That's the bite out of the top of the screen. This Nokia 5.1 Plus also has that. The notch is needed to make room for the selfiecam and some sensors, and at the same time bring the screen as close to the edge as possible. That seems like a few millimeters after having succeeded nicely. At the bottom of the screen that is a different story, there we find a so-called chin. This space is needed for the antenna, among other things. The result is a 5.8 inch screen in as small a housing as possible. The modern 19:9 aspect ratio and the beautifully rounded 2.5G glass make it both modern and attractive.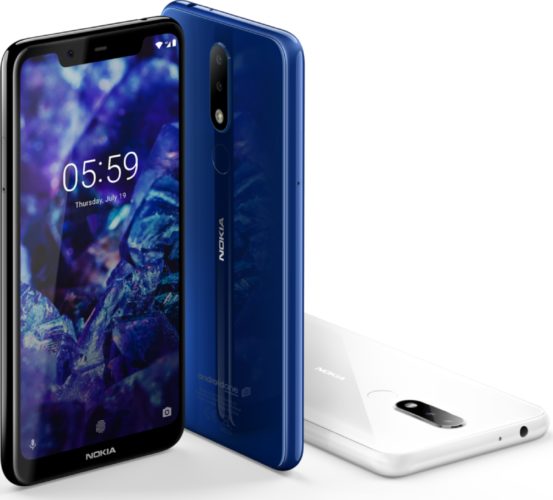 Made from glass
Premium smartphones today are no longer made of metal but of glass. This Nokia 5.1 Plus participates in that trend and therefore we find the same premium 2.5D glass with the curved edges on the back. It makes it premium but also sensitive to fingerprints. What's more, with glass, it is careful not to break it. A case can therefore not be an unnecessary luxury. On the back we also find a 13 megapixel camera that gets help from a second camera. Thanks to this combination, the 5.1 Plus can detect depth and add effects to your photos. Think of an out-of-focus background in portraits. The Nokia 5.1 Plus can add these effects automatically thanks to artificial intelligence.
Main Nokia 5.1 Plus specifications
5.8 inches large IPS screen with notch and rounded sides
13 + 5 megapixel rear camera with AI portrait mode
Sharp 8 megapixel selfie camera
Octa-core MediaTek helio P60 processor at 1.8 GHz with 3 GB RAM work memory
32 GB built-in storage (expandable with max. 400 GB)
Support for 4G for fast internet on the go
Dual SIM (nanoSIM, dual standby)
Future-proof thanks to Android One
HMD Global has further equipped the Nokia 5.1 Plus with a MediaTek Helio P60 processor of which all eight cores can run at 1.8 GHz. This is not a very high speed, but because of the many cores that are working for you, you will not notice this quickly in practice. Moreover, MediaTek has equipped the Helio P60 with NeuroPilot. This is an AI module that does deep learning so that it can better recognize faces. You will notice that in the camera. There is a headphone input and charging is done via the handy USB-C which is reversible. The storage memory is 32 GB, which can be expanded by up to 400 GB via a microSD card. The RAM memory comes out at 3 GB which is minimal for Android One (version Oreo) to run nicely. In addition, the Android One program ensures that you get monthly security updates and an Android upgrade for several years to come. This makes it future proof.
---
Most important Nokia 5.1 Plus specifications
Dimensions
149.51 x 71.98 x 8.096 mm
Weight
160 grams
Codename
Nokia X5
EAN code
6438409023377, 6438409023360, 6438409023353
Fingerprint recognition
Android
8.1
Color display
IPS, notch
Camera
13 MP, 5 MP, dual camera sensor
Processor
1.8 GHz, MediaTek helio P60, octa core
Secondary camera
8 MP
Dual SIM
4G (LTE)
Internal memory
3 GB (Size (RAM)), 32 GB (Storage)
Battery
3060 mAh
---
Video about the Nokia 5.1 Plus
HMG Global introduces 5.8-inch twin AI camera, metal fabricated and equipped with powerful octacore processor Nokia 5.1 Plus
---
---
Questions and answers about the Nokia 5.1 Plus