The Nokia 6 (2018), also known as Nokia 6.1, is an all-rounder of a smartphone at a price that is not excessive. According to Nokia, it's a device you can rely on. We find that a bit vague ourselves, so we'd like to explain what they mean by that in our own words.
Safer thanks to Android One
First some facts. The Nokia 6.1 is an Android One smartphone with a 5.5-inch screen. With Android One, you get monthly security updates and a guaranteed two-year update to a new Android version. This will keep your device up to date for a long time but also secure. That should give you some extra peace of mind. Nokia also uses a so-called IPS panel that is known for its color accuracy, even when you hold it at an angle. The screen is protected by Gorilla Glass 3 that can take a beating and is scratch-resistant. It's not rugged, but it won't break if you drop it.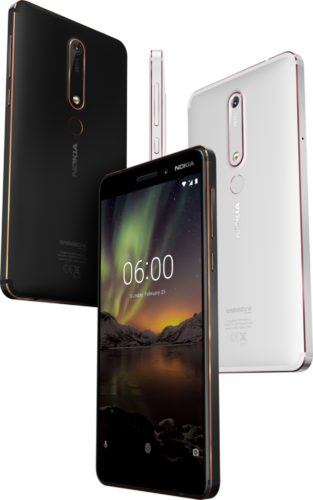 Midrange model with Carl Zeiss camera
The Nokia 6.1 (2018) is a true mid-range model. This means that the specifications are not excessive but certainly not entry-level either. On the back, for example, we find a single 16 megapixel camera with Carl Zeiss lens that does 4K video. On the front we find an 8 megapixel shooter for selfies. The Nokia 6 (2018) features a function to take a picture with both cameras simultaneously; Dual-Sight is called that. Further special attention to the video mode. Thanks to two microphones, it not only hears better, the audio quality is also higher.
Main Nokia 6.1 specifications
5.5 inch large screen with Gorilla Glass 3
16 Mpixel rear camera with 4K video + 8 Mpixel selfie camera
Snapdragon 630 processor provides enough processing power for smooth performance
Possibility to add your own memory card (up to 128 GB max)
Use two SIM cards (Dual-SIM support)
Support for fast 4G internet on the go
Functional without fuss
Haven't we mentioned its premium body yet. The sides are beveled with a diamond and feature a color accent. The housing consists of a block series 6000 aluminum. The whole is a sleek, functional and premium housing without fuss. And that is actually a good conclusion about the Nokia 6.1 2018 as a whole. A phone, functional without any fuss. Don't expect a dual camera, bold color combinations and AI marketing here. Thank goodness, because this has kept the price nice and low.