---
Pro and cons Nokia 7.2
48MP Zeiss camera
Larger HDR screen with Always-On
Promised Android updates
Great value for money
Camera module protrudes quite a bit
---
Reviews about the Nokia 7.2
| | | |
| --- | --- | --- |
| 5 stars | | 0 reviews |
| 4 stars | | 1 review |
| 3 stars | | 0 reviews |
| 2 stars | | 0 reviews |
| 1 star | | 0 reviews |
Give your opinion
Write your very own user opinion and let us and others know what you think about this product. Click the button to start.
---
---
Nokia 7.2 product details
This Nokia 7.2 is a mid-range Android phone that is going to make it very difficult for the competition. It has three cameras, including a flawless 48 megapixel shooter, a wide-angle lens and a depth camera. Each with its own goal and for every situation. Not to mention the screen.
Camera improvements
The Nokia 7.2 is the successor to the popular 7.1 from 2018 but with smaller notch, bigger screen, higher resolution cameras, faster processor, larger battery and more memory. In other words: a big improvement. The biggest is the camera. A camera lens was added and the resolution went up to 48 megapixels. The sensor is larger and extra sensitive with which it can capture more detail. Your photos do not immediately increase in size because 4 pixels are merged to 1. You shoot better exposed photos in the dark thanks to this Quad Pixel technology. Additionally, there is a wide-angle lens with a 118° angle of view, ideal for wide landscapes, and a depth of field camera with which the Nokia 7.2 can take beautiful portrait photos with background blurring.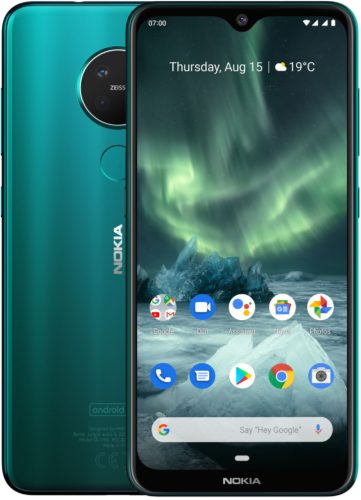 Colored HDR screen
Shot photos and videos can of course first be viewed on your phone's screen. And that's why it's important that that screen is good. The Nokia 7.2 has a larger 6.3 inch screen. This is a PureDisplay screen that can display colors better and more true to life, thanks to HDR support. The Full HD+ resolution ensures that those images are also nice and crisp. This year the screen is also a bit larger by applying a smaller notch. This notch is needed to make room for the 20 megapixel selfie camera. Instead of a rather wide bar, a smaller drop-shaped notch has been chosen.
Main Nokia 7.2 specifications
Greater 6.3-inch FHD+ PureDisplay screen with HDR and Always On-support
Triple camera system with 48 megapixel, wide-angle and depth camera
20 megapixel Quad Pixel selfie camera
2 sheets of rugged Gorilla Glass 2.5D
4G support for fast mobile internet on the go
Placing two SIM cards (Dual SIM support)
Possibility to add your own memory card (max 512 GB)
Stays relevant a long time
HMD Global, the creator of the Nokia 7.2, has designed it in a modern way with clean lines and premium materials. The rim is a polymer composite, a kind of plastic. It makes it light and strong at the same time. The front and back, however, are made of glass, the sturdy Gorilla Glass to be precise. On the back is also where we find the fingerprint scanner. Inside, a newer processor has been used. This should be energy-efficient enough to be able to move forward for two days without recharging. The Nokia 7.2 also stays fresh for a long time. This is because it also runs Android One, which provides monthly security updates and promised upgrades, including to Android 10. This means it will remain relevant for a long time after purchase.
---
Most important Nokia 7.2 specifications
Dimensions
159.92 x 75.15 x 8.25 mm
Weight
180 grams
EAN code
9504698933738, 9504466917519, 9504461821453, 9504458979112, 6438409040879, 6438409039385, 6438409035837, 6438409035820, 6438409035813
Fingerprint recognition
Android
9.0 (Pie)
Color display
6.3 inch, Full HD+ PureDisplay, notch
Camera
48 MP, 5 MP, 8 MP
Processor
Qualcomm Snapdragon 660, octa core
Secondary camera
20 MP
Dual SIM
4G (LTE)
Internal memory
6 GB (Size (RAM)), 128 GB (Storage)
Battery
3500 mAh
---
Video about the Nokia 7.2
You're looking for a good cameraphone for a modest price. Then the Nokia 7.2 seems a suitable candidate.
---
Alternatives of the Nokia 7.2
Scroll the table below to see more
| | | | | | |
| --- | --- | --- | --- | --- | --- |
| | | | | | |
| | | | | | |
| | Current product | | | | |
| Fingerprint recognition | | | | | |
| Android | 9.0 (Pie) | 9.0 (Pie) | 9.0 (Pie) | 9.0 (Pie) | 10 |
| Color display | 6.3 inch, Full HD+ PureDisplay, notch | 6.1 inch, Curved Dynamic AMOLED Quad HD+, hole-punch display | 6.4 inch, Curved Dynamic AMOLED Quad HD+, hole-punch display | 6.8 inch, Dynamic AMOLED Infinity-O Display | 6.2 inch, Infinity-O Display, hole-punch display |
| Camera | 48 MP, 5 MP, 8 MP | 12 MP, 12 MP, 16 MP | 12 MP, 12 MP, 16 MP | 12 MP, 12 MP, 16 MP, VGA camera | 12 MP, 12 MP, 64 MP |
| Processor | Qualcomm Snapdragon 660, octa core | 1.7 GHz, 2.4 GHz, 2.8 GHz, octa core | 1.7 GHz, 2.4 GHz, 2.8 GHz, octa core | Octa core | Octa core |
| Secondary camera | 20 MP | 10 MP | 10 MP, 8 MP | 10 MP | 10 MP |
| Dual SIM | | | | | |
| 4G (LTE) | | | | | |
| Internal memory | 6 GB (Size (RAM)), 128 GB (Storage) | 8 GB (Size (RAM)), 128 GB (Storage), 512 GB (Storage) | 12 GB (Size (RAM)), 8 GB (Size (RAM)), 1 TB (Storage), 128 GB (Storage), 512 GB (Storage) | 12 GB (Size (RAM)), 256 GB (Storage), 512 GB (Storage) | 12 GB (Size (RAM)), 128 GB (Storage) |
| Battery | 3500 mAh | 3400 mAh | 4100 mAh | 4300 mAh | 4000 mAh |
Complete comparison between the Nokia 7.2 and these alternatives or compare with other models
---
Questions and answers about the Nokia 7.2