---
Pro and cons Nokia XR20
Rugged and waterproof
Long-lasting OS updates
Free screen replacement
5G internet
---
Reviews about the Nokia XR20
| | | |
| --- | --- | --- |
| 5 stars | | 0 reviews |
| 4 stars | | 0 reviews |
| 3 stars | | 0 reviews |
| 2 stars | | 0 reviews |
| 1 star | | 0 reviews |
Give your opinion
Write your very own user opinion and let us and others know what you think about this product. Click the button to start.
---
---
---
Nokia XR20 product details
This Nokia XR20 is a rugged Android smartphone that should last longer. And it's not just the outside that lasts longer, measures have also been taken to make the inside last longer. You can read what we mean by that here.
First rugged Nokia smartphone
This Nokia XR20 was announced at the end of July 2021 and it is the first rugged Nokia smartphone. This is hard to believe, Nokia phones always seemed to be synonymous with rugged. Nokia owes this reputation to the days when their phones were made of plastic, did not have a large glass screen, and weighed as much as a brick. This made them robust, but they were not designed as such. This XR20 is. The casing is resistant to water, drops, scratches and temperature changes. It is designed to the military MIL-STD-810H standard so it can survive a lot of violence. Nokia is so sure of this that you get a free screen replacement for the first year should the need arise.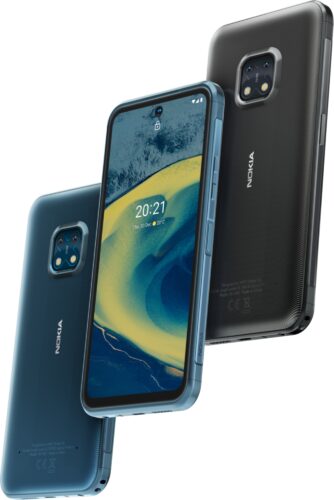 Big screen, even bigger body
The screen of the XR20 measures a spacious 6.67 inches. The screen edges are hefty making it larger than phones with the same screen size. There is used Gorilla Glass Victus (7) which is more resistant to drops and scratches. On the back, we find a camera module containing 2 cameras; a 48MP main camera and a 13MP camera with ultra wide-angle lens. The video mode has a special option to filter out wind noise which is always handy. There are two separate flash units that you can also use as a flashlight. The XR20 is also good at sound. Both in recording and playback. Thanks to OZO support, you can record sound in a spacious manner and play it back thanks to the stereo speakers.
Main Nokia XR20 specifications
6.67 inch FHD+ screen with scratch-resistant Gorilla Glass Victus
Casing is drop-proof, water-resistant, dust-proof and rinseable
4 years of security updates, 3 year of Android OS upgrades
Free screen replacement within a year of purchase if damaged
48+13MP camera with ultra wide-angle lens and wind noise reduction
8MP selfie camera in punch-hole right in the middle
Stereo speakers with OZO sound
Customizable button on top and accessory loop on bottom
4630 mAh large battery can be charged wirelessly and wired
Better for the environment
The Nokia XR20 is future proof with 5G support for lightning fast internet on the go. Like all other recent Nokias, the XR20 runs Android One and gets 4 years of security updates and up to 3 Android upgrades. This means the XR20 will last a long time on the inside too. That's kind of environmentally conscious. Another good thing for the environment is the lack of a charger in the box. You probably have one at home anyway, so you can just keep using it. Provided it delivers at least 18W, which is the speed at which you can charge the 4630 mAh battery. To give the environment an extra helping hand, for every XR20 sold, 50 trees will be planted.
---
Most important Nokia XR20 specifications
Dimensions
171.64 x 81.5 x 10.64 mm
Weight
248 grams
EAN code
6438409066480, 6438409065995, 6438409065841, 6438409065834, 6438409065674, 6438409065667, 6438409065612, 6438409065605
Fingerprint recognition
Android
11
Color display
6.67 inch, TFT, hole-punch display
Camera
13 MP, 48 MP, dual camera sensor
Dust and waterproof
Processor
Qualcomm Snapdragon 480, octa core
Rugged housing
Secondary camera
8 MP
Dual SIM
4G (LTE)
5G
Internal memory
4 GB (Size (RAM)), 6 GB (Size (RAM)), 128 GB (Storage), 64 GB (Storage)
Battery
4630 mAh
Fast charging
Wireless charging
---
Video's about the Nokia XR20
We had to blink twice, but in this video you can see former footballer Roberto Carlos kicking the Nokia XR20.
Robust Nokia's we know from the past. But they are back, and completely up to date, like this Nokia XR20.
---
Alternatives of the Nokia XR20
Scroll the table below to see more
| | | | | | |
| --- | --- | --- | --- | --- | --- |
| | | | | | |
| | | | | | |
| | Current product | | | | |
| Fingerprint recognition | | | | | |
| Android | 11 | 9.0 (Pie) | 9.0 (Pie) | 10 | |
| Color display | 6.67 inch, TFT, hole-punch display | 6.4 inch, Curved Dynamic AMOLED Quad HD+, hole-punch display | 6.8 inch, Dynamic AMOLED Infinity-O Display | 6.9 inch, Infinity-O Display, hole-punch display | 6.5 inch, OLED, notch |
| Camera | 13 MP, 48 MP, dual camera sensor | 12 MP, 12 MP, 16 MP | 12 MP, 12 MP, 16 MP, VGA camera | 108 MP, 12 MP, 48 MP | 12 MP, dual camera sensor |
| Dust and waterproof | | | | | |
| Processor | Qualcomm Snapdragon 480, octa core | 1.7 GHz, 2.4 GHz, 2.8 GHz, octa core | Octa core | Octa core | Apple A12 Bionic, hexa core |
| Rugged housing | | | | | |
| Secondary camera | 8 MP | 10 MP, 8 MP | 10 MP | 40 MP | 7 MP |
| Dual SIM | | | | | |
| 4G (LTE) | | | | | |
| 5G | | | | | |
| Internal memory | 4 GB (Size (RAM)), 6 GB (Size (RAM)), 128 GB (Storage), 64 GB (Storage) | 12 GB (Size (RAM)), 8 GB (Size (RAM)), 1 TB (Storage), 128 GB (Storage), 512 GB (Storage) | 12 GB (Size (RAM)), 256 GB (Storage), 512 GB (Storage) | 12 GB (Size (RAM)), 16 GB (Size (RAM)), 128 GB (Storage), 512 GB (Storage) | 4 GB (Size (RAM)), 256 GB (Storage), 512 GB (Storage), 64 GB (Storage) |
| Battery | 4630 mAh | 4100 mAh | 4300 mAh | 5000 mAh | 3174 mAh |
| Fast charging | | | | | |
| Wireless charging | | | | | |
Complete comparison between the Nokia XR20 and these alternatives or compare with other models
---
Questions and answers about the Nokia XR20