The Oppo Find X is a fairly revolutionary phone. Almost the entire front consists of screen, no less than 93.8% to be precise. Not only does this give you a panoramic view, it seems makes us rethink what a mobile phone should be. Fact; this is the future. With the Find X, Oppo has done its best to make that image look like it does when you look at the other functions. We'll check them out.
Popup cameras
First, about that screen. It measures an immense 6.4 inches, but because there are virtually no screen edges, it's smaller than an iPhone 8 Plus with a 5.5-inch screen. Where is the selfie camera with a device that consists of almost only a screen at the front? Oppo came up with something; the selfiecam slides up from inside the device. This mechanism is built to last because it can withstand falling and Oppo has opened and closed it 300,000 times without breaking it. Disadvantage is that if it breaks you can't make selfies anymore. By the way, another problem arises: because the Oppo Find X does not have a fingerprint scanner, you are dependent on the built-in 3D Face Recognition system. The retractable mechanism includes an infrared camera that combined with a flood illuminator and dot projector can map your face. This is done in such detail that reliable face recognition is possible that is up to 20 times more reliable than fingerprint recognition. Thanks to infrared it also works in the dark and it turns out remarkably fast. Especially when you consider that it has to be extended every time.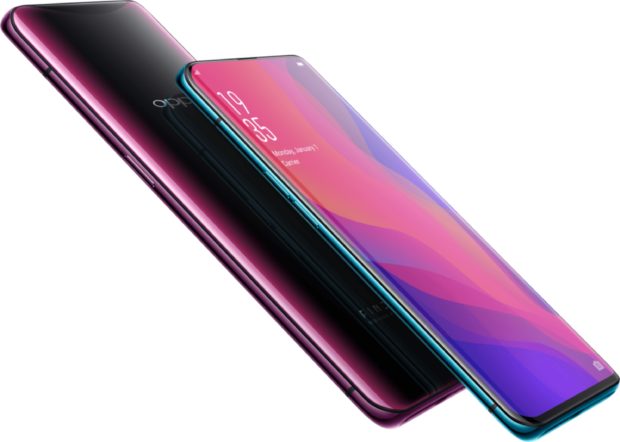 Artificial intelligent cameras
You also have to slide out the camera on the back, but then two of them come out immediately. These 20 and 16 megapixel cameras have artificial intelligence (AI) to shoot the best pictures in the most diverse conditions. By using different lenses you can play with sharpness/depth. For example, take photos with a blurry background while the subject is in focus. By automatically recognizing over 800 scenarios, Find X automatically selects the right settings for you. The presence of optical image stabilization (OIS) ensures that hand movements do not result in blurred images. So you have all the time you need to keep your subject in focus, the camera does the rest. The selfie camera has a maximum resolution of 25 megapixels and that is also helped with the necessary AI violence. Plus, you can use the 3D face recognition sensors to add studio-style exposure to your selfies.
Main Oppo Find X specifications
Panoramic 6.4-inch AMOLED screen stretches virtually the entire front
Popup 24-inch selfie camera.8 megapixel with 3D exposure
20+16 megapixel rear camera automatically chooses best settings
4G support for fast internet on the go
Powerful Snapdragon 845 processor with large 8GB of RAM work memory
No fingerprint scanner but 3D face recognition thanks to recognition 15.000 viewpoints
Supports Dualsim (nanoSIM type)
256GB of non-extendable storage memory
Powerhouse with concessions
Oppo had to do some consessions to get this design. For example, there was no room for a memory card. You're stuck with the 256 GB of built-in storage which doesn't seem like a problem to us. And also a headphone jack is missing. There is an adapter in the box that you can connect to the USB-C port. You also need to take into account the location of the ambient light sensor. Placing a screen protector can block it, causing your screen to dim irregularly. This makes it not very suitable for using such a screen protector. Oppo has made no concessions in processing power. For example, Qualcomm's most powerful chipset of the moment, the Snapdragon 845, has been chosen. This has an impressive 8 GB of RAM at its disposal. That's double what most other manufacturers are currently doing. This should ensure a smooth user experience where starting up apps, switching between apps and playing most enhanced games is effortless. The battery has a capacity of 3730 mAh, which, given the large screen, can be up and running very quickly. Fortunately, fast charging is standard thanks to Oppo's proprietary VOOC rapid charging technology.