---
Pro and cons Oppo Find X3 Pro
10-bit screen & camera
Camera with microlens
Extra fast charging
Beautiful natural design
Zoom quality is lagging behind somewhat due to hybrid zoom
---
Reviews about the Oppo Find X3 Pro
| | | |
| --- | --- | --- |
| 5 stars | | 1 review |
| 4 stars | | 0 reviews |
| 3 stars | | 0 reviews |
| 2 stars | | 0 reviews |
| 1 star | | 0 reviews |
Want to earn $50?
Every month we select a winner among all user opinions that were submitted. That person wins a voucher of $50. The only thing you need to do to is write your very own user opinion and let us and others know what you think about this product. Click the button below to start.
---
---
Oppo Find X3 Pro in the news
---
Oppo Find X3 Pro product details
The Oppo Find X3 Pro is a 5G phone that Oppo is seriously competing with for the title of "best smartphone 2021". Oppo seems to be succeeding quite nicely with a top screen, a top camera and with some interesting and unique features. Which ones exactly we would like to explain here.
Natural design with focus on the camera
Sometimes you have phones where you don't know what to talk about. Not the Find X3 Pro, there is plenty to talk about. Starting with the design. Oppo is trying some new stuff on the back. The camera is one of its strengths and Oppo wants to give that a little extra emphasis. They have almost literally taken the Gradient Arc Camera to the next level. You won't find any sharp corners though. Everything is smooth, looks elegant and feels nice. The front and back are made of glass and are IP68 water and dust resistant. The color range is a bit sparse and is limited to fairly dark colors.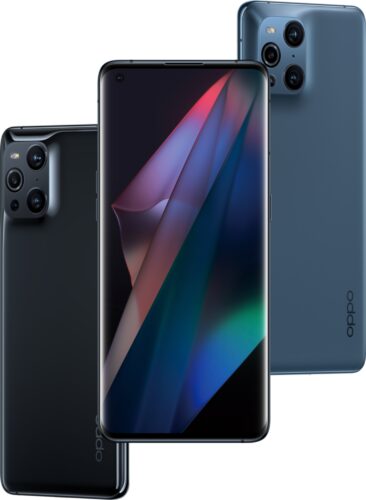 Top screen with 10-bit colors
The Oppo Find X3 Pro features a 6.7-inch AMOLED display with sharp QHD+ resolution and smooth 120Hz refresh. The peak brightness of 1300 nits is relatively high which allows you to read the screen even in full daylight. So far, good numbers but not unique. However, the high color range is special; 100% of the DCI-P3 color space and 97% of NTSC. This high color range is because it is a 10-bit screen that can display more than 1 billion colors. The camera of the Find X3 Pro also shoots photos in 10-bit making it the first smartphone to fully utilize the high 10-bit color range.
Main Oppo Find X3 Pro specifications
6.7-inch AMOLED display with 10-bit color reproduction and 120Hz
50+50+13+3MP camera with ultra-wide-angle zoom and microlens
32MP selfie camera with dedicated night mode
Powerful Snapdragon 888 processor with ample RAM memory (12GB)
Royal 256GB of (non-expandable) storage
Extra fast wired (65W) and wireless (30W)
Waterproof IP68 body with beautiful curves
Top camera with good effect
Oppo applies a 50MP main camera with f/1.8 wide-angle lens and optical image stabilization on the back, an also 50MP large ultra-wide-angle camera with 110.3° viewing angle and a 13MP telephoto lens with 5x hybrid optical zoom. However, what steals the show is the 3MP macro lens. We often see manufacturers implement a macro camera that allows you to take pictures at very close range, think of insects, plants or the play of colors on a soap bubble. They don't do that because customers ask for it, but because it looks nice on the box. Oppo doesn't leave it at that and has come up with some nice features for it. The lens manages to magnify something 60x, much more than a regular macro camera. The pixels of your screen, the end of a pen or something as simple as a grain of rice. A whole new world literally opens up for you. You do need a steady hand because focusing is not easy.
Performance with fast charging
processing power is provided by a Snapdragon 888 from Qualcomm. This octa-core processor runs at a maximum of 2.84 GHz and has a generous 12 GB of RAM memory. It makes the Oppo Find X3 Pro one of the fastest smartphones of this moment. The storage memory is 256GB and cannot be expanded. However, there is room for a 2nd SIM card. The battery measures 4500 mAh in size and consists of 2 parts. That allows Oppo to charge it quickly with 65W. SuperVOOC Flash Charge is the name of the game. In 10 minutes, the battery is 40% full again. Wireless charging is also possible, but at a maximum of 30W; although that is still faster than some competitors.
---
Most important Oppo Find X3 Pro specifications
Dimensions
163.6 x 74 x 8.26 mm
Weight
193 grams
Codename
Oppo Fussi
EAN code
6944284681965, 6944284681958, 5413729238602
Fingerprint recognition
Android
11
Color display
Ultra Vision Screen, hole-punch display
Camera
13 MP, 3 MP, 50 MP, 50 MP
Dust and waterproof
Processor
1.8 GHz, 2.4 GHz, 2.84 GHz, Qualcomm Snapdragon 888, octa core
Secondary camera
32 MP
Dual SIM
4G (LTE)
5G
Internal memory
12 GB (Size (RAM)), 256 GB (Storage)
Memory card slot
Battery
4500 mAh
Fast charging
Audio jack plug
---
Video's about the Oppo Find X3 Pro
The Oppo Find X3 Pro has a Micro camera on the back that allows you to photograph very small things. In this video, Jennifer explains how to make the best use of it
Let's say you're considering buying an Oppo Find X3 Pro. Good choice! But first you want to know what's in the box. We totally get it! Watch this clip and all your questions will be answered
In a world where just about every phone looks the same, it's nice to see that Oppo has tried to do something different. With this Find X3 Pro for example
The Oppo Find X3 Pro has a camera that lets you shoot 10-bit photos and a screen that lets you view 10-bit images. What you need these extra colors for they explain in this video. By the way, the music is by Hans Zimmer
---
Alternatives of the Oppo Find X3 Pro
Scroll the table below to see more
| | |
| --- | --- |
| | |
| | |
| | Current product |
| Fingerprint recognition | |
| Android | 11 |
| Color display | Ultra Vision Screen, hole-punch display |
| Camera | 13 MP, 3 MP, 50 MP, 50 MP |
| Dust and waterproof | |
| Processor | 1.8 GHz, 2.4 GHz, 2.84 GHz, Qualcomm Snapdragon 888, octa core |
| Secondary camera | 32 MP |
| Dual SIM | |
| 4G (LTE) | |
| 5G | |
| Internal memory | 12 GB (Size (RAM)), 256 GB (Storage) |
| Memory card slot | |
| Battery | 4500 mAh |
| Fast charging | |
| Audio jack plug | |
Complete comparison between the Oppo Find X3 Pro and these alternatives or compare with other models
---
Questions and answers about the Oppo Find X3 Pro