Similar with RX17 Neo but available
---
---
Reviews about the Oppo RX17 Neo
| | | |
| --- | --- | --- |
| 5 stars | | 0 reviews |
| 4 stars | | 0 reviews |
| 3 stars | | 0 reviews |
| 2 stars | | 0 reviews |
| 1 star | | 0 reviews |
Give your opinion
Write your very own user opinion and let us and others know what you think about this product. Click the button to start.
---
---
Oppo RX17 Neo product details
The Oppo RX17 Neo is sometimes jokingly called the OnePlus 6T's cheaper brother and with good reason. Oppo is the parent company of OnePlus and both phones share many of the same features. Think of a drop-shaped notch, screen with integrated fingerprint scanner and double AI camera on the back. Only the price seems different, but appearances can be deceiving.
Smaller brother of OnePlus 6T
At first sight, the Oppo RX17 Neo and OnePlus 6T indeed have a lot in common. The design, dimensions, screen and some basic features. And all that for two hundred euros less. Still, the RX17 Neo has some things the OnePlus does not have. For example, the selfie camera is much higher in megapixels; 25 to 16. And with the RX17 Neo, you still have the old-fashioned possibility to insert a memory card if you don't have enough storage memory. There is also a headphone input for your own headset. But as you can already guess, the 6T can also do things that the RX17 Neo can't, such as charging with USB-C. The processor is also more powerful, there is more RAM memory and the battery is just a little bit bigger. All in all not very big things and you will have to ask yourself if all this is worth 200 euros more?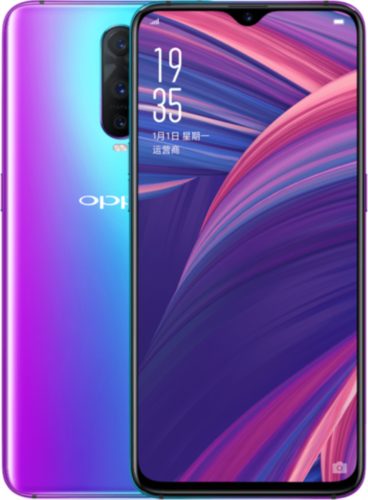 Modern screen, small notch
What makes the Oppo RX17 Neo a contemporary smartphone is its 6.41-inch screen with small drop-shaped notch and built-in fingerprint scanner behind the screen. A simple touch is all it takes to recognize and access your phone. Disadvantage is that the scanner can't be found by touch, so you'll have to pay attention to it. Although we do not rule out the possibility that you will find it effortlessly in the long run. Although a notch has been applied at the top of the screen, it is very small thanks to its small drop shape. It gives a high screen-to-body ratio of about 91%. So you almost completely look at a screen instead of a phone. Oppo delivers the RX17 Neo with its own Color 5.2 which is based on Android 8.1. You can download and use your own favorite Android apps.
Main Oppo RX17 Neo specifications
Large 6.4 inch screen with hidden fingerprint scanner
25 MP selfie camera with AI functions
Double camera (16+2 megapixel) with portrait mode
Powerful Snapdragon 660-processor with 4GB of RAM memory
Place up to 2 SIM cards thanks to Dual SIM support
128GB of storage + a memory card slot for extra 256GB
Fast 4G internet support (Category 6)
Cameras with Artificial Intelligence
On the back of the RX17 Neo we find a double camera of 16 and 2 megapixels. In combination with the Snapdragon 660 processor, Oppo manages to get the necessary artificial intelligence over it. For example, these AI functions recognize 16 different scenes and adjust the correct settings themselves. That should consistently result in nice pictures. At the front we find most megapixels; 25. Again, the camera is equipped with AI or artificial intelligence. This is mainly used to find your face and focus on it and apply the right exposure. So expect to shoot beautiful selfies with this 25 MP AI Beauty Camera.
---
Most important Oppo RX17 Neo specifications
Dimensions
158.3 x 75.5 x 7.4 mm
Weight
156 grams
Item ID
CPH1893
EAN code
6944284635487, 6944284635470
Fingerprint recognition
Android
8.1
Color display
AMOLED, notch
Camera
16 MP, 2 MP, dual camera sensor
Dust and waterproof
Processor
1.95 GHz, Qualcomm Snapdragon 660, octa core
Secondary camera
25 MP, flash
Dual SIM
4G (LTE)
Internal memory
4 GB (Size (RAM)), 128 GB (Storage)
Battery
3600 mAh
Fast charging
---
Alternatives of the Oppo RX17 Neo
Scroll the table below to see more
| | |
| --- | --- |
| | |
| | |
| | Current product |
| Fingerprint recognition | |
| Android | 8.1 |
| Color display | AMOLED, notch |
| Camera | 16 MP, 2 MP, dual camera sensor |
| Dust and waterproof | |
| Processor | 1.95 GHz, Qualcomm Snapdragon 660, octa core |
| Secondary camera | 25 MP, flash |
| Dual SIM | |
| 4G (LTE) | |
| Internal memory | 4 GB (Size (RAM)), 128 GB (Storage) |
| Battery | 3600 mAh |
| Fast charging | |
Complete comparison between the Oppo RX17 Neo and these alternatives or compare with other models
---
Questions and answers about the Oppo RX17 Neo