---
---
Pro and cons Oppo Reno 10x zoom
Eye-catching slewing selfie camera
Virtually borderless and continuous screen
Impressive camera with 10x zoom
Large battery ensures long battery life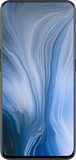 ---
Reviews about the Oppo Reno 10x zoom
| | | |
| --- | --- | --- |
| 5 stars | | 0 reviews |
| 4 stars | | 2 reviews |
| 3 stars | | 0 reviews |
| 2 stars | | 0 reviews |
| 1 star | | 0 reviews |
Want to earn $50?
Every month we select a winner among all user opinions that were submitted. That person wins a voucher of $50. The only thing you need to do to is write your very own user opinion and let us and others know what you think about this product. Click the button below to start.
---
---
Oppo Reno 10x zoom product details
The Oppo Reno 10x zoom is an innovative phone with impressive cameras. Not only the selfie camera but also the one on the back of the phone amazes us. And why don't we mention it because it's already in the name. Still, we'd like to explain a bit more about him here.
Pivotting selfie camera
Starting with the ingenious selfie camera. This is located at the top of the device and swivels up if necessary. As a result, the Reno 10x zoom does not need a notch, giving it a front that is almost entirely made up of a screen. The mechanism does its thing in 0.8 seconds, is whisper-quiet and should last at least 200,000 movements. If you drop the 10x zoom during your selfie, it swings safely back into the housing. In spite of all the advantages of this solution; it does come at the expense of water tightness. Or even better, it's not there at all. Because of these kinds of moving parts it is not waterproof and in theory dust can also get into the mechanism, causing a defect to lurk. Should this happen then you are without a selfie camera.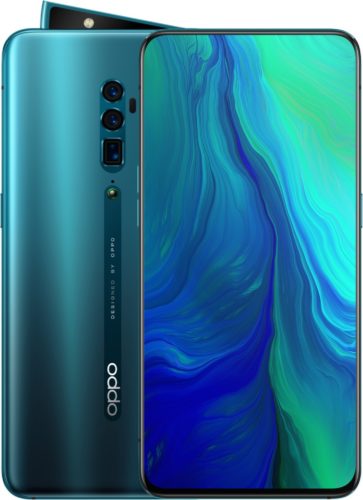 The fun of zooming in 10x
Another 'Uniqe Selling Point' is its camera system on the back consisting of 3 sensors including one with periscope lens. The different focal lengths of each lens combined give him a hybrid zoom of 10x. So you can get images 10x closer without moving a single step. When zooming, there is always a chance of shaky pictures, which is why Oppo has built in optical image stabilization. This compensates for movement and produces sharper photos. Because not many camera phones are equipped with 10x zoom yet, the Reno 10x zoom is difficult to compare with other phones. That alone gives it a clear advantage and what also helps is that Oppo has the execution well done. The camera makes a good impression.
Main Oppo Reno 10x zoom specifications
Large 6,6 inch AMOLED screen with small chin and protected by Gorilla Glass 6
Powerful Snapdragon 855 processor with 8 GB RAM
Possibility to insert second SIM card or memory card
Speedy mobile 4G internet
Heavy flagship
The Oppo Reno 10x zoom is a real flagship, that should be clear. We see it back in the smallest details. From the choice of processor to the amount of RAM memory. It's all the best and most of what you can get today. With the Oppo Reno 10x zoom you get a true flagship with features we won't see on other phones for years to come and with which you can clearly steal the show. Too bad quality has a price. Literally and figuratively. Besides a solid price tag, the Reno 10x zoom is heavy and big. 215 grams is for a phone reasonably heavy and with 162 millimeters also not really compact.
---
Most important Oppo Reno 10x zoom specifications
Dimensions
162 x 77.2 x 9.3 mm
Weight
215 grams
Item ID
CPH1919
EAN code
6944284646315, 6944284645417, 6944284645400, 6944284643529, 6944284643512
Fingerprint recognition
Android
9.0 (Pie)
Color display
6.6 inch, AMOLED
Camera
13.0 MP, 48.0 MP, 8.0 MP
Processor
2.8 GHz, Qualcomm Snapdragon 855, octa core
Secondary camera
16.0 MP, flash
Dual SIM
LTE (4G)
Internal memory
8 GB (Size (RAM)), 256 GB (Storage)
Battery
4065 mAh
Fast charging
---
Alternatives of the Oppo Reno 10x zoom
Scroll the table below to see more
| | | | | | |
| --- | --- | --- | --- | --- | --- |
| | | | | | |
| Photos relative in size | | | | | |
| | Current product | | | | |
| Fingerprint recognition | | | | | |
| Android | 9.0 (Pie) | 9.0 (Pie) | 9.0 (Pie) | | |
| Color display | 6.6 inch, AMOLED | 6.4 inch, Curved Dynamic AMOLED Quad HD+, hole-punch display | 6.8 inch, Dynamic AMOLED Infinity-O Display | 6.5 inch, Infinity-O Display, hole-punch display | 6.67 inch, Fluid AMOLED |
| Camera | 13.0 MP, 48.0 MP, 8.0 MP | 12.0 MP, 12.0 MP, 16.0 MP | 12 MP, 12 MP, 16.0 MP, VGA camera | 12.0 MP, 48.0 MP, 5.0 MP, 5.0 MP | 16.0 MP, 48.0 MP, 8.0 MP |
| Processor | 2.8 GHz, Qualcomm Snapdragon 855, octa core | 1.7 GHz, 2.4 GHz, 2.8 GHz, octa core | Octa core | 1.7 GHz, 2.3 GHz, Samsung Exynos 9611, octa core | 2.84 GHz, Qualcomm Snapdragon 855, octa core |
| Secondary camera | 16.0 MP, flash | 10.0 MP, 8.0 MP | 10.0 MP | 32.0 MP | 16.0 MP |
| Dual SIM | | | | | |
| LTE (4G) | | | | | |
| Internal memory | 8 GB (Size (RAM)), 256 GB (Storage) | 12 GB (Size (RAM)), 8 GB (Size (RAM)), 1 TB (Storage), 128 GB (Storage), 512 GB (Storage) | 12 GB (Size (RAM)), 256 GB (Storage), 512 GB (Storage) | 6 GB (Size (RAM)), 128 GB (Storage) | 12 GB (Size (RAM)), 6 GB (Size (RAM)), 8 GB (Size (RAM)), 128 GB (Storage), 256 GB (Storage) |
| Battery | 4065 mAh | 4100 mAh | 4300 mAh | 4000 mAh | 4000 mAh |
| Fast charging | | | | | |
Complete comparison between the Oppo Reno 10x zoom and these alternatives or compare with other models
---
Questions and answers about the Oppo Reno 10x zoom