The Samsung Galaxy A20s is an update of the existing Galaxy A20, but with a depth camera on the back and a larger battery inside. The screen has also increased in size, although a modern version with thin screen bezels and a small notch at the top for the selfie camera is still being used.
Bigger screen with Live Focus
With Samsung, the lower the type number, the simpler the phone. This also applies to these Galaxy A20s, but you still get a lot of value for money. Starting with a bigger screen. It now measures a good 6.5 inches. This is a so-called Infinity-V Display which means that there is a V-shaped notch for the 8MP selfie camera. Just like its expensive siblings, this camera has Live Focus, which allows you to blur the background of your selfies even more. This puts extra emphasis on your face which generally results in more beautiful self portraits. You can see the result on the screen before you take the photo, should you change your mind.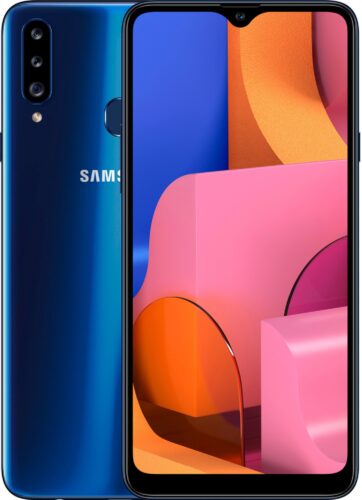 Camera offers something for everyone
Still, we think you will shoot most of the pictures with the camera system on the back of the A20s. You will find a total of 3 different cameras. A 13 megapixel main camera with bright f/1.8 lens, an 8 megapixel camera with ultra-wide-angle lens of 120 degrees and a 5 megapixel depth camera. The first one is used for everyday shots with reasonable detail, the second one is for landscapes & groups thanks to its large viewing angle and with the last camera you shoot portraits with out-of-focus background. Something for everyone. To be able to do this all day long, the Galaxy A20s has a 4000 mAh battery. On paper enough for a day's use without worrying about recharging. If necessary, it can be quickly recharged with a maximum of 15 Watts.
Main Samsung Galaxy A20s specifications
6.5 inch large Infinity-V Display with HD+ resolution
8MP selfie camera with f/2.0 lens and Live Focus
13+8+5MP camera system with ultra-wide-angle lens and depth camera
Snapdragon 450 octa-core processor up to 1,8 GHz with 3 GB of RAM
Dual SIM means space for 2 SIM cards (nano SIM type)
Also room for memory card (up to 512 GB)
4G support for fast internet on the go
Large 4000 mAh battery with support for fast charging
Not that powerful
However, it can't just be positive and that's why we want to emphasize the lesser points. For example, the Galaxy A20s is not really a powerhouse. The processor is starting to have a hard time, especially when you want to open a lot of apps or run some heavier apps. That's not crazy either, because the Snapdragon 450 processor is one of the lower category. What also doesn't help is the limited 3 GB of RAM memory (RAM). The 64GB model comes with 4GB of RAM but that combination is not sold everywhere. For everyday use, an app here or there and some Facebook will go fine, but for more extensive it will start sputtering every now and then.