The Galaxy A24 promises to be a low-end 4G phone with a correspondingly low price tag. The device will no doubt be released outside of Vietnam as well. In addition, a 5G version of the device is most likely also expected, called the Galaxy A24 5G.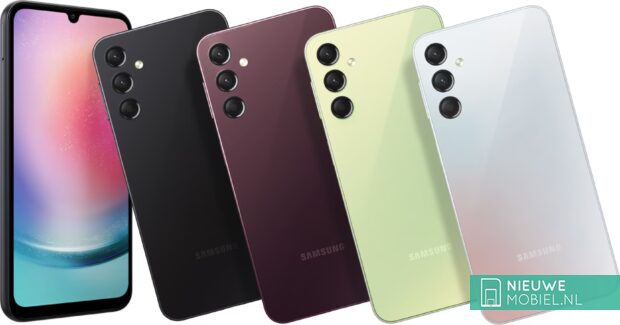 The Samsung Galaxy A24 has a slightly smaller 6.5-inch screen but with a slightly higher resolution of 2340 by 1080 pixels compared to the Galaxy A23 from last year. Moreover, those pixels have a maximum brightness of 1000 nits which is very bright in this category. That makes viewing this display in broad daylight much easier. The A24 gets not four but three cameras on the back this time; a 50MP primary camera, 5MP ultra-wide angle, and a 2MP macro camera. In addition, we find a 13MP selfie camera with an f/2.2 lens sitting in a notch at the top of the screen.
Galaxy A24 specifications
Samsung is equipping the device with an unnamed eight-core processor at up to 2.2GHz, possibly the MediaTek Helio G99. The battery has a capacity of 5000mAh, and fast charging is possible with up to 25W. But only wired. You can conveniently plug in your headphones thanks to the available 3.5mm audio jack. This port is often missing on phones these days.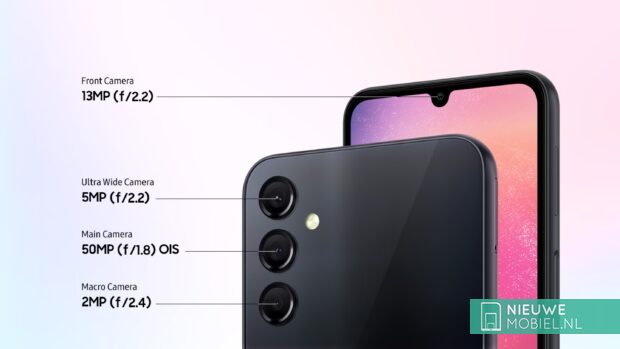 Samsung A24 availability and price
Expect the device to hit the market soon, after which the Galaxy A24 5G may follow later. What prices these phones will get is unknown. The A24 will be available in Vampire Black and Lime Green, among others.