---
---
Pro and cons Samsung Galaxy A40
Large bright screen with small notch
Double camera with wide-angle lens
Pin-sharp self-image camera
Modern software
---
Prices Samsung Galaxy A40 Unlocked
No results were found that match your search query. Please remove some search options or try again.
---
Reviews about the Samsung Galaxy A40
| | | |
| --- | --- | --- |
| 5 sterren | | 1 review |
| 4 sterren | | 0 reviews |
| 3 sterren | | 0 reviews |
| 2 sterren | | 0 reviews |
| 1 ster | | 0 reviews |
Want to earn $50?
Every month we select a winner among all user opinions that were submitted. That person wins a voucher of $50. The only thing you need to do to is write your very own user opinion and let us and others know what you think about this product. Click the button below to start.
---
---
---
The Samsung Galaxy A40 in the news
---
Samsung Galaxy A40 Product details
The Samsung Galaxy A40 is an excellent alternative for those who want a modern smartphone but don't want to pay a lot for it. The A40 has a large screen, many good cameras, a thick battery and lots of working memory. What's missing is the high price tag. We will discuss this further in this discussion.
Modern screen, small notch
Telephones with a large rimless screen were previously intended only for those who wanted to deposit at least 500 euros for it. Samsung proves with this Galaxy A40 that things can also be done differently. For an entry-level price, you already have a 5.9-inch screen. This is large, but because of the thin screen edges, the A40 is not. For example, the A40 is considerably smaller than the S9 flagship of a year ago, although it does have a larger screen. Samsung applies the so-called Infinity U screen. That means there is a U-shaped notch at the top of the screen. This one is meant for the selfie camera, about which more information will be given later. The screen is of the type Super AMOLED which makes colors nice and bright and colorful.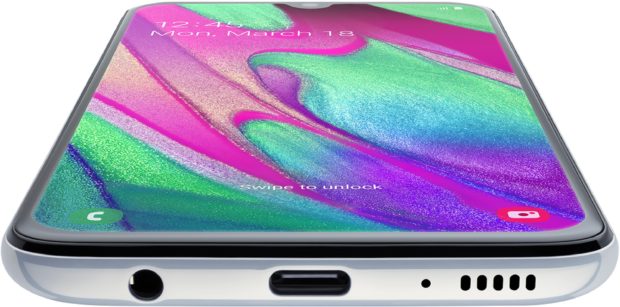 Intryer with dual camera
On the back of the Galaxy A40 we find two cameras. There the A40 differs from the A50 which has three. The main camera is equipped with a 16 megapixel sensor with a neat f/1.9 lens that can also take well-exposed photos at dusk. There is also a 5 megapixel camera with wide-angle lens. It has an angle of view of 123° which corresponds to the human eye. You shoot spatial photos of landscapes, for example. The front camera has the most megapixels; 25 to be precise. This is of course to be able to shoot razor-sharp selfies with a lot of detail.
Main Samsung Galaxy A40 specifications
5.9 inch Infinity U screen with thin screen edges
16 + 5 megapixel rear camera with wide-angle lens
High 25 megapixel self-image camera with bright f/2.0 lens
Octacore processor at 1.8 GHz with 4 GB working memory
64 GB built-in storage + a memory card slot up to 512 GB
fast mobile internet on the go thanks to 4G
Supports Dualsim (2 SIM cards + memory card)
Modern software
The Samsung Galaxy A40 also has a fingerprint scanner on the back, while many other new Galaxy A models feature a fingerprint scanner. The advantage of a physical scanner is that you can find it by touch and it is also a fraction faster. You have the option of plugging in your own headphones via the port at the bottom. There you will also find the USB port to charge it. The A40 is extra fast so you can quickly charge 3100 mAh battery when it is empty. Samsung delivers the device standard with Android 9.0 Pie with its own One UI on top. This interface is nice and clear, modern and easy to use with one hand. All in all, the A40 is a modern appearance that is unfortunately not watertight enough.
---
Most important Samsung Galaxy A40 specifications
Dimensions
144.4 x 69.2 x 7.9 mm
Item ID
SM-A405
EAN code
9504386588172, 9300000084736, 8801643819934, 8801643792220, 8801643792176, 8801643792091, 8801643792022, 8801643787929, 8801643787899, 8801643779276, 8801643779269, 8801643779252, 8801643779245
Fingerprint recognition
Android
9.0 (Pie)
Color display
5.9 inch, Infinity U Full HD+
Camera
16.0 Mpixel camera, 5.0 Mpixel camera, dual camera sensor
Processor
1.6 GHz, 1.8 GHz, octa core
Secondary camera
25.0 Mpixel camera
Dual SIM
LTE (4G)
Internal memory
4 GB, 64 GB
Battery
3100 mAh
Fast charging
---
Alternatives of the Samsung Galaxy A40
Scroll the table below to see more
| | | | | | |
| --- | --- | --- | --- | --- | --- |
| | | | | | |
| Photos relative in size | | | | | |
| | Current product | | | | |
| Fingerprint recognition | | | | | |
| Android | 9.0 (Pie) | 7.1 | 9.0 (Pie) | 9.0 (Pie) | 9.0 (Pie) |
| Color display | 5.9 inch, Infinity U Full HD+ | 5.7 inch, IPS | 5.3 inch, IPS | 6.47 inch, OLED, notch | 6.2 inch, Max Vision Full HD+, notch |
| Camera | 16.0 Mpixel camera, 5.0 Mpixel camera, dual camera sensor | 16.0 Mpixel camera | 13.0 Mpixel camera, dual camera sensor | 20.0 Mpixel camera, 40.0 Mpixel camera, 8.0 Mpixel camera | 16.0 Mpixel camera, 5.0 Mpixel camera, dual camera sensor |
| Processor | 1.6 GHz, 1.8 GHz, octa core | 1.4 GHz, Qualcomm Snapdragon 430, octa core | 1.8 GHz, 2.5 GHz, Qualcomm Snapdragon 835, octa core | 1.8 GHz, 1.92 GHz, 2.6 GHz, HiSilicon Kirin 980, octa core | 1.8 GHz, Qualcomm Snapdragon 632, octa core |
| Secondary camera | 25.0 Mpixel camera | 20.0 Mpixel camera, 8.0 Mpixel camera, flash | 13.0 Mpixel camera | 32.0 Mpixel camera | 12.0 Mpixel camera |
| Dual SIM | | | | | |
| LTE (4G) | | | | | |
| Internal memory | 4 GB, 64 GB | 4 GB, 64 GB | 4 GB, 64 GB | 8 GB, 128 GB, 256 GB | 4 GB, 64 GB |
| Battery | 3100 mAh | 3000 mAh | 3090 mAh | 4200 mAh | 3000 mAh |
| Fast charging | | | | | |
Complete comparison between the Samsung Galaxy A40 and these alternatives or compare with other models
---
Questions and answers about the Samsung A40