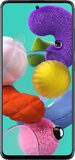 ---
Reviews about the Samsung Galaxy A51
| | | |
| --- | --- | --- |
| 5 stars | | 2 reviews |
| 4 stars | | 1 review |
| 3 stars | | 0 reviews |
| 2 stars | | 0 reviews |
| 1 star | | 0 reviews |
Want to earn $50?
Every month we select a winner among all user opinions that were submitted. That person wins a voucher of $50. The only thing you need to do to is write your very own user opinion and let us and others know what you think about this product. Click the button below to start.
---
---
---
Samsung Galaxy A51 Product details
The Samsung Galaxy A51 is a 6.5-inch smartphone with 4 cameras on the back, including a wide-angle lens, depth and macro camera. On the front, Samsung applies a remarkably small screen hole for the 32 megapixel selfie camera. What is not small, however, is the built-in battery with quick charge function.
Lovely, bright, AMOLED
Samsung announced the Galaxy A51 together with the A71 in 2020. Both are very similar, both in appearance and specifications. The biggest difference is of course the size. If the latter has a 6.7-inch screen, this A51 has to make do with a 6.5-inch panel. Still big, but thanks to the thin screen edges the size is not that bad. To keep the edges small, Samsung's latest Infinity-O Display has been chosen. This screen is characterized by its extremely high contrast with deep black tones, excellent readability outside and the small screen hole in the middle for the self-image camera. The used resolution of Full HD+ ensures sharp images. Even etching sharper than on the A71, which is a few tenths more expensive.
Scala of cameras and lenses
Samsung has been putting a lot of effort into its Galaxy A models lately. It mainly revolves around the screen, the cameras and the battery. On the back of the Galaxy A51, we find no less than 4 different cameras. Quite a few and more than the average other smartphone. The main camera, intended for everyday use, is equipped with a 48 megapixel sensor. This offers sufficient detail and also works reasonably well in the dark. This means you need the flash less, which makes your photos look more natural. There is also a 12 megapixel ultra-wide-angle lens for wide landscapes or cityscapes, a 5 megapixel depth camera that allows you to add blur to portrait photos and a 5 megapixel macro camera. The latter is useful if you want to take extreme close-ups of insects or plants, for example.
Main Samsung Galaxy A51 specifications
6.5 inch bright Infinity-O Display with sharp Full HD+ resolution
48 + 12 + 5 + 5 MP camera system (head, wide angle, depth and macro)
32 MP self-image camera with portrait mode
fast 4G internet on the go thanks to LTE support
Samsung Exynos 9611 processor at up to 2.3GHz + 6GB of RAM work memory
Space for 2 nano SIM cards and memory card (up to 512GB)
Spacious storage
Selfies will have to be made with the 32 megapixel camera at the front. Despite the fact that this is a single sensor, it still recognizes depth thanks to the help of artificial intelligence. This allows you to make backgrounds blurry so your selfies stand out just a little bit more. Inside the Galaxy A51 we find a 4000 mAh battery, enough to last the day. Charging is not possible with the 25 Watt that you use to charge the A71, but with a slightly less powerful 15 Watt. This is done with a USB-C cable because wireless charging is not included with the A51. What you do have is enough space. The storage memory is with 128 GB nice and generous and also expandable. And with 6 GB of working memory, the Exynos octa-core processor keeps up with it all. So it won't feel fast.
---
Most important Samsung Galaxy A51 specifications
Dimensions
158.5 x 73.6 x 7.9 mm
Weight
172 grams
Item ID
SM-A515
EAN code
9502988314953, 9502982765959, 9502982262496, 8806090265266, 8806090263507, 8806090248214, 8806090248160, 8806090232350, 8806090232336
Fingerprint recognition
Android
Color display
6.5 inch, Infinity-O Display, hole-punch display
Camera
12.0 Mpixel camera, 48.0 Mpixel camera, 5.0 Mpixel camera, 5.0 Mpixel camera
Processor
1.7 GHz, 2.3 GHz, Samsung Exynos 9611, octa core
Secondary camera
32.0 Mpixel camera
Dual SIM
LTE (4G)
Internal memory
6 GB, 128 GB
Battery
4000 mAh
Fast charging
---
Alternatives of the Samsung Galaxy A51
Scroll the table below to see more
| | | | | | |
| --- | --- | --- | --- | --- | --- |
| | | | | | |
| Photos relative in size | | | | | |
| | Current product | | | | |
| Fingerprint recognition | | | | | |
| Android | | 9.0 (Pie) | 9.0 (Pie) | 9.0 (Pie) | 8.1 |
| Color display | 6.5 inch, Infinity-O Display, hole-punch display | 6.4 inch, Infinity U Full HD+ | 6.5 inch, OLED | 6.2 inch, Max Vision HD+, notch | 5.9 inch, Max Vision IPS, notch |
| Camera | 12.0 Mpixel camera, 48.0 Mpixel camera, 5.0 Mpixel camera, 5.0 Mpixel camera | 25.0 Mpixel camera, 5.0 Mpixel camera, 8.0 Mpixel camera | 12.0 Mpixel camera, 12.0 Mpixel camera, 12.0 Mpixel camera | 12.0 Mpixel camera | 13.0 Mpixel camera, 2.0 Mpixel camera, dual camera sensor |
| Processor | 1.7 GHz, 2.3 GHz, Samsung Exynos 9611, octa core | 1.7 GHz, 2.3 GHz, Samsung Exynos 9610, octa core | Qualcomm Snapdragon 855, octa core | 1.8 GHz, Qualcomm Snapdragon 632, octa core | 2.0 GHz, Qualcomm Snapdragon 625, octa core |
| Secondary camera | 32.0 Mpixel camera | 25.0 Mpixel camera | 13.0 Mpixel camera | 8.0 Mpixel camera | 8.0 Mpixel camera, flash |
| Dual SIM | | | | | |
| LTE (4G) | | | | | |
| Internal memory | 6 GB, 128 GB | 6 GB, 128 GB | 6 GB, 128 GB | 4 GB, 64 GB | 4 GB, 64 GB |
| Battery | 4000 mAh | 4000 mAh | 3330 mAh | 5000 mAh | 3000 mAh |
| Fast charging | | | | | |
Complete comparison between the Samsung Galaxy A51 and these alternatives or compare with other models
---
Questions and answers about the Samsung A51