Similar with Galaxy A6 but available
---
---
Reviews about the Samsung Galaxy A6
| | | |
| --- | --- | --- |
| 5 stars | | 0 reviews |
| 4 stars | | 0 reviews |
| 3 stars | | 0 reviews |
| 2 stars | | 0 reviews |
| 1 star | | 0 reviews |
Want to earn $50?
Every month we select a winner among all user opinions that were submitted. That person wins a voucher of $50. The only thing you need to do to is write your very own user opinion and let us and others know what you think about this product. Click the button below to start.
---
---
Samsung Galaxy A6 product details
The Samsung Galaxy A6 was announced in 2018 by Samsung together with the A6+ as a new mid-range phone with colorful and 'infinite' screen, a premium housing made of metal and a set of good cameras. We are going to try to explain here what else the A6 has to offer and which advantages the A6+ has.
More compact screen, still colorful
The Galaxy A6 is a completely new device, so new even that it has less than a year behind its name although we should call it Galaxy A6 2018 because then it was announced. This automatically means that it can't be compared to any other Samsung phone. In essence, the A6 is also quite special because you get a device with a Super AMOLED display for relatively little money. That type of screen guarantees bright colors with an unprecedented contrast due to the lack of backlighting. Thanks to AMOLED, the pixels are able to emit light themselves, while in black they remain off. As a result, black really is black. The screen ratio of 18.5 to 9 gives a wide image, and the thin edges of the screen create what Samsung calls an infinite screen; the so-called Infinity Display. We already saw it on the much more expensive models, but now it is also available for a fraction of the price. This Samsung Galaxy A6 has a screen size of 5.6 inches, which is a lot more convenient than the 6 inches on the A6+. So we already have difference 1 there.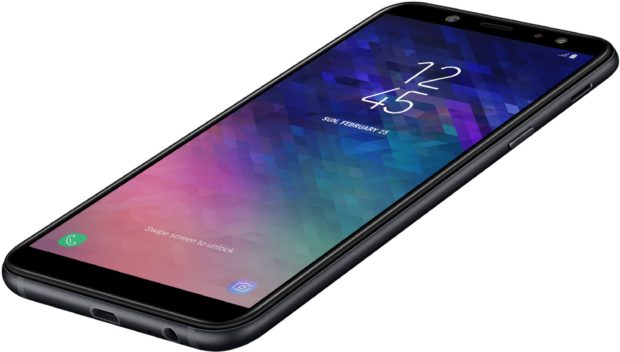 Single camera, bright lens
As mentioned before, Samsung tries to distinguish itself with the A6 2018 by the screen and good cameras for a fair price. On the back we find a single 16 megapixel shooter as opposed to the double one on the A6+. That is difference 2. We do find the bright f/1.7 lens. This lens still shoots reasonably exposed pictures in the dark. Keep in mind that the lower the number, the more light it lets in. If you then consider that the human lens also has a maximum aperture of f/2.1, then you know that this A6 sees more in the dark than you do. Make sure you have a steady hand when shooting because optical image stabilization is missing. We find the same 16 megapixel camera at the front. With an f/1.9 lens it can still see well in the dark although there is a self-impact flash if it really gets too dark. This flash has three different exposure levels so your selfies won't look like a deer looking into the headlights. Samsung is also doing its best by adding various effects, filters and stickers to brighten up photos and selfies.
Main Samsung Galaxy A6 specifications
Large 5.6-inch screen in a compact housing
16 megapixel camera both front and rear
32GB of storage of which 22,1GB available (expandable to 256GB)
Suitable for high-speed 4G internet on the go
Exynos 7 processor at up to 1.6GHz assisted by 3GB of RAM memory
Fingerprint scanner and face unlock
Not the fastest
Samsung provides the Galaxy A6 with its own Exynos 7 processor and fair is fair; that is not the most powerful and not as powerful as Qualcomm's counterpart. And because Samsung always applies its own user interface on top of Android, this is just extra work for the processor. That is why the A6 doesn't really blow, although it can't be called slow. Just don't expect it to start and change apps at lightning speed. That is the biggest problem with the device. Within this price category there is a lot of pressure and there are also phones of competitors with a powerful processor and without Samsung software. Think of the Xiaomi Mi A2 Lite with Android One. Be sure to consider it as well. However, if you want a good selfie camera with a full metal design and a modern display, this Galaxy A6 will never get you wrong.
---
Most important Samsung Galaxy A6 specifications
Dimensions
149.9 x 70.8 x 7.7 mm
Item ID
SM-A600
EAN code
8801643339791, 8801643339685, 8801643339418, 8801643339371, 8801643339302, 0887276292045, 0887276280578
Fingerprint recognition
Android
8.0 (Oreo)
Color display
HD+ Super AMOLED
Camera
16 MP
Processor
1.6 GHz, octa core
Secondary camera
16 MP, flash
4G (LTE)
Internal memory
3 GB (Size (RAM)), 32 GB (Storage)
Battery
3000 mAh
---
Video's about the Samsung Galaxy A6
The Samsung Galaxy A6+ has a dual camera with Live Focus. This allows you to play with sharpness/depth as this video shows
The Samsung Galaxy A6 and A6+ inspires model Yassi Pressman to make more beautiful selfies. All thanks to a high resolution selfiecam with flash.
---
---
Questions and answers about the Samsung A6