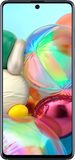 ---
Reviews about the Samsung Galaxy A71
| | | |
| --- | --- | --- |
| 5 stars | | 0 reviews |
| 4 stars | | 0 reviews |
| 3 stars | | 0 reviews |
| 2 stars | | 0 reviews |
| 1 star | | 0 reviews |
Want to earn $50?
Every month we select a winner among all user opinions that were submitted. That person wins a voucher of $50. The only thing you need to do to is write your very own user opinion and let us and others know what you think about this product. Click the button below to start.
---
---
Samsung Galaxy A71 Product details
The Samsung Galaxy A71 is an A70 but with 2020 specs and looks. There is a new screen, new cameras and more processing power. What exactly, what you can do with this and if you need all that, we are going to find out here.
Now with Infinity-O screen
The Samsung Galaxy A71 looks almost the same as its predecessor on 1 difference. Of course we are talking about the screen. Gone is the notch from 2019 and hello screen hole. It is nice and small and sits exactly in the middle so that it is in the way as little as possible. It's needed for the 32 megapixel selfie camera. High enough for razor sharp self portraits. Still, our attention is more focused on the camera violence on the back. A camera has been added in a rectangular camera island. We will see this layout more often at Samsung (and other manufacturers) in 2020.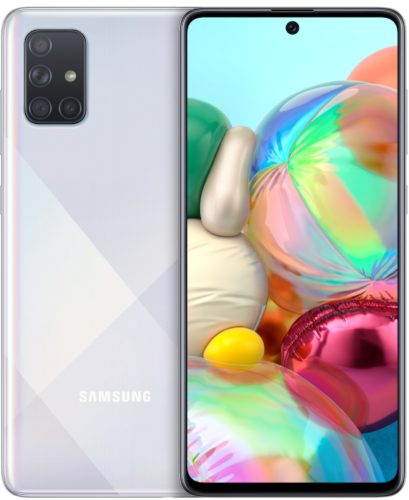 Enough cameras for every situation
A 64 megapixel has been chosen as the main camera. Besides being large, it is nice and light-sensitive so you can also shoot bright photos in the dark. There is a 12 megapixel camera with an ultra-wide-angle lens of 123°. This allows you to capture wide landscapes. Shoot portrait photos with the 5 megapixel depth camera. By distinguishing between foreground and background you can make the background extra blurred. This makes people stand out better; ideal for portrait photography. Insects and flowers are captured with the 5 megapixel macro lens. This makes extreme close-ups possible that you wouldn't have been able to see with the human eye. All in all, you have enough cameras and lenses at your disposal for every situation.
Main Samsung Galaxy A71 specifications
6.7 inch large Infinity-O Display with Full HD+ resolution
64 MP main, 12 MP ultra-wide-angle, 5 MP depth and 5 MP macro camera
32 MP self-image camera in small screen hole in front
Dualsim capabilities + space for memory card (up to 512GB)
Octa-core processor at up to 2.2 GHz
Providing high-speed mobile internet (4g)
Matching battery
The Galaxy A 2020 models revolve around 3 things; screen, cameras and battery. The first two we were able to tick off. To get the last one, there is a 4500 mAh battery available. Not necessarily very impressive for a 6.7 inch smartphone, but enough for more than a day of fun. And thanks to the powerful 25 Watt quick charge function you'll be back on the road in no time. Wireless charging is not included, you really need to be with the (more expensive) Galaxy S-series. And unfortunately that also applies to a waterproof or even splash-proof housing. So watch out at the pool.
---
Most important Samsung Galaxy A71 specifications
Dimensions
163.6 x 76 x 7.7 mm
Weight
179 grams
Item ID
SM-A715
EAN code
9502997644546, 9502996676821, 9502992555274, 8806090313950, 8806090253706, 8806090253652, 8806090253645
Fingerprint recognition
Android
Color display
6.7 inch, Infinity-O Display
Camera
12.0 Mpixel camera, 5.0 Mpixel camera, 5.0 Mpixel camera, 64.0 Mpixel camea
Processor
1.8 GHz, 2.2 GHz, octa core
Secondary camera
32.0 Mpixel camera
Dual SIM
LTE (4G)
Internal memory
6 GB, 8 GB, 128 GB
Battery
4500 mAh
Fast charging
---
Alternatives of the Samsung Galaxy A71
Scroll the table below to see more
| | | | | | |
| --- | --- | --- | --- | --- | --- |
| | | | | | |
| Photos relative in size | | | | | |
| | Current product | | | | |
| Fingerprint recognition | | | | | |
| Android | | 9.0 (Pie) | 9.0 (Pie) | 8.1 | 9.0 (Pie) |
| Color display | 6.7 inch, Infinity-O Display | 6.5 inch, OLED | 6.2 inch, Max Vision HD+, notch | 5.9 inch, Max Vision IPS, notch | 5.71 inch, TFT, notch |
| Camera | 12.0 Mpixel camera, 5.0 Mpixel camera, 5.0 Mpixel camera, 64.0 Mpixel camea | 12.0 Mpixel camera, 12.0 Mpixel camera, 12.0 Mpixel camera | 12.0 Mpixel camera | 13.0 Mpixel camera, 2.0 Mpixel camera, dual camera sensor | 13.0 Mpixel camera, 2.0 Mpixel camera, dual camera sensor |
| Processor | 1.8 GHz, 2.2 GHz, octa core | Qualcomm Snapdragon 855, octa core | 1.8 GHz, Qualcomm Snapdragon 632, octa core | 2.0 GHz, Qualcomm Snapdragon 625, octa core | 1.8 GHz, Qualcomm Snapdragon 439, octa core |
| Secondary camera | 32.0 Mpixel camera | 13.0 Mpixel camera | 8.0 Mpixel camera | 8.0 Mpixel camera, flash | 8.0 Mpixel camera |
| Dual SIM | | | | | |
| LTE (4G) | | | | | |
| Internal memory | 6 GB, 8 GB, 128 GB | 6 GB, 128 GB | 4 GB, 64 GB | 4 GB, 64 GB | 2 GB, 3 GB, 16 GB, 32 GB |
| Battery | 4500 mAh | 3330 mAh | 5000 mAh | 3000 mAh | 3000 mAh |
| Fast charging | | | | | |
Complete comparison between the Samsung Galaxy A71 and these alternatives or compare with other models
---
Questions and answers about the Samsung A71