---
---
Pro and cons Galaxy A9 (2018)
First with 4 cameras on the back
Large and colorful screen
Available in version with colour gradient
Lots of working memory so nice and fast
---
Prices Samsung Galaxy A9 (2018) Unlocked
No results were found that match your search query. Please remove some search options or try again.
---
Reviews about the Samsung Galaxy A9 (2018)
| | | |
| --- | --- | --- |
| 5 sterren | | 0 reviews |
| 4 sterren | | 0 reviews |
| 3 sterren | | 0 reviews |
| 2 sterren | | 1 review |
| 1 ster | | 0 reviews |
Want to earn $50?
Every month we select a winner among all user opinions that were submitted. That person wins a voucher of $50. The only thing you need to do to is write your very own user opinion and let us and others know what you think about this product. Click the button below to start.
---
---
---
Samsung Galaxy A9 (2018) Product details
The Samsung Galaxy A9 (2018) is Samsung's first mobile phone with four cameras on the back. If we count them first, we even end up with 5. What you need them all for, what you can do with them and why four is better than three we are going to explain in this description.
Four cameras; for each situation one
Four cameras. Is that really necessary? Well, if you want to take a nice picture in a lot of situations. The most you will use is the 24 megapixel main camera. It has a bright f/1.7 lens that allows you to see without flash even in the dark. But even during the day, this one stands his ground. To be able to zoom in there is a camera with 2x optical zoom. With this you can even get closer from a distance. Creative photos with bokeh, or depth of field, are shot with the Depth Lens. This allows you to take professional-looking portrait photos with an out-of-focus background. You can manually move the focus from the foreground to the background or vice versa. Remains an extra wide wide-angle 120 degree lens with artificial intelligence. With AI Scene Recognition, the A9 automatically recognizes the best settings for the best photo results. And with the Scene Optimizer anyone can shoot a professional picture.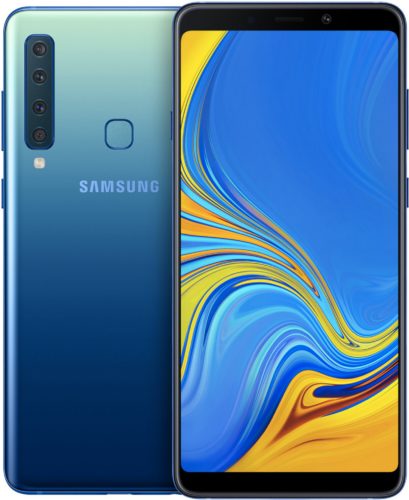 Bright screen and generous battery
And to think that we skip the 24 megapixel selfie camera with f/2.0 lens for convenience. Another eye-catcher is the 6.3-inch screen at the front. It has small edges above and below so that the housing is not unnecessarily large. Samsung applies the bright and colorful Super AMOLED which guarantees vivid colors with deep blacks. The resolution comes out at Full HD+ which gives a pixel density of just under 400; in other words, sharp enough for even the most critical eye. To be able to shoot long pictures there is a large 3800 mAh battery inside which can be quickly recharged via USB-C. Wireless charging missing. To keep up with your busy life, an octacore processor with 6 GB of working memory has been used. That is even more than the current flagship the S9. In terms of storage memory, the A9 comes out at 128 GB of which 108.6 GB remains for own use. This is easily expandable by another 512 GB via a separately available memory card.
Main Samsung Galaxy A9 (2018) specifications
Royal 6.3 inch Full HD+ screen with bright colors thanks to Super AMOLED technology
24 + 10 + 8 + 5-megapixel rear camera with 2x zoom, Wide-angle lens and sharpness/depth
High-speed mobile surfing thanks to 4G (Cat 9 LTE)
128GB of storage memory (expandable with up to 512GB microSD)
Rappe octacore processor at 2.2GHz with over 6GB of RAM working memory
Selfiecam 24 megapixel large with f/2.0 lens
2 SIM card insertion thanks to Dual SIM support (Standby Dual SIM)
Space for 2nd SIM card
Samsung launches the Galaxy A9 with Android 8.0, which was already followed up by Android 8.1 and Android 9.0 at the time of release. As far as that's concerned, he's looking at a backlog right away. What is useful is that there is room for a double SIM card of which only one can have a data connection at the same time. You don't have to share the lock for the 2nd SIM card with the one for the memory card, so you can put both in the device. Finally, Samsung does well to apply the new(er) USB-C. With that port you can charge the Galaxy A9 2018. The handy thing about it is that you can't put the cable in the wrong way; both sides fit. No more mirroring in the dark.
---
Most important Samsung Galaxy A9 (2018) specifications
Dimensions
162.5 x 77 x 7.8 mm
Weight
183 grams
Item ID
SM-A920
EAN code
8801643597504, 8801643591106, 8801643591076, 8801643590727, 8801643567583, 8801643567477, 8801643567378, 8801643567330, 8801643567200, 8801643564377
Fingerprint recognition
Android
8.0 (Oreo)
Color display
6.3 inch, Full HD+ Super AMOLED
Camera
10.0 Mpixel camera, 24.0 Mpixel camera, 5.0 Mpixel camera, 8.0 Mpixel camera
Processor
1.8 GHz, 2.2 GHz, Qualcomm Snapdragon 660, octa core
Secondary camera
24.0 Mpixel camera
Dual SIM
LTE (4G)
Internal memory
6 GB, 128 GB
Battery
3800 mAh
---
Alternatives of the Samsung Galaxy A9 (2018)
Scroll the table below to see more
| | | | | | |
| --- | --- | --- | --- | --- | --- |
| | | | | | |
| Photos relative in size | | | | | |
| | Current product | | | | |
| Fingerprint recognition | | | | | |
| Android | 8.0 (Oreo) | 9.0 (Pie) | 7.1 | 9.0 (Pie) | 9.0 (Pie) |
| Color display | 6.3 inch, Full HD+ Super AMOLED | 6.4 inch, Infinity U Full HD+ | 5.7 inch, IPS | 5.3 inch, IPS | 6.47 inch, OLED, notch |
| Camera | 10.0 Mpixel camera, 24.0 Mpixel camera, 5.0 Mpixel camera, 8.0 Mpixel camera | 25.0 Mpixel camera, 5.0 Mpixel camera, 8.0 Mpixel camera | 16.0 Mpixel camera | 13.0 Mpixel camera, dual camera sensor | 20.0 Mpixel camera, 40.0 Mpixel camera, 8.0 Mpixel camera |
| Processor | 1.8 GHz, 2.2 GHz, Qualcomm Snapdragon 660, octa core | 1.7 GHz, 2.3 GHz, Samsung Exynos 9610, octa core | 1.4 GHz, Qualcomm Snapdragon 430, octa core | 1.8 GHz, 2.5 GHz, Qualcomm Snapdragon 835, octa core | 1.8 GHz, 1.92 GHz, 2.6 GHz, HiSilicon Kirin 980, octa core |
| Secondary camera | 24.0 Mpixel camera | 25.0 Mpixel camera | 20.0 Mpixel camera, 8.0 Mpixel camera, flash | 13.0 Mpixel camera | 32.0 Mpixel camera |
| Dual SIM | | | | | |
| LTE (4G) | | | | | |
| Internal memory | 6 GB, 128 GB | 6 GB, 128 GB | 4 GB, 64 GB | 4 GB, 64 GB | 8 GB, 128 GB, 256 GB |
| Battery | 3800 mAh | 4000 mAh | 3000 mAh | 3090 mAh | 4200 mAh |
Complete comparison between the Samsung Galaxy A9 2018 and these alternatives or compare with other models
---
Questions and answers about the Samsung A9 2018