The Samsung Galaxy A90 5G is Samsung's first Galaxy A model with 5G support. By not only equipping its flagships with 5G, Samsung's ambition with 5G is clear. But what else do you get with an A90 5G?
More than just 5G
Now 5G is of course a nice feature to have. Provided of course you have reception and a corresponding subscription. So you can download files, play mobile games and stream music at lightning speed. But even without 5G you have enough on the Galaxy A90. It's just a smartphone with Android, a large screen and a large battery with fast charging. For example, the screen measures 6.7 inches from corner to corner with nice thin edges and only at the top a small notch for the 32MP selfie camera. The shape of that notch is also the inspiration for the name of the screen; Infinity-U Display. It's a Super AMOLED panel that we know for its bright color reproduction even in full daylight. Another advantage is the high contrast values, so black is really black.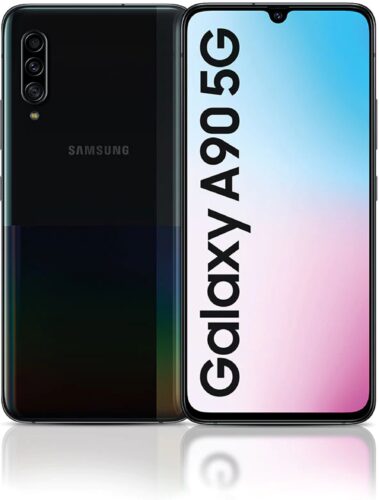 Triple camera system
If we turn the Galaxy A90 5G over, the holographic design stands out. The available colors Classic Black and Modern White look just a little less boring than they sound. On the back of the Galaxy we see three cameras. It is a 48MP camera in the middle with an f/2.0 lens, below an 8MP ultra-wide-angle and right above a 5MP depth camera. You shoot sharp shots, landscapes and portraits. Because the lens cannot open further than f/2.0, it does not shoot the best pictures in the dark. Zooming can only be done digitally. The video camera has image stabilization for smoother shots and can record video in up to 4K. A handy feature of the portrait mode is that it works with Live Focus. You can see how blurry the background becomes even before taking the picture.
Main Samsung Galaxy A90 5G specifications
6.7 inch Infinity-U Display with sharp FHD+ resolution and fingerprint scanner
48+8+5MP camera with ultra-wide-angle, depth and 4K video
32MP portrait (Selfie Focus)
Very powerful Snapdragon 855 processor with at least 6GB of RAM memory
4500 mAh battery with 25W fast charge
5G support for high-speed mobile internet
Powerful high-end Snapdragon 855
The A90 equipped with the Snapdragon 855 processor. This is about the most powerful processor Qualcomm has. Striking because Samsung often uses its own Exynos processor. Even the most extensive Galaxy S models do not get a Qualcomm processor in Europe. The fact that Samsung now chooses a Qualcomm copy has everything to do with 5G. There are simply not many chips with 5G support yet. The result is that the A90 5G is pretty much the most powerful Galaxy phone at the moment. In fact, it's the most powerful and fastest Galaxy A phone yet. The RAM memory is at least 6GB and the battery is 4500 mAh. Because of this, it will last a long time and is fast in use. The ideal combination. In terms of software, it is somewhat disappointing that it came out with Android 9.0 Pie. However, Samsung has promised to release Android updates and security updates for 3 years.