The Samsung Galaxy M20 is a relatively affordable Samsung with a modern look as well as modern specifications. For example, it has a large screen, without edges and minimal notch, double camera and oh yeah: an immense battery! That is exactly why some people call it the Galaxy M20 Power.
Long battery life
Samsung tries to deal once and for all with smartphones whose battery just doesn't last a day or more. The Galaxy M20 is therefore equipped with a 5000 mAh battery. We don't even find it that thick in the expensive S-flagships. And with a thickness of 8.8 millimeters, the M20 itself can't even be called that thick. The battery life is impressive: 29 hours calling, 101 hours listening to music or 17 hours watching video. Once empty, you can quickly recharge it. 10 minutes is enough for 1 hour of video watching or 7 hours of music listening.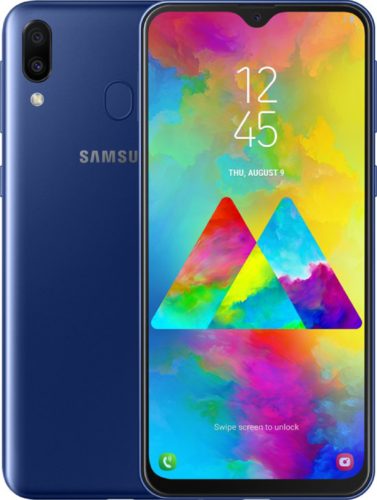 Camera with many functions
It is neat that for this amount you get a large 6.3 inch screen with pretty thin screen edges. Only at the bottom we find a small chin. At the top is a V-shaped notch for the 8 megapixel selfie camera. By the way, it has a Front Beauty mode to polish away bumps and even out colors. Your selfies can go straight to the socials. On the back we find two 13 and 5 megapixel cameras. The first has a wide angle lens while the other has a 120° extra wide angle lens. The advantage of this is that you get more in view, ideal for landscapes. Moreover, the Galaxy M20 can recognize depth through 2 sensors. This allows it to blur backgrounds, resulting in professional-looking portraits.
Main Samsung Galaxy M20 specifications
Large 6.3 inch Infinity V screen with just a small notch
Dual rear camera (13 + 5 megapixels) with portrait mode
Big battery with long battery life
Decent octa-core processor (Samsung Exynos 7904) at max 1,8 GHz
Placing multiple SIM cards using Dual SIM slot
Possibility to insert memory cards yourself (max 512 GB)
For fast 4G internet
Fingerprint scanner on the back
Complete package
Samsung has further equipped the Galaxy M20 with a reasonably powerful octacore processor with a neat 4 GB of RAM memory. A year ago you only found this in expensive flagships. There is 4G support for fast internet on the go, 64 GB of standard storage and the latter can be expanded to a maximum of 512 GB thanks to a memory card. You can store up to 2 cards (nanoSIM type) in the M20, so you can be reached on 2 numbers at the same time. You will find Android 9.0 Pie from the box with Samsung's own One UI on top of it. This makes it look a bit better right away, and it is also easier to operate with one hand. Samsung promises to release software updates until at least May 2021.