The Samsung Galaxy M31 is a smartphone with an extra large battery and on the back a versatile camera system consisting of 4 sensors. The M31 is also an inexpensive smartphone that offers you considerable value for money. What exactly is something we are going to investigate here.
Big, bright and sharp screen
The Galaxy M-series has created Samsung to appeal to the so-called millennials. They want to be online for a long time, hence the thick 6000 mAh battery with a specified battery life of 2 days. The Galaxy M31 can also be used by non-Millennials, because it is a very versatile phone. A big one too. At the front you will find a 6.4 inch big screen with a U-shaped notch at the top for the selfie camera. It also owes its name to that; Infinity-U Display. This is a so-called Super AMOLED panel where each pixel makes its own light. This results in unprecedented high contrast values. Black pixels simply remain out in contrast to other screen techniques that use backlighting. The sharpness is also good. The resolution of Full HD+ delivers flawless images.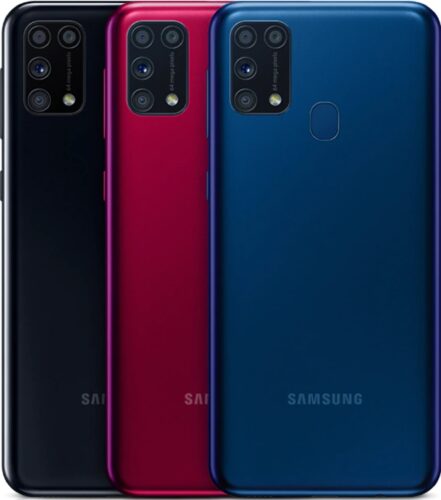 Quad Camera does not disappoint
On the back of the M31 we find four cameras: a 64MP main camera with f/1.8 lens, an 8MP ultra-wide-angle with 123° viewing angle, a 5MP depth camera and another 5MP macro camera. There is no separate zoom lens, but the primary sensor provides enough space to zoom in digitally without too much loss of quality. The Galaxy M31 supports Live Focus where you can see the background blur on the screen before shooting the picture. This allows you to take a good, better portrait photo in one go. Live Focus even works on the single 32MP selfie camera at the front. Right next to the camera you'll find the fingerprint scanner. The M31 does not have modern on-screen fingerprint recognition. That may sound like a drawback, but physical scanners are often faster.
Main Samsung Galaxy M31 Specifications
Infinity-U Display 6.4 inch, FHD+ resolution and with Super AMOLED
64+8+5+5MP Quad Camera with wide angle, macro, depth and 4K video
32MP selfie camera with Live Focus
Octa-core processor with 6+64GB memory (8+128GB version not widely available)
Big 6000 mAh battery with 15W fast charge
Physical fingerprint scanner on the back, facial recognition on the front
Dual SIM support + space for memory card
Marathon runner, not a sprinter
Samsung uses its own Exynos 9611 processor. Even though it consists of eight cores, it is not super powerful. Gaming and live streaming will still work but don't expect to reach 60 fps all the time. The RAM memory will come in versions of 6 and 8 GB, with the latter accompanied by 128GB of storage memory. The first version will be 64GB. That's not a problem, because you can always place a memory card with a maximum of 512GB in case of lack of space. In addition to a memory card, you can also place a 2nd SIM card. So the M31 supports Dual SIM. To save costs, the back is made of plastic. It has a matte finish so that it is not so sensitive to fingerprints. Moreover, it is available in multiple colors.