Now we don't want to compare apples with oranges so back to this Galaxy M51. We're talking about a model from the Galaxy M-series thats targeted at millennials who like to be online and want to kill time by gaming. So you need a large battery and Samsung delivers. What's more, you can quickly recharge the battery between games thanks to the 25 Watt quick charger.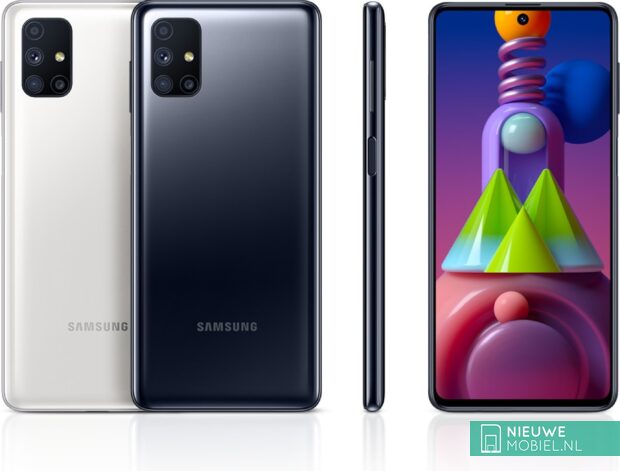 The screen of the Galaxy M51 measures 6.7 inch whose edges have remained thin. Gone is the notch, which had to make way for a subtle punch-hole for the 32MP selfie camera. On the back there are another 4 cameras; a 64MP main camera, 12MP ultra-wide-angle lens, 5MP depth camera and a 5MP macro camera. The ultra-wide-angle lens has a viewing angle of 123° for realistic shots of landscapes. Samsung Germany, where the device appeared online, also mentions an octa-core processor with 6 GB of RAM and 128 GB of storage, which can be expanded with up to another 512 GB via a separate memory card.
Samsung Galaxy M51 available
The Samsung Galaxy M51 is available for a retail prices of 360 euros in two glossy colors. Although, 'colors'. You can choose between white and black. When we find the device in the shop is still unknown; at the time of writing we haven't found any suppliers in the whole of Europe.