The Samsung Galaxy Note 10 Lite takes the power of the S Pen to a more affordable price point. Even though the Note 10 Lite is not cheap, but despite what its name would suggest, it is still more than an entry-level model or even a mid-range phone. It is in a class of its own. Why don't we explain it to you here
Not light weight
Anyone who wants to use a Samsung Galaxy with a pen, for example to make notes or sketches, always had pay a large amount of money. The Galaxy Note-series is one of the most expensive Samsung products. We were therefore pleasantly surprised with the arrival of this Note 10 Lite (sometimes called the Note10 Lite). That name is poorly chosen, because the Note 10 Lite is by no means a lightweight. We can see that right away by looking at the spec sheet. There is a large 6.7 inch Super AMOLED screen with small punch hole for the 32MP selfie camera, large 4500 mAh battery with fast charging, modern and powerful processor with at least 6 GB of RAM memory and on the back a three headed camera system. The 'Lite' in the name is mainly due to the lower screen resolution (Full HD+ instead of Quad HD+) and the slightly lower camera resolution of the main camera (12 instead of 16 megapixels).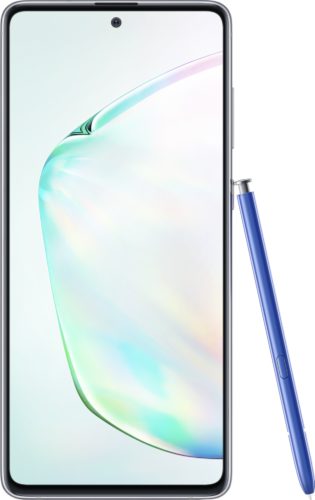 Modern, large and usefull screen
In terms of screen size, the Note 10 Lite is exactly between 6.3 inches of the Note 10 and 6.8 inches of the Note 10+. However, the Note 10 Lite is slightly larger and thicker than the Note 10+ because the screen bezels are slightly thicker. It is also a bit rounder than its brothers so it looks more to be part of the S20 series. The screen has a built-in fingerprint scanner, but most important is of course S Pen support. Press it out of the device and it lets you draw on the screen, automatically convert written text and even work as a remote control. Use it, for example, to take photos remotely or pause your music. Zooming in and out of the camera the way you did with the other Note10 series is something that this Note 10 Lite lacks
Main Samsung Galaxy Note 10 Lite specifications
Big 6.7 inch Infinity-O Display with S Pen support
Selfiecam 32 megapixel in top hole punch
12+12+12MP main camera, ultra-wide-angle and telephoto lens
Octa-core processor at up to 2,7 GHz and 6GB of RAM
4G support for mobile internet
Supports Hybrid Dualsim (slot shared with memory card)
Versatile multi-camera system, large battery
In terms of camera setup, there are some changes compared to his more expensive Note 10 brothers. For example, there is a camera system consisting of three sensors, this time 3 times a 12 megapixel sensor. With the Note 10 Lite you get the choice between a main lens, an ultra-wide-angle lens and a telephoto lens. The first will be used most often and has Live Focus effects so you can blur the background or add effects, for example. Landscapes are captured with the 123° wide-angle lens and up to 2x closer with the telephoto lens. Useful if you want to get closer but don't feel like walking. Finally, a compliment to the chosen battery capacity. With a capacity of 4500 mAh, the Note10 Lite has the largest battery of all Note10 models.