Samsung Galaxy Note 20 4G
---
Pro and cons Galaxy Note 20 4G
Cheapest Note20
All the benefits of S Pen
108MP camera + 8K video
Powerful performance
---
Reviews about the Samsung Galaxy Note 20 4G
| | | |
| --- | --- | --- |
| 5 stars | | 0 reviews |
| 4 stars | | 1 review |
| 3 stars | | 0 reviews |
| 2 stars | | 0 reviews |
| 1 star | | 0 reviews |
Give your opinion
Write your very own user opinion and let us and others know what you think about this product. Click the button to start.
---
---
Samsung Galaxy Note 20 4G product details
The Samsung Galaxy Note 20 4G is, as its name suggests, the 4G version of the Note 20. The lack of 5G makes it a bit cheaper. The screen, the cameras and of course the S Pen remain the same. In this description we are going to explain what you can get out of that.
Improved S Pen with synchronization
A Note-telephone is only considered if you need the S Pen. For example, to take notes but also to control your phone. If you do not need that pen but still need a powerful phone we recommend the S20. You keep the S Pen in the Note 20 itself and it contains even more features this year. Now you can even write notes on the lockscreen and text recognition automatically converts your scribbles to written text. Ready to be copied. Or sync with your PC because Samsung Notes now keeps files neatly synced between all your devices.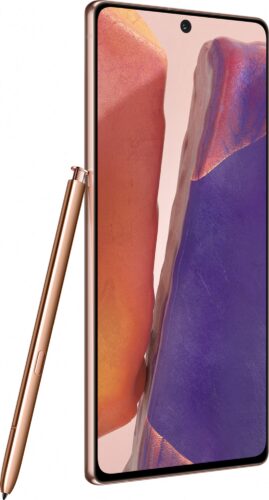 Power for two
As in previous years, the Note 20 is an extremely powerful phone. Inside is an Exynos 990 processor from Samsung itself. Because Samsung makes the hardware and software itself, they can both tune in better to each other. This only benefits the speed. Expect smooth performance from this Galaxy Note20. That is always handy to have, but short jumps are of no use to you. You want a phone that will last you a day at full power. Luckily, there is a 4300 mAh version built in with fast charging. If it does get empty, the battery will be half full again in half an hour. The 25W quick charger is just in the box although you can also charge it wirelessly. You can even use it to charge other devices wirelessly. Your Galaxy Buds Live for example. Just by putting the box on the back.
Main Samsung Galaxy Note 20 4G specifications
Flat 6.7 inch Infinity-O screen, HDR10+ certified
12+12+64MP camera with 3x hybrid zoom, 120° wide angle and 8K video
S Pen now feels more like a real pen
Exynos 990 processor with 8GB of RAM memory and 256GB of storage
Battery of 4300 mAh with 25W fast charging and (reverse) wireless charging
Triple Camera can shoot 8K video
The Note 20 4G has 3 cameras on the back; a 12MP primary camera, 12MP ultra wide angle and a 64MP telephoto to zoom with. Usually we see that most megapixels go to the main camera and not to the zoom camera. In itself, 12MP is enough to take sharp photos, so that choice is not that crazy. Because Samsung uses extra large pixels of 1.8?m, the sensor captures enough light to take well-exposed photos in almost every circumstance. The Note 20 can zoom 3x hybrid and digitally it can stretch that up to 30x. Pure optical zooming is unfortunately missing, a pity because the Note 10 could still do that. There is optical image stabilization (OIS) for sharper images and video can be recorded in up to 8K. Because of that high video resolution, you can zoom in on a video afterwards without loss of quality. At the front is a 10MP selfie camera behind a relatively small punch-hole. The only pity about that screen is the relatively low 60Hz refresh rate. Animations don't look as smooth as on a 120Hz screen. All in all a very complete phone. And if you don't necessarily need 5G then you can save a lot of money by going for this Note20 4G.
---
Most important Samsung Galaxy Note 20 4G specifications
Dimensions
161.6 x 75.2 x 8.3 mm
Weight
192 grams
Item ID
SM-N980
EAN code
8806090596896, 8806090596889, 8806090596834, 8806090596810, 8806090596803, 8806090596551, 8806090596537, 8806090596476
Fingerprint recognition
Android
10
Color display
6.7 inch, Super AMOLED Infinity-O Display
Camera
12 MP, 12 MP, 64 MP
Dust and waterproof
Processor
2.0 GHz, 2.5 GHz, 2.7 GHz, Samsung Exynos 990, octa core
Secondary camera
10 MP
Dual SIM
4G (LTE)
Internal memory
8 GB (Size (RAM)), 256 GB (Storage)
Memory card slot
Battery
4300 mAh
Fast charging
Wireless charging
Audio jack plug
---
Video about the Samsung Galaxy Note 20 4G
The Samsung Galaxy Note 20 4G is considerably cheaper due to the lack of 5G. And that makes it an ideal gift to make someone very happy with it.
---
Alternatives of the Samsung Galaxy Note 20 4G
Scroll the table below to see more
| | |
| --- | --- |
| | |
| | |
| | Current product |
| Fingerprint recognition | |
| Android | 10 |
| Color display | 6.7 inch, Super AMOLED Infinity-O Display |
| Camera | 12 MP, 12 MP, 64 MP |
| Dust and waterproof | |
| Processor | 2.0 GHz, 2.5 GHz, 2.7 GHz, Samsung Exynos 990, octa core |
| Secondary camera | 10 MP |
| Dual SIM | |
| 4G (LTE) | |
| Internal memory | 8 GB (Size (RAM)), 256 GB (Storage) |
| Memory card slot | |
| Battery | 4300 mAh |
| Fast charging | |
| Wireless charging | |
| Audio jack plug | |
Complete comparison between the Samsung Galaxy Note 20 4G and these alternatives or compare with other models
---
Questions and answers about the Samsung Note 20 4G