---
---
Pro and cons Galaxy Note 9
Battery life from 1 to 2 days
More powerful thanks to innovative cooling system
Storage up to 1 TB possible
S Pen gets no-holds-barred functionality
Modest but expensive update
---
Prices Samsung Galaxy Note 9 Unlocked
No results were found that match your search query. Please remove some search options or try again.
---
Reviews about the Samsung Galaxy Note 9
| | | |
| --- | --- | --- |
| 5 sterren | | 0 reviews |
| 4 sterren | | 1 review |
| 3 sterren | | 0 reviews |
| 2 sterren | | 0 reviews |
| 1 ster | | 0 reviews |
Want to earn $50?
Every month we select a winner among all user opinions that were submitted. That person wins a voucher of $50. The only thing you need to do to is write your very own user opinion and let us and others know what you think about this product. Click the button below to start.
---
---
---
Samsung Galaxy Note 9 Product details
The Samsung Galaxy Note 9 is a giant of a phone with more screen, more battery, more processing power, more storage and more features. It should be clear; the theme of Samsung's latest Note-telephone is mainly 'more'. In this discussion we go deeper into that and see if all that more is also worthwhile to get one.
More battery and more storage
Samsung has a somewhat unfortunate history with the Note when it comes to the battery. Samsung therefore deserves a compliment for putting its biggest battery ever in a phone. The Note 9 has a huge 4000 mAh battery that will last you another day even with heavy use. If you're a little more economical with it, you can even make it two days. Charging can be done wirelessly and via a USB-C cable, both can be done extra fast this time. Also in terms of storage you get more this year. The starter model is equipped with a large 128 GB which can also be expanded via a memory card. There is also a model available with 512GB of storage, at the time of writing only in the Midnight Black version. Combine it with a separately available 512 GB memory card and you have a phone in your pocket with as much as 1 terabyte of storage, unprecedented for a mobile phone.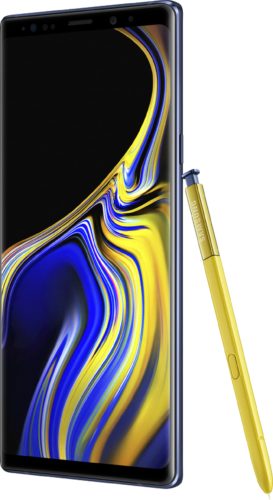 More power and more memory
What the Galaxy Note 9 also has more of is computing power. The Exynos 9 Series (9810) is built at 10 nanometers and performs 40% better than its predecessor, but what makes it unique is the new way of cooling. The hydrocarbon cooling system ensures that the Note 9 keeps your head cool even during intensive gaming. This is necessary because when temperatures rise, which is unavoidable with intensive use, performance drops. Because the Note9 needs this less often, it can provide longer peak performance, which is very useful when used intensively, such as gaming. In other words, the device remains smooth no matter what you do with it. And with 6GB of working memory, there's plenty of RAM to quickly switch apps and perform tasks. The special version with 512GB of storage even comes with 8GB of RAM if you need even more.
Main Samsung Galaxy Note 9 specifications
Greater 6.4 inch Infinity Super AMOLED Quad HD+ screen
Double 12 megapixel camera with 4K video recording
Selfiecam with 8 megapixel large sensor
Dust and water resistant (IP68 certification)
Octacore processor (Samsung Exynos 9810) at 2,7 GHz, 8 GB RAM working memory
Support for fast 4G internet LTE
Choice of 128 or 512 GB storage + memory card slot
Dual SIM functionality
Same camera, but more settings
Samsung equips the Galaxy Note 9 with a double main camera with double aperture. The camera is familiar to us, we also saw it in the Galaxy S9+. It allows him to take the best pictures in the most challenging conditions even if they change quickly. The fact that there is a double camera also makes it suitable for blurring backgrounds, ideal for portrait photography. New to the Note 9 camera is the presence of artificial intelligence. He sees which setting is best at that moment. If you take a picture of a plant, he chooses the best settings. If you want to capture a plate of pasta, he chooses the best settings. He even recognizes when a photo has failed because, for example, someone has blinked his eyes and suggests making a new one. Another old acquaintance is the S Pen, which has the same functionalities you are used to from him, but just like the camera it has more functions. You can use the button to take photos remotely or browse through a presentation. All wireless thanks to Bluetooth.
Can't actually do anything wrong
Everything about the Samsung Galaxy Note9 breathes more, but to say that it is revolutionarily different from its predecessor; no. Especially when you consider that the price difference between the two at the time of writing is very large (something that will come around after the release). So be sure to consider the Note 8 or Note 8 Duos if you are thinking of purchasing a Note 9. For the real Note fans that's not even a real question, they immediately go for the Note 9. This is because the device has built up a certain reputation with its fan base. Handsome because we still remember how much criticism the first Note received because of its size. Samsung foresaw a need before we even saw it.
---
Most important Samsung Galaxy Note 9 specifications
Dimensions
161.9 x 76.4 x 8.8 mm
Weight
201 grams
Item ID
SM-N960
Codename
Samsung Crown
EAN code
8801643632175, 8801643486426, 8801643486242, 8801643486013, 8801643485726, 8801643485504, 8801643479961, 8801643476908, 8801643476830, 8801643476762, 8801643475734, 8801643439514, 8801643439484, 8801643428730, 8801643424077, 8801643423650, 8801643423391, 8801643403485, 8801643403461, 8801643403423, 8801643403386, 8801643403300, 8801643403263, 8801643403171, 8801643403164, 8801643399610, 8033779044854, 0887276295688, 0887276285535, 0887276285412, 0887276283159, 0887276265162, 0400062964164, 0400062964126
Fingerprint recognition
Android
8.1
Color display
6.4 inch, Infinity Super AMOLED Quad HD+
Camera
12 Mpixel camera, 12 Mpixel camera, dual camera sensor
Dirt and waterproof housing
Processor
1.8 GHz, 2.7 GHz, Samsung Exynos 9810, octa core
Secondary camera
8.0 Mpixel camera
Dual SIM
LTE (4G)
Internal memory
6 GB, 8 GB, 128 GB, 512 GB
Battery
4000 mAh
Fast charging
Wireless charging
Heart rate monitor
---
Alternatives of the Samsung Galaxy Note 9
Scroll the table below to see more
| | | | | | |
| --- | --- | --- | --- | --- | --- |
| | | | | | |
| Photos relative in size | | | | | |
| | Current product | | | | |
| Fingerprint recognition | | | | | |
| Android | 8.1 | 9.0 (Pie) | 9.0 (Pie) | 9.0 (Pie) | 9.0 (Pie) |
| Color display | 6.4 inch, Infinity Super AMOLED Quad HD+ | 6.3 inch, Dynamic AMOLED Infinity-O Display | 6.47 inch, OLED, notch | 6.2 inch, Max Vision Full HD+, notch | 6.5 inch, OLED |
| Camera | 12 Mpixel camera, 12 Mpixel camera, dual camera sensor | 12 Mpixel camera, 12 Mpixel camera, 16.0 Mpixel camera | 20.0 Mpixel camera, 40.0 Mpixel camera, 8.0 Mpixel camera | 16.0 Mpixel camera, 5.0 Mpixel camera, dual camera sensor | 12.0 Mpixel camera, 12.0 Mpixel camera, 12.0 Mpixel camera |
| Dirt and waterproof housing | | | | P2i coating | |
| Processor | 1.8 GHz, 2.7 GHz, Samsung Exynos 9810, octa core | Octa core | 1.8 GHz, 1.92 GHz, 2.6 GHz, HiSilicon Kirin 980, octa core | 1.8 GHz, Qualcomm Snapdragon 632, octa core | Qualcomm Snapdragon 855, octa core |
| Secondary camera | 8.0 Mpixel camera | 10.0 Mpixel camera | 32.0 Mpixel camera | 12.0 Mpixel camera | 13.0 Mpixel camera |
| Dual SIM | | | | | |
| LTE (4G) | | | | | |
| Internal memory | 6 GB, 8 GB, 128 GB, 512 GB | 8 GB, 256 GB | 8 GB, 128 GB, 256 GB | 4 GB, 64 GB | 6 GB, 128 GB |
| Battery | 4000 mAh | 3500 mAh | 4200 mAh | 3000 mAh | 3330 mAh |
| Fast charging | | | | | |
| Wireless charging | | | | | |
| Heart rate monitor | | | | | |
Complete comparison between the Samsung Galaxy Note 9 and these alternatives or compare with other models
---
Questions and answers about the Samsung Note 9