---
---
Pro and cons Galaxy S10 5G
One of the first available 5G telephones
Larger screen, larger battery
Better depth recognition self-image camera
Colorful and sharp screen, useful camera system
Use of 5G and no memory card slot
---
Prices Samsung Galaxy S10 5G Unlocked
No results were found that match your search query. Please remove some search options or try again.
---
Reviews about the Samsung Galaxy S10 5G
| | | |
| --- | --- | --- |
| 5 sterren | | 1 review |
| 4 sterren | | 0 reviews |
| 3 sterren | | 0 reviews |
| 2 sterren | | 0 reviews |
| 1 ster | | 0 reviews |
Want to earn $50?
Every month we select a winner among all user opinions that were submitted. That person wins a voucher of $50. The only thing you need to do to is write your very own user opinion and let us and others know what you think about this product. Click the button below to start.
---
---
---
Samsung Galaxy S10 5G Product details
This Samsung Galaxy S10 5G is, as its name suggests, a 5G phone. Furthermore, that name is only confusing because Samsung even positions it above the S10+ with a larger screen, thicker battery and double self-image camera that is the only S10 that has Live Focus Video.
Differences with S10 and S10+
The usefulness of owning a 5G phone anno 2019/2020 is not very great. There is as yet no nationwide 5G network in the Netherlands and Belgium. Of course it is nice to be the first to walk around with a 5G phone, but you shouldn't buy this S10 5G for that. Fortunately, there's enough left over to make this Galaxy S10 5G worth considering. For example, the S10 series has the largest screen; 6.7 inches. The battery is also the largest, with a capacity of 4500 mAh. These two advantages largely cancel each other out because a larger screen consumes more. Remains the selfie camera which is the only Galaxy S10-er with a third sensor; a 3D depth camera. With the S10+, another RGB sensor is used for this.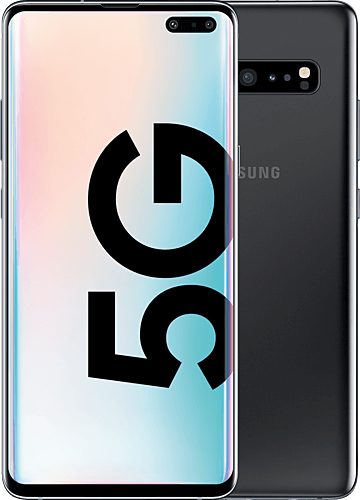 Sharp screen and photos
Furthermore, it is mainly a feast of recognition at the S10 5G. The Dynamic AMOLED Infinity-O Display features a built-in fingerprint scanner and an unprecedented high resolution Quad HD+ for razor-sharp images. On the back you will find four cameras; a 12 megapixel wide-angle camera for everyday photos, a 12 megapixel camera with 2x optical zoom, a 16 megapixel camera with ultra-wide-angle lens for landscape photos and finally a separate depth of field camera. With the latter you can distinguish foreground from background and shoot beautiful portrait photos with blurred background. You can see this effect even before shooting the picture thanks to the Live Focus mode.
Main Samsung Galaxy S10 5G specifications
Higher Curved Dynamic AMOLED Quad HD+ display of 6.7-inch
Fold camera system with zoom, wide angle and depth camera
Sharp self-image camera with depth recognition and Live Focus
Providing lightning-fast 5G support (when covered)
Powerful performance thanks to octacore processor at 2.84 GHz and 8 GB working memory
No space for memory card
This also works in video mode and as the only S10 model, the self-image camera also has this. You can choose what to focus on and what is sharp and out of focus by simply clicking on it. Another advantage of a depth camera is that the S10 can measure 5G objects, ideal to see if that IKEA sofa fits in your living room. It also enables AR applications that were previously impossible. By adding virtual objects to real-time video you combine reality with the virtual world. Remains the following warning; this Galaxy S10 5G does not have something the S10 and S10+ do have; a memory card slot. You'll have to do it with the built-in 256 GB. You can't place a 2nd SIM card either. Single SIM.
---
Most important Samsung Galaxy S10 5G specifications
Dimensions
162.6 x 77.1 x 7.94 mm
Weight
198 grams
Item ID
SM-G977
EAN code
8801643972882, 0887276334165, 0887276333885
Fingerprint recognition
Android
9.0 (Pie)
Color display
6.7 inch, Curved Dynamic AMOLED Quad HD+, hole-punch display
Camera
12.0 Mpixel camera, 12.0 Mpixel camera, 16.0 Mpixel camera
Dirt and waterproof housing
Processor
1.7 GHz, 2.4 GHz, 2.8 GHz, octa core
Secondary camera
10.0 Mpixel camera
LTE (4G)
Internal memory
8 GB, 256 GB
Memory card slot
Battery
4500 mAh
Fast charging
Wireless charging
Heart rate monitor
---
Alternatives of the Samsung Galaxy S10 5G
Scroll the table below to see more
| | | | | | |
| --- | --- | --- | --- | --- | --- |
| | | | | | |
| Photos relative in size | | | | | |
| | Current product | | | | |
| Fingerprint recognition | | | | | |
| Android | 9.0 (Pie) | 10 | 9.0 (Pie) | | 9.0 (Pie) |
| Color display | 6.7 inch, Curved Dynamic AMOLED Quad HD+, hole-punch display | 6.9 inch, Infinity-O Display, hole-punch display | 6.47 inch, OLED, notch | 4.7 inch, IPS | 6.2 inch, Max Vision Full HD+, notch |
| Camera | 12.0 Mpixel camera, 12.0 Mpixel camera, 16.0 Mpixel camera | 108 Mpixel camera, 12.0 Mpixel camera, 48.0 Mpixel camera | 20.0 Mpixel camera, 40.0 Mpixel camera, 8.0 Mpixel camera | 12.0 Mpixel camera | 16.0 Mpixel camera, 5.0 Mpixel camera, dual camera sensor |
| Dirt and waterproof housing | | | | | P2i coating |
| Processor | 1.7 GHz, 2.4 GHz, 2.8 GHz, octa core | Octa core | 1.8 GHz, 1.92 GHz, 2.6 GHz, HiSilicon Kirin 980, octa core | Apple A11 Bionic, Quad Core | 1.8 GHz, Qualcomm Snapdragon 632, octa core |
| Secondary camera | 10.0 Mpixel camera | 40 Mpixel camera | 32.0 Mpixel camera | 7.0 Mpixel camera | 12.0 Mpixel camera |
| LTE (4G) | | | | | |
| Internal memory | 8 GB, 256 GB | 12 GB, 16 GB, 128 GB, 512 GB | 8 GB, 128 GB, 256 GB | 2 GB, 256 GB, 64 GB | 4 GB, 64 GB |
| Battery | 4500 mAh | 5000 mAh | 4200 mAh | 1821 mAh | 3000 mAh |
| Fast charging | | | | | |
| Wireless charging | | | | | |
| Heart rate monitor | | | | | |
Complete comparison between the Samsung Galaxy S10 5G and these alternatives or compare with other models
---
Questions and answers about the Samsung S10 5G