The fact that the Galaxy S10 Lite and Note10 Lite are brothers proves the specs. They have many characteristics in common. Think of a 6.7 inch screen with Full HD+ resolution, Super AMOLED screen and Infinity-O. Both have three cameras on the back, a 32 megapixel selfie camera, 4500 mAh thick battery, octa-core processor with 6 to 8 GB of working memory, a 4500 mAh thick battery and storage memory is 128 GB in both cases.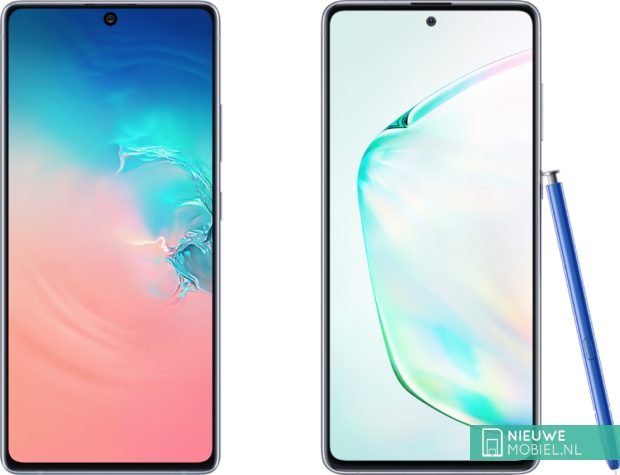 Then the differences. The Note 10 Lite has a built-in S Pen, the processor of the S10 Lite is fried at 7 nanometers versus 10 nanometers at the Note10 Lite. The camera sensors on the back also differ. Knows the Galaxy S10 Lite a 48 + 12 + 5 megapixel camera, on the back of the Note10 Lite sits 3 times a 12 megapixel sensor. The application of the sensors also differs. The S10 Lite includes a macro lens, wide-angle lens and ultra-wide-angle lens, the Note10 Lite exchanges the macro for telephoto zoom.
Prices S10 Lite and Note10 Lite
There are also some strangers. So we don't know yet if both phones are IP-waterproof. Prices and availability are known. For the Galaxy S10 Lite Samsung asks a price of 649 euros. The device is available in the colors Prism White, Prism Black and Prism Blue in stores from January. The Samsung Galaxy Note 10 Lite will be in store around the same date for a suggested retail price of 599 euros. Here you can choose between Aura Glow and Aura Black.