The presentation of the Samsung Galaxy S20 is planned for February 11th but already the plane is on the street. Striking, because Samsung had managed to keep information indoors quite well so far. A small addition; the images below do not show the S20 but the S20+. Or even more precisely, the 5G version.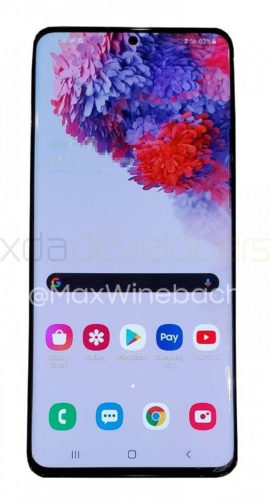 Because we see the startup screen, the photo immediately reveals its name. For a long time we thought it was going to be called the S11. The photos correspond to all other leaked material. There is a centered self-image camera in a remarkably small screen hole. At the bottom of the screen is a small chin and at the back is the rectangular camera island in the upper left corner and consists of 4 cameras.
2.5D glass
It is also noticeable that the screen edges do not deflect as much as with the S10. It may also be due to the camera angle or the incidence of light. Something stands out on the back, too. The top is slightly curved, just like the side. Previous Galaxy S models lacked that.
What else Samsung has in store for the Galaxy S20, S20+ and possibly the S20 Ultra should turn out to be February 11th. Then Samsung holds an Unpacked Event in San Francisco. Whether it is going to announce the Galaxy Fold 2 there is still the big question. Possibly it will be marketed under the name Galaxy Z (xxx). Earlier 'Bloom' was mentioned as a possible name.
(via)