---
Reviews about the Samsung Galaxy S8+
| | | |
| --- | --- | --- |
| 5 stars | | 0 reviews |
| 4 stars | | 0 reviews |
| 3 stars | | 0 reviews |
| 2 stars | | 0 reviews |
| 1 star | | 0 reviews |
Give your opinion
Write your very own user opinion and let us and others know what you think about this product. Click the button to start.
---
---
Samsung Galaxy S8+ product details
The Samsung Galaxy S8+ (or S8 Plus) is the largest model released as a flagship for 2017. Despite not being named 'edge' it does have a curved screen around the edges. What else distinguishes the S8+ from the rest besides this Infinity Display is something we will explain below.
Infinity screen; large yet compact
Other manufacturers use the plus-indication for much better models, Samsung uses it to indicate the size. The Samsung Galaxy S8+ gets an almost immense screen of 6.2 inches in size. That sounds impractically large, but because the screen edges have almost disappeared, the device is hardly larger than the iPhone 7 Plus that is equipped with a 5.5-inch screen. That's where the advantage of the so-called Infinity screen lies. A relatively compact phone with a large screen. In fact, the viewing experience is so different from what you're used to when you're immersed in the screen. Seeing is believing and it is hard to put into words. There was no room for the home button next to the screen. It now appears on the screen and is available at all times by pressing it. The S8+ recognizes the difference in pressure and gives a slight vibration so that you still feel as if you are pressing a physical button. The fingerprint scanner is now on the back, right next to the camera module. In the beginning it will take some searching, resulting in finger feathers on the camera lens. The Galaxy S8+ is smart enough to recognize that and then gives the advice to clean it.
Security at military level
The Samsung S8+ does not only have a new design, there is also a new form of authentication possible. The device recognizes your iris, the colored part of your eye that is unique and a lot harder to fool. Iris recognition is a bit slower than for example fingerprint recognition. You can therefore also opt for much faster facial recognition. This is almost as fast as fingerprint recognition. So if you can't get used to the new location of the fingerprint scanner, this is a good alternative. Apart from these three ways you can always choose a pattern, pincode or password. Enough possibilities. Samsung has also provided the S8+ with a safe folder in which you can place apps that are only visible to you. You can also put files in this folder that are only meant for your eyes.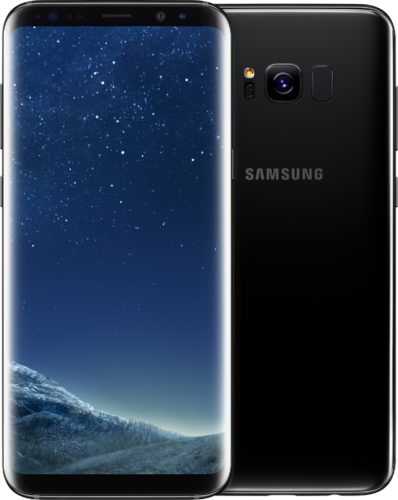 More power, yet more battery efficient
Another difference between the S8 and this S8+ is the larger battery. It measures a capacity of 3,500 mAh. That seems a bit small in terms of screen area, but that's where the new processor comes in. It is based on a smaller 10 nanometer process. The smaller, the more energy efficient. But it is also faster, which means that apps start up faster and you don't have to wait as long. What the S8+ is also fast in is mobile internet. Samsung is one of the first phones to provide the S8+ with gigabit mobile internet. When Dutch providers support it, it is the first to go through 1 Gbit/s (that's more than 1,000 Mbit/s). To give you an idea of how fast that is; those are fiber optic speeds, but wireless. WiFi speeds are also higher. Thanks to a new technique they are up to 20% higher than the previous model. The condition is that your WiFi router supports the 1024-QAM technique.
Main Samsung Galaxy S8+ specifications
6.2-inch large Infinity Display gives new viewing experience
12 megapixel Dual Pixel camera with large f/1.7 aperture and Smart Auto Focus
Dustproof and waterproof thanks to IP68 rating
Number of release methods comes with iris recognition at six
Self camera with higher 8 megapixel resolution and autofocus
Extremely fast mobile 4G internet (gigabit speeds)
Efficient and powerful Exynos 8890 processor at up to 2,3 GHz
64GB of built-in storage expandable up to 256GB with microSD card
Selfie camera with stickers
The Samsung Galaxy S8+ is equipped with a waterproof housing, can be expanded with a memory card and has the same recognizable 12 megapixel Dual Pixel camera as its predecessor. Still, there are differences. Samsung promises better waterproofing, especially with harder water jets, and the camera has also become more intelligent. To take a good photo, you need more than good hardware. The underlying software has been expanded and now chooses the best settings more often. This should result in better photos. The selfie camera at the front does have hardware improvements. The resolution has gone up from 5 to 8 megapixels. More pixels usually result in a slightly sharper image. More important is the presence of autofocus with which sharp close-ups can be made. The Smart Auto Focus automatically focuses on faces, even when several people are in the picture. The S8+ also has stickers that you may know from Snapchat that allow funny effects.
---
Most important Samsung Galaxy S8+ specifications
Dimensions
159.5 x 73.4 x 8.1 mm
Weight
173 grams
Item ID
SM-G955F
Codename
Samsung Dream2
EAN code
8806088994581, 8806088845951, 8806088818153, 8806088815657, 8806088729190, 8806088724645, 8806088710198, 8806088708256, 8806088706283, 8806088699967, 8806088699356, 8806088699080, 8806088699028Show 9 more

, 8806088698762, 8806088687681, 8801643357603, 8801643041816, 8718256830884, 8033779039164, 2750076289554, 2750076289547, 2750076289516, 1188060886990

Fingerprint recognition
Android
7.0 (Nougat)
Color display
6.2 inch, Infinity Super AMOLED Quad HD+
Camera
12.2 MP
Dust and waterproof
Processor
1.7 GHz, 2.3 GHz, Samsung Exynos 8890, octa core
Secondary camera
8 MP
4G (LTE)
Internal memory
4 GB (Size (RAM)), 64 GB (Storage)
Battery
3500 mAh
Fast charging
Wireless charging
Heart rate monitor
---
Alternatives of the Samsung Galaxy S8+
Scroll the table below to see more
| | | | | | |
| --- | --- | --- | --- | --- | --- |
| | | | | | |
| | | | | | |
| | Current product | | | | |
| Fingerprint recognition | | | | | |
| Android | 7.0 (Nougat) | 9.0 (Pie) | | 10 | 10 |
| Color display | 6.2 inch, Infinity Super AMOLED Quad HD+ | 6.4 inch, Curved Dynamic AMOLED Quad HD+, hole-punch display | 6.67 inch, Fluid AMOLED | 6.55 inch, Fluid AMOLED, hole-punch display | 6.55 inch, Fluid AMOLED, notch |
| Camera | 12.2 MP | 12 MP, 12 MP, 16 MP | 16 MP, 48 MP, 8 MP | 16 MP, 2 MP, 48 MP | 12 MP, 16 MP, 48 MP |
| Dust and waterproof | | | | | |
| Processor | 1.7 GHz, 2.3 GHz, Samsung Exynos 8890, octa core | 1.7 GHz, 2.4 GHz, 2.8 GHz, octa core | 2.84 GHz, Qualcomm Snapdragon 855, octa core | 1.8 GHz, 2.42 GHz, 2.84 GHz, Qualcomm Snapdragon 865, octa core | 2.96 GHz, Qualcomm Snapdragon 855+, octa core |
| Secondary camera | 8 MP | 10 MP, 8 MP | 16 MP | 16 MP | 16 MP |
| 4G (LTE) | | | | | |
| Internal memory | 4 GB (Size (RAM)), 64 GB (Storage) | 12 GB (Size (RAM)), 8 GB (Size (RAM)), 1 TB (Storage), 128 GB (Storage), 512 GB (Storage) | 12 GB (Size (RAM)), 6 GB (Size (RAM)), 8 GB (Size (RAM)), 128 GB (Storage), 256 GB (Storage) | 12 GB (Size (RAM)), 8 GB (Size (RAM)), 128 GB (Storage), 256 GB (Storage) | 8 GB (Size (RAM)), 128 GB (Storage) |
| Battery | 3500 mAh | 4100 mAh | 4000 mAh | 4300 mAh | 3800 mAh |
| Fast charging | | | | | |
| Wireless charging | | | | | |
| Heart rate monitor | | | | | |
Complete comparison between the Samsung Galaxy S8+ and these alternatives or compare with other models
---
Questions and answers about the Samsung S8+