The Samsung Galaxy Xcover 4s is a robust smartphone that is water and dust resistant. Ideal for outdoors or for those who easily drop things. The device has a contemporary and fairly compact screen, but with a neatly high HD resolution. However, if you want to know more, we advise you to read on.
Casing with more grip
The times when Samsung released a Galaxy Xcover model every six months are over. Too bad because there are always people who need robust phones. For its waterproofness, you don't need to be with the Xcover any more, these are almost all (more expensive) Galaxy phones. With that, the right to exist for the Xcover 4s hasn't disappeared at all. It has a rubbery finish on the back, so it doesn't slip out of your hands quickly. Handy for those who wear work gloves, often have dirty hands or are rather clumsy. The Galaxy Xcover 4s is also one of the few smartphones with physical control buttons underneath the screen. At least that's how you feel what you're doing.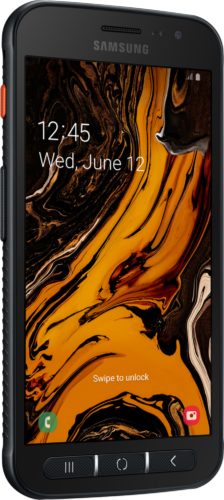 Robuust with special button
As said, the Galaxy Xcover 4s is a robust phone. It even has some certificates to underline that. Think of IP68 which says something about dust and water resistance and MIL-STD 810G which is a military standard. In short, it says that you can go out and submit to the elements without any worries. The screen has a function that recognizes use with gloves and there is a button on the left side that allows you to set which app or function you want to run. Use the XCover key to open your favorite app or turn on the flashlight. It's up to you.
Main Samsung Galaxy XCover 4s specifications
Rugged housing with physical buttons is water and dustproof and with extra grip
Compact 5.0-inch screen with HD resolution and glove mode
16-megapixel camera on the rear and thanks to f/1.7 lens also sees reasonable good in the dark
Special programable Xcover key
1.6GHz octacore processor with 3GB of RAM memory
Memory card slot to insert up to 512GB of external memory
4G support for mobile internet
User replaceable battery
Camera with bright lens
Besides being robust, the Xcover 4s is also a regular phone. Or better said a smartphone. It runs Android 9.0 Pie from the box, which makes it easy to use. The screen measures a compact 5 inch but with a HD resolution everything seems nice and sharp. On the back we find a 16 megapixel camera for all your action photos and thanks to the bright f/1.7 lens, you can even take them in the dark. Of course there is a built-in flash for those really dark moments. This can also serve as a flashlight. At the front we find a 5 megapixel camera which is really the minimum for a reasonable selfie. For its size and screen size, the Xcover 4s has a reasonably thick 2800 mAh battery. This should be enough for a full day. It is even interchangeable so you can always take a 2nd full battery in case of an emergency. Fast charging is not included so make sure you get enough sleep.