The Samsung Galaxy XCover 5 is a waterproof Android phone in a sturdy enclosure. This makes it robust, it can take a beating and it doesn't mind a bit of dirt. This also makes it a bit more bulky and less elegant than some other phones.
Ideal for using with gloves
Since Samsung has equipped almost all of its somewhat more expensive Galaxy phones with a waterproof casing, the focus on this XCover series has become less and less. Therefore, we do not see a new model faithfully every year. This XCover 5 may also look a bit old-fashioned at first glance. For example, there are still relatively large bars above and below the screen. These are handy for use with gloves on, where you can use some extra space to move around. And otherwise you use the XCover button on the side. You can program it yourself, for example to turn on the flashlight or to open a certain app.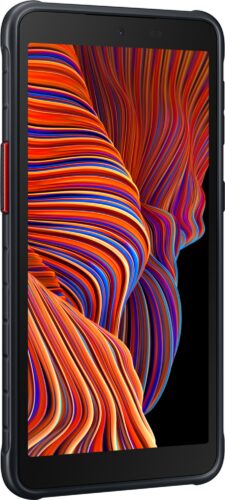 Suitable for business use
Besides being water resistant, the XCover 5 is also very robust. He withstands thanks to the MIL-STD810H certification a fall of up to 1.5 meters and survives a bath of 1 meter deep for the duration of half an hour. It also offers software protection. The KnoX software installed by default protects you from malware and other threats. Some providers offer the XCover 5 in a so-called "Enterprise Edition" or "EE". These models get 4 years of security and software updates. This makes it ideal for business use, where you are guaranteed up to date phones and software for a longer period. The standard models also get long term updates; 2 years of Android updates and 4 years of security updates.
Main Samsung Galaxy XCover 5 specifications
Very rugged military housing
Physical and programable XCover key
Replaceable 3000 mAh large battery
5,3 inch large HD+ screen suitable for gloves
16MP camera with dual flash also works as a flashlight
Octa-core processor with 4GB RAM memory
64GB storage expandable up to 1TB
Room for 2 SIM cards
Decent spec list
Samsung has equipped the XCover 5 with its own Exynos 850 processor, 4GB of RAM memory and 64GB of storage. That's not very powerful but it's enough for everyday use. As for the storage memory, it is expandable up to 1 TB with a separately available memory card. You can also insert up to 2 SIM cards in the XCover5 of the type nanoSIM (4FF). The single camera on the back has a maximum resolution of 16MP and features a dual LED flash. This can also be used as a flashlight. On the front we find a 5MP selfie camera that also allows you to make video calls. Finally, the screen measures 5.3 inches diagonally which is compact but spacious enough for most of us.