The Samsung Galaxy Z Flip 5G is largely the same as the foldable Z Flip from early 2020 except for 1 thing: 5G support. But Samsung has changed more things. Which ones exactly and what exactly you're getting into we'll explain here.
Processor with 5G support
The Galaxy Z Flip 5G is not an everyday phone. Nor does it try to be. You can see that in its price tag; it's high. This Flip is not for everyone. That's why it's exclusive and will remain so for the time being. For now, foldable phones will remain for the elite. And this time they can be on 5G. To make that possible, Samsung had to provide the Z Flip2 with a new processor. One that supports 5G. The choice fell on the Snapdragon 865+. That's a nice processor upgrade compared to the original Flip, even though that one with its Snapdragon 855+ wasn't exactly slow either.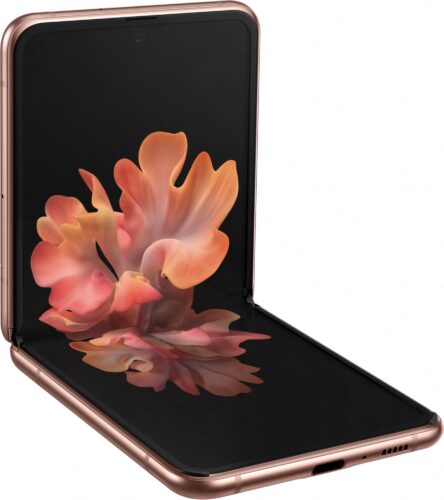 Two screens, both useful
You still flip the Z Flip 5G shut when you're done with it. And take it from us; that's a very satisfying feeling. If your phone call isn't going so well then you can close it just a little bit harder for an extra dramatic effect. Thanks to its compact design, it fits effortlessly in your pocket or bag. When folded it's half the size of a regular smartphone. That's quite noticeable. The cover screen on the outside displays notifications and information such as time and battery. Tap twice and it wakes up, swiping gives you more options. But you can also use it as an auxiliary screen to take selfies with. Hidden inside is a 6.7 inch large screen. Big for long and easy use. If you fold the Z Flip 5G you can use 2 apps at the same time thanks to the Multi Active Window. This allows you to multitask better and makes maximum use of its folding qualities.
Most important Samsung Galaxy Z Flip 5G specifications
Large 6.7" Infinity Flex Display folds compactly in half
1.1" Cover Display on outside is touch sensitive
12+12MP front camera with ultra and wide-angle lens
10MP selfie camera with f/2.4 lens and 80° viewing angle
7nm processor at up to 3.09GHz with 5G support
8GB of RAM memory (RAM) + 256GB of storage
Dual-SIM support possible thanks to built-in eSIM
2-piece battery with combined capacity of 3300 mAh
Three cameras, no zoom
For such a compact phone, the Flip 5G comes with quite a few cameras. On the back are 2; a 12MP main camera with optical image stabilization (OIS) and a wide-angle lens + another 12MP ultra-wide-angle camera with large 123° viewing angle. Inside is a third camera; a 10MP selfie camera in a round punch-hole. You shoot video in up to 4K and there is a slow-motion mode where you capture 960 frames per second. As you've gathered by now, it lacks a separate zoom lens for zooming in. Unlike the Z Flip 4G, this Flip 5G is a Dual SIM phone. You can't put a 2nd SIM card in it but it has an integrated eSIM. Your telecom provider has to support that to be able to use it. A memory card slot is still missing. So you will have to make do with the 256GB with which it is equipped as standard.
Lacks battery capacity
Are those all the differences with its predecessor? No there are also two new colors, Mystic Bronze and Mystic Gray. And there are some new software features to make maximum use of the large folding screen. For example, the Youtube app is now equipped with Flex mode where you can view the video on the top part and below the comments. Unfortunately, the battery is still 3300 mAh. Or rather, small. If you use the Z Flip 5G mainly when it's folded up, you'll have trouble getting through the day. Fast charging is supported, but only up to 15W; almost the limit of what can be called fast charging. Regular wireless charging is a better alternative. That is also supported.