The Sony Xperia 1 II is a further development of the existing Xperia 1. Though you wouldn't say that right away because of the new look. The aircraft has flat sides of metal, Gorilla Glass 6 on both sides but most striking is the Zeiss branding. Sony puts its collaboration with the German lens manufacturer in a higher gear.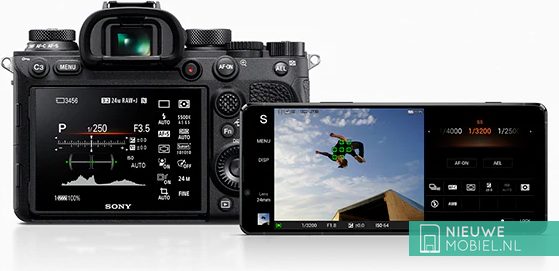 As usual, Sony and the Xperia 1 II is all about multimedia. So Sony focuses on the camera, the monitor and audio. The Alpha team was responsible for that first point; known for Sony's high-end system cameras. The Xperia 1 II has, just like those expensive cameras, Eye Autofocus which focuses 60x per second on an eye (human or animal). More than enough to always shoot a sharp picture of someone. Focusing in the dark is also possible thanks to the additional 3D iToF (indirect Time-of-Flight) sensor. It measures the distance between the phone and the subject and then focuses quickly. A 50% larger 1/1.7" Exmor RS sensor with larger pixels provides improved light sensitivity.
Four Alpha cameras
The camera system on the Sony Xperia 1 II consists of a total of 4 cameras; a 12 megapixel 24mm f/1.7 main lens, 12 megapixel 16mm f/2.2 wide-angle lens, a 12 megapixel 70mm f/2.4 telephoto lens and the aforementioned 3D iToF depth camera. The camera interface now fits in better with what you are used to on the Sony Alpha cameras, so Sony also cleverly uses the wider 21:9 CinemaWide screen. It measures 6.5 inches, has a 4K resolution and does HDR. It's an OLED panel so splashing colours are guaranteed.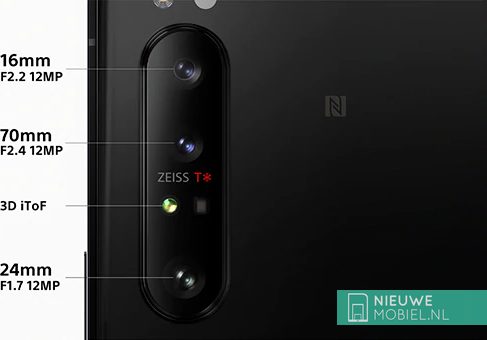 DSEE Ultimate
In the audio field there is 360 Reality Audio present; Sony's own object based spatial audio technology. Full-featured stereo speakers sit at the front, there is just a 3.5mm audio jack to plug in your own favorite headphones and there is support for a variety of audio codecs to listen to music wirelessly in high resolution. Think LDAC and DSEE Ultimate. That the Xperia 1 II is a high-end smartphone proves the processor choice. Inside is a Snapdragon 865 from Qualcomm. Together with a 4000 mAh battery with fast charging and wireless charging makes sure you can go forward for a while.
Xperia 10 II
Thought was also given to the middle segment. This is how Sony also refreshed the Xperia 10 with the arrival of this Xperia 10 II. This model is equipped with a 6 inch OLED screen with 21:9 ratio. The exchange of IPS by OLED creates deeper black tones and more colorful images. On the back there are now 3 cameras for portraits, ultra-wide-angle and a telephoto to zoom. The housing is made of Gorilla Glass 6 and is IP65/68 waterproof. The Snapdragon 665 draws power from a 3600 mAh battery with Xperia Adaptive Charging for better energy management.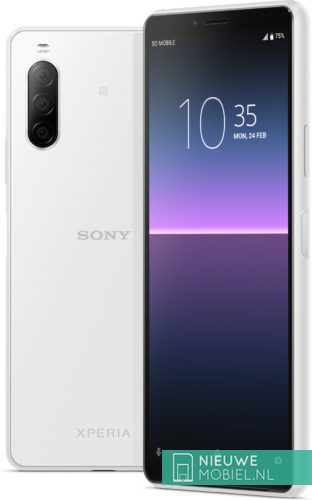 Sony Xperia Pro
But the real surprise is the arrival of the Xperia Pro; Sony's first mmWave 5G phone. Although the Xperia 1 II also supports 5G, we are talking about the slower Sub-6 5G. A fast mobile internet connection can come in handy because the Xperia Pro shoots just like the Xperia 1 II photos in RAW and video in 4K HDR. Strangely enough, the Xperia Pro does not offer the very best in terms of specifications that Sony is currently doing, as we find in the aforementioned Xperia 1 II. There are 3 cameras in the back here, one less. What's special is the HDMI port it is equipped with. Connects it directly to your TV. Furthermore, there is a lot of similarity with which the Pro really is another typical showcase model. In other words, to show the world what it can do.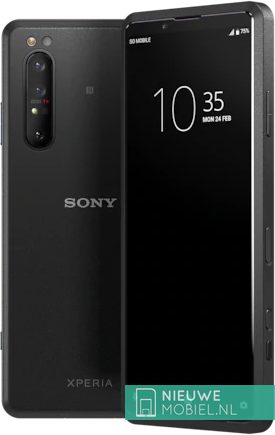 Exact prices and availability of the above models have not yet been announced. As soon as we have it, you'll read it back here.