The Sony Xperia 5 III is the slightly smaller brother of the Xperia 1 III but with the same camera. A compact flagship with an impressive Zeiss camera system. What more you get with the Xperia 5 Mark 3 is something we will explain here.
Variable zoom
The name suggests that we are dealing with a mid-range model, but nothing is further from the truth. Sony uses the Xperia 5 series as a compact and slightly more affordable alternative to the Xperia 1 model. Don't get us wrong, this Xperia 5 III is still an expensive phone, but you won't pay the absolute top price for it. And yet you get Sony's best mobile camera system. It is the same as in the Xperia 1 Mark 3 that is based on the Alpha 9 series. It excels mainly in autofocus, which keeps even moving subjects in sharp focus. New this year is the optical telephoto lens with 2 different focal lengths. You can switch between 70 and 105mm. That translates roughly into 2.9 and 4.4x zoom.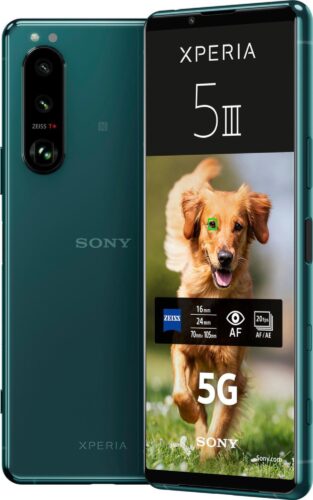 Physical camera button
In addition to the variable telephoto lens, you'll also have access to a 12MP main camera with 24mm f/1.7 lens, ideal for portraits, and a 12MP camera with 16mm f/2.2 ultra-wide-angle lens for landscape shots. Sony applies its own camera sensors that are praised for their speed. The Xperia 5 III shoots 20 photos per second, so there is always a usable one. And this even works in low light and with autofocus. Handy about Sony phones is that they are equipped with a shutter button. Taking photos by pressing a physical button works more accurately than a button on the screen. Moreover, it is more comfortable.
Main Sony Xperia 5 III specifications
6.1-inch CinemaWide HDR OLED screen with smooth 120Hz display
3x12MP camera with wide-angle, ultra-wide-angle and variable telephoto lens
12MP selfie camera above the screen
Waterproof and dustproof Gorilla Glass 6 casing
Powerful Snapdragon 888 processor with 8GB of RAM
128GB of built-in storage (expandable up to 1TB)
4500 mAh battery with 30W fast charge (50% in 30 minutes)
Stereo speakers with Dolby Atmos
5G support for extra-fast mobile internet
Audio with cord
We already wrote that the Xperia 5 III is a compact flagship, but one with a large 6.1 inch screen. In the year 2021, when this Sony was announced, that can now be called compact. It is an elongated 21:9 CinemaWide display with high HDR color reproduction. The refresh rate comes from 120Hz which makes animation look smooth and fluid. The screen lends itself extra well to watching movies on. Partly because there are no nicks and cuts in it and because there are speakers on both sides. Thanks to Dolby Atmos support, stereo sound sounds extra spatial. You can also listen to music by plugging in your own headphones. This is possible thanks to the 3.5mm audio jack. Most phones lack this feature nowadays.
Still quite pricey
Inside the Xperia 5 III, Sony has used the most powerful Qualcomm processor available: the Snapdragon 888. The same as in the more expensive Xperia 1 III. It has 8 GB of RAM memory to work with which results in a smooth operation and powerful performance. The battery measures a neat 4500 mAh and can be half-charged in half an hour. Wireless charging is unfortunately not an option. The housing is waterproof, made of Gorilla Glass 6 and available in 2 colors. There is so much more to tell about the 5M3 but unfortunately our time is up. All in all a very interesting device, still quite pricey but worth it.