---
Pro and cons Sony Xperia XZ2
Finally a new design with thinner screen edges
Can be charged wirelessly
Vibrates along with the sound
Improved Motion Eye camera
Misses regular headphone jack
---
Reviews about the Sony Xperia XZ2
| | | |
| --- | --- | --- |
| 5 stars | | 0 reviews |
| 4 stars | | 0 reviews |
| 3 stars | | 0 reviews |
| 2 stars | | 0 reviews |
| 1 star | | 0 reviews |
Want to earn $50?
Every month we select a winner among all user opinions that were submitted. That person wins a voucher of $50. The only thing you need to do to is write your very own user opinion and let us and others know what you think about this product. Click the button below to start.
---
---
Sony Xperia XZ2 product details
The Sony Xperia XZ2 is another typical Sony phone full of all kinds of Sony inventions, but now in a completely new package. That was much needed, Sony had been using the same design style for some years now and it was starting to get boring. Thanks to the thin screen edges, the 2018 phones are a lot more modern, but they are still full of Sony technology. Which ones we are going to list here for you.
New idiosyncratic design
When we say "sphere" we also mean "sphere". Sony's new design style dictates that phones should be comfortable in the hand and then you don't need hard sharp lines but soft curves. For example, the back of the phone has a sphere and fair is fair; you have to love that. At its thickest point, it makes it a bit thicker, thicker than the competition. At the same time it gives it a unique contemporary look. The back is made of glass and Sony did that for a reason. The Xperia XZ2 is the first Sony that can be charged wirelessly. Also new for Sony; this time the fingerprint scanner is on the back of the device and no longer in the power button. This should increase the chance that your print will be recognized and you will be in your device faster. However, it is relatively low. The XZ2 does not do facial recognition like some other manufacturers. However, the housing is still water and dust resistant with an IP65/68 certification. It may not be as waterproof as some of its competitors, but it will survive an unexpected rainstorm effortlessly.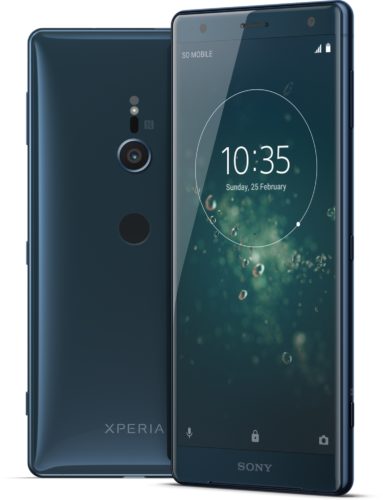 Even better, faster and sharper camera
Sony is known for making very good camera modules. So good, in fact, that we find them in phones of the competition. That gives Sony a certain lead, the Sony Xperia phones were the first with extremely fast autofocus and super slow-motion. Sony puts Xperia XZ2 on top of that and equips it with a new generation Motion Eye camera. This time, this 4K-resolution video shoots in HDR; a unique feature for a mobile phone. That should produce more realistic colors. The Super Slow motion video has also been improved and this year it shoots video in Full HD resolution. Many other manufacturers are still stuck on 'just' HD. The 3D Maker has also been improved so that you can use your phone camera to create even faster and better 3D models of people and objects. The camera still has a predictive power so that it shoots photos and selects the best settings before pressing the shutter button. And techniques we see in other Sony products such as the light-sensitive Exmor RS sensor, bright G Lens and fast BIONZ image processor. That combination should make the Xperia XZ2 a winning team.
Main Sony Xperia XZ2 specifications
19-megapixel Motion-eye camera with 4K HDR video
Royal 5.7 inch HDR display that vibrates with sound (Dynamic Vibration)
Fast mobile 4G internet (up to 1.2 Gbit/s)
64 GB storage memory but expandable up to 400 GB
Water and splash resistant with IP65/68 rating
5 megapixel selfie camera with f/2.2 wide-angle G-lens
Powerful processor (Snapdragon 845) with 4GB of RAM memory
Audio and power
Sony also does things with sound, so it is not surprising that we also see a lot of that on the Xperia XZ2. There is High-Resolution Audio that can upscale compressed music files for better quality and Bluetooth LDAC for better sound quality on wireless headphones. This year, dual speakers have been fitted on the front for stereo sound with S-Force Front for 3D sound that surrounds you. And yet our focus is on something else - Dynamic Vibration System. This is next to a nice term a technique that the device vibrates with the sound. Sony has equipped the Xperia XZ2 with a more powerful vibrator that vibrates with the sound of movies and games. It is all still unproven technology, but it should give an extra dimension to entertainment. And if you don't appreciate your DVS, you can always turn it off. To make Xperia XZ2 a true flagship, Sony has equipped it with the latest and most powerful Qualcomm processor, hefty battery with economy mode and faster UFS storage memory. A pity is the disappearance of the 3.5 millimeter audio jack connection. You could connect your own headphones to it. The XZ2 is now only equipped with a USB-C port for both charging and connecting an adapter or USB C headphones.
---
Most important Sony Xperia XZ2 specifications
Dimensions
153 x 72 x 11.1 mm
Weight
198 grams
Item ID
H8266
EAN code
7311271618263, 7311271616870, 7311271615088, 7311271615064, 7311271614975, 7311271614968, 7311271614951, 7311271614937, 7311271613466, 7311271613459, 7311271613015, 7311271612988, 7311271612834
Fingerprint recognition
Android
8.0 (Oreo)
Color display
IPS
Camera
19 MP
Dirt and waterproof housing
Processor
Qualcomm Snapdragon 845, octa core
Secondary camera
5 MP
4G (LTE)
Internal memory
4 GB (Size (RAM)), 64 GB (Storage)
Battery
3180 mAh
Fast charging
Wireless charging
Audio jack plug
---
Video about the Sony Xperia XZ2
Thanks to its combination of color and black and white sensor, the Sony Xperia XZ2 Premium has an enormously light-sensitive camera. Ideal for in the dark
---
---
Questions and answers about the Sony XZ2