Sony Xperia Z5 Compact review
Who doesn't honor the little one
---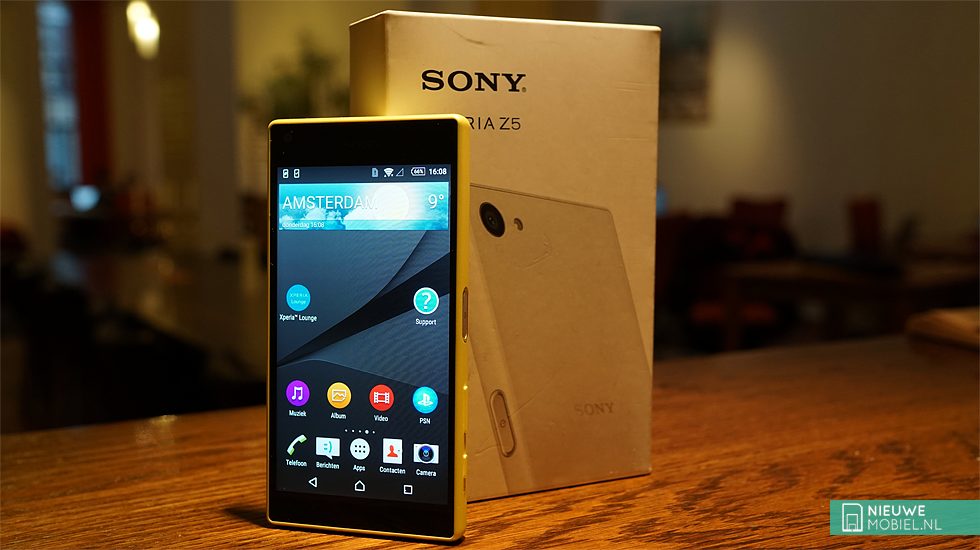 Sony has been releasing a smaller version of its top models with, apart from the screen, almost the same specifications for some time now. With the arrival of the Sony Z5, the Z5 Compact also saw the light of day.
This smaller offspring, like the rest of the family, is waterproof and, like its big brother, has a 23 megapixel camera, fingerprint scanner and Snapdragon 810 processor. The 4.6-inch display has a 720p resolution.
Based on its size, the Z5 Compact has very little direct competition. Especially in the premium Android segment, there are no recent devices with comparable specifications. From the Apple stable comes of course the iPhone 6s, but it is a lot more expensive. The editors occasionally mentioned the OnePlus X as a competitor. However, it has a 5 inch screen and although it is only 0.4 inch bigger it is almost as big as the Samsung Galaxy S6. And that's another direct competitor of the regular Z5.
---
What's with the device?
The Z5 Compact comes in a very modest box without fuss. We only received a black microUSB cable and adapter for the socket. However, there should also be a headset in the original packaging. The bottom of the box shows that the device is available in white, red (Coral), yellow and black (Graphite Black).
Appearance
The entire front of the unit is covered by a layer of Gorilla Glass with a black frame of the monitor. In the top left corner is the front facing camera and in the top right corner sensors with a small notification light that can display different colors. At the top and bottom there are two thin slots for the microphone and speaker.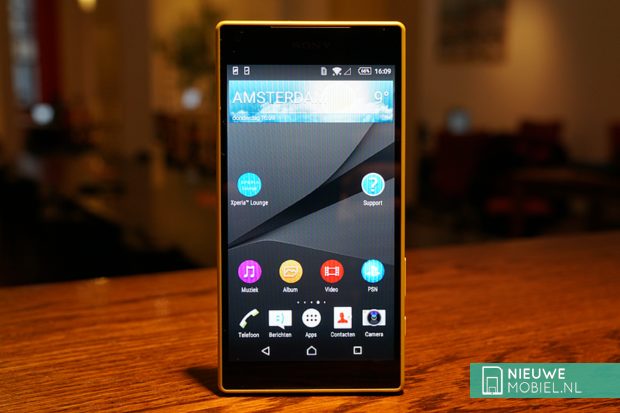 4,6-inch Triluminos Display with Sony's X-Reality engine
physical camera key
waterproof design
Fingerprint scanner
The headset and normal microUSB connectors are located on the top and bottom of the device, respectively. On the left side of the device there is a large flap with the SIM and memory card slots behind it. The cover must be pressed firmly to ensure a good connection. The SIM card goes into a special kind of slot and then into the slot.
On the right side are the power, volume and camera buttons. The power button is no longer the small, round button we were used to from Sony. Instead, it is now elongated, because Sony also wanted to include a fingerprint scanner in its devices, and it has been placed here. The placement on the side ensures that it can also be used when the device is on the table.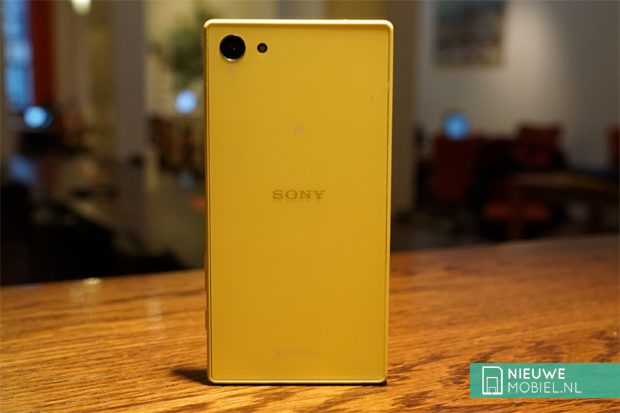 23 megapixel Exmor RS™ for mobile camera with G-lens

Battery with fast charge function and battery life of 2 days

on average.

This time the rear of the Z5 Compact is not made of plastic like its predecessors, but is now made of glass with a matt finish. This 'frosted glass' doesn't show fingerprints anymore and makes the unit a bit stiffer. The sides are one piece of plastic and have no metal or loose plastic accents. Incidentally, this does not detract from the build quality because the Z5 Compact feels very solid. The Z5 Compact looks a lot thicker than its compact predecessor and other Z-family members, but this is mainly an optical impression because the sides no longer have any edges or inlaid parts.

Sony's devices have suffered from overheating problems. Also the Z5 Compact can sometimes get quite hot, to the uncomfortable part, but this did not lead to performance problems. Although the camera is dust- and waterproof, Sony does not recommend to keep it completely under water.
Endurance
The Z5 Compact has a 2,700 mAh battery and Sony mentions on the box a usage time of up to two days. After our test period, we have to conclude that this is probably only possible by hardly using the device and switching off some synchronizations. We generally came up to 1.5 days and then took out a screen to screen time of about 5 hours. This means that a full day is easy to achieve but to be honest we don't find it really spectacular and we had hoped for even better. Our use mainly consists of WhatsApp, keeping track of news and social media, synchronizing two email accounts and opening the camera every now and then.
".
Sony provides its devices with the necessary power management options. Background data can be sent at specified times. Battery Saver mode can be turned on automatically when the battery has a certain percentage. You can check which functions should be turned off. STAMINA mode and Ultra STAMINA mode are also available. In the former, WiFi and mobile data are turned off as soon as the display is turned off. To keep an app like WhatsApp active, it can be added to an exception list. In Ultra STAMINA mode, the functionality of the device is severely limited and only some basic functions remain available. This means that the energy demand is considerably reduced. In practice, this gives you an extra day.
Call quality
The phone application is disconnected from the contact list. Unfortunately, this does not allow you to quickly choose your favourites. However, there is a shortcut to the contacts app on the Home screen and a search line to search for contacts. Below that is a bar for top contacts and recent calls. Use the green button to open the numeric keypad and use smartdial to find the desired contact.
Smart call processing and the Xperia answering machine can be switched on in the call settings. The latter records messages from callers on your device instead of at the provider. There are also options such as hearing aid compatibility, slowing down other callers' speech and an equalizer that can be set from normal to clear. We didn't really need the latter because in general the sound quality was loud and clear.
".
Display
The 4.6-inch screen of the Z5 Compact has a resolution of 1280 × 720 pixels. This brings the pixel density to 319 PPI, which is a bit on the low side these days. This does not immediately result in a bad image, but it is a bit less sharp. Color reproduction and viewing angles are more than sufficient. It is possible to activate the device by tapping the screen twice. This option must first be turned on in the settings.
".
In addition to the standard settings such as brightness and sleep mode, the white balance can also be adjusted. We found that the image had a bit of a yellowish blur and adjusted this via the white balance. There is also smart-backlight, where the screen stays on when you hold the camera and look at the screen. On top of that, X-Reality for Mobile and super-life-mode are available for image enhancement. The exact difference between the two isn't significant.
Menu
The Z5 Compact runs on Android 5.1.1 and is thus nicely up to date as far as Android Lollipop is concerned. Sony is still laying its own shell to adjust the interface. This is not as drastic a change as with Huawei or Samsung. The application menu has been further simplified, although the standard sorting is quite random. Fortunately, this can be changed. Furthermore, the menu needs to be browsed horizontally.
".
Contrary to standard Android or other manufacturers, the leftmost home screen is not Google Now, BlinkFeed or Flipboard. Instead, you simply have five normal start screens at your disposal, which can be further expanded if necessary. Google Now can be opened by dragging up from your home screen. Five lines are available on the home screens for shortcuts and/or widgets. That's quite a lot for such a small screen.
The notification screen and quick settings panel, which can be opened by dragging the status bar down, are virtually the same as we know from standard Android. Although the Z5 Compact does not yet have Android 6.0 Marshmallow at the time of writing, it is possible to customize the quick settings panel and expand it to up to nine shortcuts. It is also possible to adjust which icons are shown on the status bar.
".
Phonebook
The contacts app largely corresponds to standard Android. There are tabs for contacts, favorites and groups. The list will be filled with your Google contacts as soon as you enter this account into the device. In addition, contacts can be retrieved from a SIM card, Facebook or other accounts. To keep the resulting list organized, sorting and filtering options can be set.
By far the most convenient of these is the option to display only contacts with a phone number. In addition, there is the possibility to search for link candidates. This allows you to combine data from the same people from different accounts so that you can link a phone number with an email address and contacts are not listed twice.
Messaging
The messaging applications have also been given a more contemporary look. The messaging app is elementary in design but still functional. For example, photos, contact details, location, video, sound, a sketch and an event can be added to a message. In terms of functionality, the email application of Sony and Gmail do not avoid each other very much. They can both use accounts from different providers and display messages in a combined inbox. Sony's application does zoom in too far on a message when opening it.
".
Sony's keyboard looks neat but is not immediately set up properly for pleasant use. Sony seems to realize this too, because soon you will get a pop-up with a wizard to set it up. Then you can set up spelling correction, writing languages, word suggestion and the display of numbers and punctuation. A maximum of three writing languages can be selected. With smart language detection, the device should then select the correct language itself, but this does not work very well. It is therefore more convenient to disable this function and switch between languages manually with a button on the keyboard. Anyway, the device has a lot of trouble choosing the right words while typing and this gets even worse when entering text by dragging and dropping over the keyboard. Even when you try to work very accurately, it still often goes wrong.
".
Connectivity
The Xperia Z5 Compact has no problem with the usual connectivity options for WiFi, Bluetooth and NFC. There is a separate section for device connection. Here settings for One-touch setup, Throw, Screen reproduction, Screen cast, Media Server, Windows tethering, PlayStation controllers, Windows tethering, MirrorLink and USB connection can be set up or adjusted. But there's literally more in the setup menu. Under the heading more, you'll find things like flight mode, NFC and mobile network settings.
".
Smart Connect allows you to set actions to be performed when you connect the device to an accessory or other device. You can choose between single or multiple actions. Other manufacturers can take an example of this, as this option is very convenient.
Chrome from Google is the only internet browser on the Z5 Compact. As far as we're concerned, this is a good choice for Sony because this app is regularly updated to improve its functionality. The interface is clear and pleasant to use. Sites load smoothly and steadily.
Camera
With the arrival of the Z5 family, the camera has been upgraded. The Z5 Compact has a 23 megapixel version with, according to Sony, lightning-fast autofocus. Sony has also adapted the camera's interface, which we think is a welcome development. By default, the camera is set to a resolution of 8 megapixels and an aspect ratio of 16:9.
The camera opens in the superior automatic mode. By dragging to the left or right, the manual and video modes can be opened respectively. In manual mode, brightness, white balance and HDR can be set. Scene selection and ISO are only available at a resolution of 8 megapixels or less. In the video section it appears that Sony's translation department has been a bit too eager: "Full HD" is described there as "Full HD".
Another swipe to the right opens the camera app selection screen with twelve more shooting options. Includes style portrait, 4K video, swipe panorama, timeshift video and multi-camera. When selecting 4K video, the device will warn you that the app will shut down if the temperature rises too high. Something we also recognize from previous Xperia phones.
Thanks to the fast autofocus and optical image stabilization you can easily and quickly shoot a picture with the physical camera button. Pictures in the open air in daylight look good. Colours and contrast are displayed well. However, photos taken indoors do suffer from noise. Because of this, some details are lost, especially when zooming in. Although it is a fine and smooth camera to use, it does detract a bit from the overall picture. Hopefully this can be corrected with a software update.


Click above for more pictures shot by the Sony Xperia Z5 Compact
Existing programs
The Sony Xperia Z5 Compact comes standard with the applications calendar, alarm and clock, album, Amazon Shopping, AR effect, AVG Protection, downloads, Dropbox, Facebook, File Commander, FM radio, photos, voice search, Google, Google Drive, Hangouts, Kobo Books, Lifelog, Live Screen Streaming, Xperia Lounge, Maps, Movie Creator, Music, News from Socialife, Emergency Alerts, OfficeSuite, Play Movies/Music, PlayStation, Privilige Plus, PSN, Calculator, Sketch, Smart Connect, Spotify, Support, TrackID, TV SideView, Video, Vine, Weather, What's New and YouTube.
The motto 'more is better' does not always hold true and the number of installed applications is an example of this. Unfortunately Sony still hasn't fully understood that. We don't use at least a quarter of the apps on the Z5 Compact mentioned above. What would a person do with two extra application stores like Amazon and What's New? Moreover, the Amazon Shopping app lacks the choice 'Netherlands', which means it's of no use at all. Fortunately, some of the programs can easily be removed.
Extras
So the fingerprint scanner is on the right side and therefore, if you are right-handed, it is easiest to use with the thumb. The scanner cannot activate and unlock the device at once. You first have to press the button to activate the screen and then your finger can be scanned. It is possible to do this in one smooth movement, but it doesn't always work. Often you first have to remove your thumb from the button.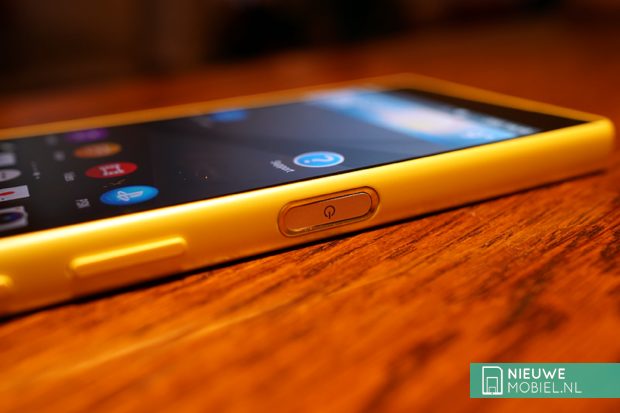 The scanner is very sensitive and often multiple attempts are needed. At the slightest perspiration on your finger it refuses to recognise the printout and after four attempts you have to enter the unlock code. The scanner has no additional functionality. In ideal circumstances the scanner works well, but in practice we had a score of 50/50. However, that turned out to be so frustrating that we finally turned it off.
Conclusion
We said it in the introduction, when you are looking for a small premium Android smartphone there is really only one option. Then it's nice that the Z5 Compact doesn't have any major blackouts as far as we're concerned. At the same time, there isn't really a particular feature that stands out in a particularly positive sense. The screen resolution could have been better but at the same time saves battery power. Still, we suspect that the endurance has deteriorated compared to its compact predecessor.
We are used to Sony's rectangular design, but the matte back and sides make the Z5 Compact comfortable to handle. Sony's camera has improved in terms of operation and results, but indoors it is a bit lacking in detail. That is a pity. Especially since the competition is not sitting still in this area either.
---
---
Questions and answers about this Sony Z5 Compact review