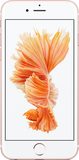 ---
Reviews about the Apple iPhone 6s
| | | |
| --- | --- | --- |
| 5 stars | | 2 reviews |
| 4 stars | | 1 review |
| 3 stars | | 0 reviews |
| 2 stars | | 0 reviews |
| 1 star | | 1 review |
Want to earn $50?
Every month we select a winner among all user opinions that were submitted. That person wins a voucher of $50. The only thing you need to do to is write your very own user opinion and let us and others know what you think about this product. Click the button below to start.
---
---
Apple iPhone 6s product details
At first glance, the Apple iPhone 6s looks like a modest upgrade to the iPhone 6 from 2014. Still, the differences are big, especially when we put them all next to each other. And that is exactly what we are going to do here.
New dimension
From the very first, Apple adds a whole new dimension to the multi-touch display. We were used to gestures like pinching and swiping, but now you can go deep. Press harder on certain items to open a shortcut menu. Pressing hard on an app icon, for example, or within an app. Apple calls that 3D Touch and it should become second nature to those who work with these iPhone 6s. The technique is similar to the Force Touch feature in other Apple products. In apps such as Mail you can open a preview by pressing lightly, press a little harder than open the mail. And with a new, faster Taptic Engine, there's a slight vibration to give you feedback about what you're doing.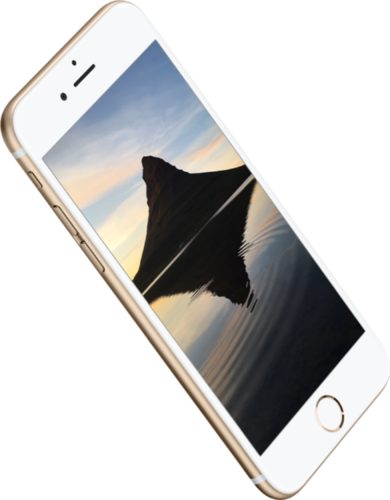 Live Photo
Another important difference the iPhone 6s has is its new camera. As always, it's called iSight and its resolution has been increased to 12 megapixels. Thanks to those 50% more pixels, photos and videos get a lot more detail. The Apple iPhone 6s automatically records a short video with sound when you take a picture. With this Live Photo, you can go back to that moment later. Simply click on the photo to get back to that moment. These Live Photos can also be set as background. And because the camera sensor is considerably enlarged, it is now also possible to record video in 4K resolution.
Main Apple iPhone 6s specifications
Dual-core processor (Apple A9) at 1.8GHz, 2GB of RAM memory
Available in 16, 64 or 128GB of storage
4.7-inch screen with Corning Gorilla glass
Fast mobile 4G internet
Relative high 5 megapixel selfie camera
12 megapixel rear camera + 4K video
Retina Flash
The selfie camera of the Apple iPhone 6s has also been improved. The resolution of this has been increased to 5 megapixels. Now we see this more often on other phones. New is the way Apple is going to expose your selfies. There is no real flash on the front but instead a kind of virtual flash has been created. The screen will light up briefly and brightly to illuminate your self-portraits. Apple calls it Retina Flash, and it should be close to the flash on the back of iPhone 6s.
---
Most important Apple iPhone 6s specifications
Dimensions
138.3 x 67.1 x 7.1 mm
Weight
143 grams
Item ID
A1633
EAN code
9874585263256, 8884625678316, 8806086191852, 8719743773363, 8719743773356, 8719743773349, 8719743773332, 8719743773325, 8719743773318, 8719743773301, 8719743773295, 8719743773288, 8719743773271Show 246 more

, 8719743773264, 8719743773257, 8719743773240, 8719743484986, 8719743484979, 8719743484962, 8719743484955, 8719743484948, 8719743484931, 8719743484924, 8719743484917, 8719743484900, 8719743484894, 8719743484887, 8719743484870, 8719743484825, 8719743484818, 8719743484801, 8719743484795, 8719481709969, 8719481709952, 8719481709938, 8719481709921, 8719481709907, 8719481709891, 8719481709310, 8719481709303, 8719481708320, 8719481708313, 8719481708238, 8719481705374, 8719481701383, 8719481701369, 8719481701260, 8719481701253, 8719481701246, 8719481701239, 8719481701222, 8719481701215, 8719481701208, 8719481701192, 8719481701185, 8719481701178, 8719481701161, 8719481701154, 8719481701024, 8719481701017, 8719481701000, 8719481700997, 8719481700980, 8719481700973, 8719481700966, 8719481700959, 8719481700942, 8719481700935, 8719481700928, 8719481700911, 8719325211740, 8719325211733, 8719325211726, 8719325211719, 8719325211689, 8719325211603, 8719325211238, 8719325211221, 8719325211214, 8719325211207, 8719325211153, 8719325211122, 8719325211092, 8719325209693, 8719325209600, 8719325209334, 8719325162721, 8719244276479, 8719244276462, 8719244276455, 8719244276448, 8719244276431, 8719244276424, 8719244276417, 8719244276400, 8719244276394, 8719244276387, 8719244276370, 8719244276363, 8719244275298, 8719244275281, 8719244275274, 8719244275267, 8719244275250, 8719244275243, 8719244275236, 8719244275229, 8719244275212, 8719244275205, 8719244275199, 8719244275182, 8719244274116, 8719244274109, 8719244274093, 8719244274086, 8719244274079, 8719244274062, 8719244274055, 8719244274048, 8719244274031, 8719244274024, 8719244274017, 8719244274000, 8719244271030, 8719244271023, 8719244271016, 8719244271009, 8719244270996, 8719244270989, 8719244270972, 8719244270965, 8719244270958, 8719244270941, 8719244270934, 8719244270590, 8712421532313, 8712421532306, 8712421532290, 8712421532283, 8712421526015, 8712421525988, 8712421525704, 8712421525698, 8712421525681, 8712421525674, 8712421525667, 8712421525643, 8592978046408, 8438473905218, 6013732582595, 6013710359300, 6013701940975, 5711783793717, 5555555555512, 5415247199311, 4444444445694, 4056572864201, 3333333333321, 3333333333314, 2750049560000, 2750049559967, 2750049559943, 0888462600637, 0888462600620, 0888462600606, 0888462600576, 0888462600569, 0888462600545, 0888462600446, 0888462565523, 0888462565257, 0888462565202, 0888462565165, 0888462564892, 0888462564847, 0888462564809, 0888462564557, 0888462564533, 0888462564489, 0888462564441, 0888462564175, 0888462564120, 0888462564083, 0888462563987, 0888462563970, 0888462563826, 0888462563819, 0888462563727, 0888462563628, 0888462563468, 0888462563451, 0888462563369, 0888462563253, 0888462563109, 0888462563093, 0888462563000, 0888462562904, 0888462562898, 0888462562881, 0888462562737, 0888462562683, 0888462562645, 0888462562546, 0888462562539, 0888462562393, 0888462562386, 0888462562379, 0888462562324, 0888462562287, 0888462562188, 0888462562171, 0888462562164, 0888462562010, 0888462561969, 0888462561921, 0888462561815, 0888462561662, 0888462561655, 0888462561600, 0888462561563, 0888462561464, 0888462561457, 0888462561310, 0888462561303, 0888462561297, 0888462561242, 0888462561105, 0888462500715, 0888462040945, 0759776467752, 0759776467738, 0759776467721, 0759776467714, 0759776467707, 0759776467691, 0759776467684, 0759776462597, 0759776462580, 0759776462566, 0759776462559, 0759776462542, 0759776462528, 0759776383601, 0190198058591, 0190198058539, 0190198058409, 0190198058225, 0190198058188, 0190198058133, 0190198057976, 0190198057822, 0190198057785, 0190198057730, 0190198057440, 0190198057389, 0190198057334, 0190198057204, 0190198057020, 0190198056986, 0088846212016

Fingerprint recognition
iOS
10.1
Color display
4.7 inch, IPS
Camera
12.0 MP
Processor
1.8 GHz, Apple A9, Dual Core
Secondary camera
5.0 MP
LTE (4G)
Internal memory
2 GB (Size (RAM)), 128 GB (Storage), 16 GB (Storage), 64 GB (Storage)
Memory card slot
Battery
1715 mAh
---
Alternatives of the Apple iPhone 6s
Scroll the table below to see more
| | | |
| --- | --- | --- |
| | | |
| Photos relative in size | | |
| | Current product | |
| Fingerprint recognition | | |
| iOS | 10.1 | 11.0 |
| Color display | 4.7 inch, IPS | 4.7 inch, IPS |
| Camera | 12.0 MP | 12.0 MP |
| Processor | 1.8 GHz, Apple A9, Dual Core | Apple A11 Bionic, Quad Core |
| Secondary camera | 5.0 MP | 7.0 MP |
| LTE (4G) | | |
| Internal memory | 2 GB (Size (RAM)), 128 GB (Storage), 16 GB (Storage), 64 GB (Storage) | 2 GB (Size (RAM)), 256 GB (Storage), 64 GB (Storage) |
| Memory card slot | | |
| Battery | 1715 mAh | 1821 mAh |
Complete comparison between the Apple iPhone 6s and these alternatives or compare with other models
---
Questions and answers about the Apple 6s