---
Pro and cons Xiaomi Mi 10
Premium glass design
Powerful performance
Large battery+fast charge
Smooth AMOLED display
108MP camera not without issues
---
Reviews about the Xiaomi Mi 10
| | | |
| --- | --- | --- |
| 5 stars | | 0 reviews |
| 4 stars | | 0 reviews |
| 3 stars | | 0 reviews |
| 2 stars | | 0 reviews |
| 1 star | | 0 reviews |
Want to earn $50?
Every month we select a winner among all user opinions that were submitted. That person wins a voucher of $50. The only thing you need to do to is write your very own user opinion and let us and others know what you think about this product. Click the button below to start.
---
---
Xiaomi Mi 10 product details
The Xiaomi Mi 10 is a high-end flagship with 5G and one of the cheapest phones with the powerful Snapdragon 865 processor. But whether that makes him a good phone is still to be seen. Let's try to answer that for you here.
Contemporary and premium
The Xiaomi Mi 10 is part of a fairly broad series consisting of a Lite and Pro. However, this Mi 10 can be seen as the captain of the group. The model already has a successor in the form of the Mi 10T but as far as we are concerned this Mi 10 is much more interesting. That's because he tries to be the best of the best on almost all levels. He succeeds quite well but here and there he also drops some stitches but more about that later. Let's start with the biggest eye-catcher of the Mi 10 and that's the screen. It measures 6.67 inches which is not only impressive, it also supports HDR10+ and has a high refresh rate of 90Hz. This makes it very colorful and true-to-life and it feels fast. In other words; contemporary and premium.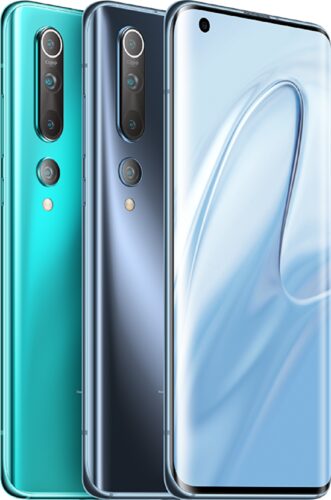 Snapdragon 865 with VC liquid cooling
The Mi 10 also derives that premium feel from the curved screen edges and all-glass housing of Gorilla Glass 5. It offers protection for the inside and there we find a Snapdragon 865 5G. This chipset is considered to be the most powerful available at the time of release. Considering its price, it is one of the cheapest, if not the cheapest, with this chipset. It comes with 8GB of RAM memory and 128 or 256GB of storage. To make this calculation miracle work as optimally as possible, an ingenious cooling system of graphite and liquid has been applied. Other high-end specs include support for Wi-Fi 6, 5G and accurate sound reproduction via the dual 1216 super linear speaker. Of which note.
Main Xiaomi Mi 10 specifications
6.67 inch large DotDisplay with HDR10+ support and 90Hz refresh rate
5G internet support (but also suitable for 4G and 3G)
Large 4780 mAh battery with 30 Watt fast charging (wired and wireless)
108MP Quad Camera with 8K video, wide angle, macro and depth
Stereo speakers with lots of volume, wide range and accurate playback
20MP selfie camera with HDR, AI make-up and studio exposure
More is not always better
Still, as far as we are concerned, the biggest eye-catcher is the camera system consisting of a 108MP main camera and f/1.7 lens. That camera only excels better on paper than in practice. This is mainly because Xiaomi has omitted a separate zoom lens. Instead, the 108 megapixel large sensor is zoomed in and yes that works, but not at dusk or night. Also the night mode relies heavily on the sensor alone instead of 'Computational Photography' which Google and Apple are currently using. Not that the camera of the '10' is bad but for this amount we expected more. Presumably this is exactly the reason why its successor, the 10T, got a 64MP camera instead of 108.
---
Most important Xiaomi Mi 10 specifications
Dimensions
162.6 x 74.8 x 8.96 mm
Weight
208 grams
EAN code
6941059640011, 6941059640004, 6941059639992, 6941059639985, 6941059639978, 6941059639961, 6941059639947
Fingerprint recognition
Android
10
Color display
6.67 inch, Full HD+ Super AMOLED, hole-punch display
Camera
108 MP, 13 MP, 2 MP, 2 MP
Processor
1.80 GHz, 2.42 GHz, 2.84 GHz, Qualcomm Snapdragon 865, octa core
Secondary camera
20 MP
5G
LTE (4G)
Internal memory
8 GB (Size (RAM)), 128 GB (Storage), 256 GB (Storage)
Memory card slot
Battery
4780 mAh
Fast charging
Wireless charging
Audio jack plug
---
Alternatives of the Xiaomi Mi 10
Scroll the table below to see more
| | | | | | |
| --- | --- | --- | --- | --- | --- |
| | | | | | |
| | | | | | |
| | Current product | | | | |
| Fingerprint recognition | | | | | |
| Android | 10 | 9.0 (Pie) | 9.0 (Pie) | | |
| Color display | 6.67 inch, Full HD+ Super AMOLED, hole-punch display | 6.4 inch, Curved Dynamic AMOLED Quad HD+, hole-punch display | 6.8 inch, Dynamic AMOLED Infinity-O Display | 6.5 inch, Infinity-O Display, hole-punch display | 6.67 inch, Fluid AMOLED |
| Camera | 108 MP, 13 MP, 2 MP, 2 MP | 12 MP, 12 MP, 16 MP | 12 MP, 12 MP, 16 MP, VGA camera | 12 MP, 48 MP, 5 MP, 5 MP | 16 MP, 48 MP, 8 MP |
| Processor | 1.80 GHz, 2.42 GHz, 2.84 GHz, Qualcomm Snapdragon 865, octa core | 1.7 GHz, 2.4 GHz, 2.8 GHz, octa core | Octa core | 1.7 GHz, 2.3 GHz, Samsung Exynos 9611, octa core | 2.84 GHz, Qualcomm Snapdragon 855, octa core |
| Secondary camera | 20 MP | 10 MP, 8 MP | 10 MP | 32 MP | 16 MP |
| 5G | | | | | |
| LTE (4G) | | | | | |
| Internal memory | 8 GB (Size (RAM)), 128 GB (Storage), 256 GB (Storage) | 12 GB (Size (RAM)), 8 GB (Size (RAM)), 1 TB (Storage), 128 GB (Storage), 512 GB (Storage) | 12 GB (Size (RAM)), 256 GB (Storage), 512 GB (Storage) | 6 GB (Size (RAM)), 128 GB (Storage) | 12 GB (Size (RAM)), 6 GB (Size (RAM)), 8 GB (Size (RAM)), 128 GB (Storage), 256 GB (Storage) |
| Memory card slot | | | | | |
| Battery | 4780 mAh | 4100 mAh | 4300 mAh | 4000 mAh | 4000 mAh |
| Fast charging | | | | | |
| Wireless charging | | | | | |
| Audio jack plug | | | | | |
Complete comparison between the Xiaomi Mi 10 and these alternatives or compare with other models
---
Questions and answers about the Xiaomi 10