---
---
Pro and cons Xiaomi Mi 9
Unique holographic look
Modern screen with small notch and fingerprint reader
Good Triple camera system
Powerful for very little money
Screen resolution doesn't match other flagships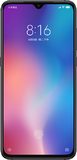 ---
Reviews about the Xiaomi Mi 9
| | | |
| --- | --- | --- |
| 5 stars | | 0 reviews |
| 4 stars | | 1 review |
| 3 stars | | 0 reviews |
| 2 stars | | 0 reviews |
| 1 star | | 0 reviews |
Want to earn $50?
Every month we select a winner among all user opinions that were submitted. That person wins a voucher of $50. The only thing you need to do to is write your very own user opinion and let us and others know what you think about this product. Click the button below to start.
---
---
Xiaomi Mi 9 product details
The Xiaomi Mi 9 is the first Xiaomi phone with 3 cameras on the back including one of 48 megapixels. This abundance of pixels ensures razor-sharp images full of detail on which you can also zoom in. We're here to discuss what else you can do with the Mi 9.
Holographic design
The Mi 9 stands out immediately thanks to its holographic glass design. These special color versions seem to play with the light. The glass casing is slightly curved so that it lies comfortably in the hand. Because only the edges are curved, it can lie flat on a table, although the camera module protrudes slightly at the back. By the way, the camera housing offers space for 3 different cameras. A unique feature for Xiaomi. The main camera consists of a 48 megapixel Sony sensor. This abundance of megapixels makes zooming in sharper. There is also a 16 megapixel camera with 117° wide-angle lens for landscapes and a 12 megapixel telephoto zoom to zoom in optically without loss of quality. This gives you a lens for different situations for the best picture.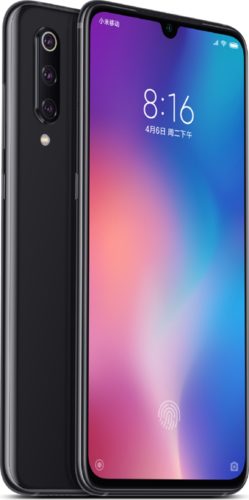 Great Samsung screen
At the front of the Xiaomi Mi 9 we find a large 6.39 inch AMOLED screen from Samsung. They are known for the best screens in the phone industry. This is due to the accurate color reproduction, high contrast values and excellent legibility outdoors. The screen has an integrated fingerprint scanner. The resolution comes out at Full HD+ and at the top there is a small drop-shaped notch for the selfie camera. It measures 20 megapixels and therefore more than enough for sharp selfies. The Mi 9 has various functions to enhance your self portraits. Think of AI Beauty and AI makeup. There is even a portrait mode that can separate foreground from background thanks to the necessary artificial intelligence.
Main Xiaomi Mi 9 specifications
Large 6.39 inch Super AMOLED screen from Samsung with Gorilla Glass 6
Tri-camera consisting of 48 Mpixel camera + 16 MP wide-angle + 12 MP telephoto zoom
Sharp 20 megapixel selfiecam with f/2.0 lens and various AI functions
Most most powerful Qualcomm processor today; the Snapdragon 855
Support for fast 4G internet LTE
Choose between 128 or 256 GB non-extendable memory
Support for fast charging (Quick Charge 4+) and wireless charging
Place 2 nano SIM cards, where both can use 4G at the same time (Dual SIM)
Super powerrr
In terms of processing power, the best currently available has been used. The Snapdragon 855 can also be found in the most expensive flagships. With the Xiaomi Mi 9 you just don't pay the main price. The battery has a maximum capacity of 3300 mAh and given the screen size we would have liked to have seen that a bit higher. Fortunately, the Mi 9 does support fast charging in the form of Quick Charge 4.0. Charging can be done with up to 27 watts. A bit strange is that Xiaomi delivers an 18 watt charger which corresponds with Quick Charge 3.0. It is therefore worthwhile to purchase a QC4+ charger directly in order to be able to charge extra quickly. If you do buy accessories, we definitely recommend a Qi charger. Here you can put the Mi 9 on to charge it wirelessly. Ideal for those who don't feel like working with cables.
---
Most important Xiaomi Mi 9 specifications
Dimensions
157.5 x 74.67 x 7.61 mm
Weight
173 grams
EAN code
6941059621355, 6941059621324, 6941059619475, 6941059619437, 6941059619420, 6941059619413, 6941059619406
Fingerprint recognition
Android
8.1
Color display
6.39 inch, Full HD+ Super AMOLED, notch
Camera
12.0 MP, 16.0 MP, 48.0 MP
Processor
1.80 GHz, 2.42 GHz, 2.84 GHz, Qualcomm Snapdragon 855, octa core
Secondary camera
20.0 MP
Dual SIM
LTE (4G)
Internal memory
6 GB (Size (RAM)), 128 GB (Storage), 64 GB (Storage)
Memory card slot
Battery
3300 mAh
Fast charging
Wireless charging
Audio jack plug
---
Alternatives of the Xiaomi Mi 9
Scroll the table below to see more
| | | | | | |
| --- | --- | --- | --- | --- | --- |
| | | | | | |
| Photos relative in size | | | | | |
| | Current product | | | | |
| Fingerprint recognition | | | | | |
| Android | 8.1 | 9.0 (Pie) | 9.0 (Pie) | 9.0 (Pie) | |
| Color display | 6.39 inch, Full HD+ Super AMOLED, notch | 6.1 inch, Curved Dynamic AMOLED Quad HD+, hole-punch display | 6.4 inch, Curved Dynamic AMOLED Quad HD+, hole-punch display | 6.8 inch, Dynamic AMOLED Infinity-O Display | 6.5 inch, Infinity-O Display, hole-punch display |
| Camera | 12.0 MP, 16.0 MP, 48.0 MP | 12.0 MP, 12.0 MP, 16.0 MP | 12.0 MP, 12.0 MP, 16.0 MP | 12 MP, 12 MP, 16.0 MP, VGA camera | 12.0 MP, 48.0 MP, 5.0 MP, 5.0 MP |
| Processor | 1.80 GHz, 2.42 GHz, 2.84 GHz, Qualcomm Snapdragon 855, octa core | 1.7 GHz, 2.4 GHz, 2.8 GHz, octa core | 1.7 GHz, 2.4 GHz, 2.8 GHz, octa core | Octa core | 1.7 GHz, 2.3 GHz, Samsung Exynos 9611, octa core |
| Secondary camera | 20.0 MP | 10.0 MP | 10.0 MP, 8.0 MP | 10.0 MP | 32.0 MP |
| Dual SIM | | | | | |
| LTE (4G) | | | | | |
| Internal memory | 6 GB (Size (RAM)), 128 GB (Storage), 64 GB (Storage) | 8 GB (Size (RAM)), 128 GB (Storage), 512 GB (Storage) | 12 GB (Size (RAM)), 8 GB (Size (RAM)), 1 TB (Storage), 128 GB (Storage), 512 GB (Storage) | 12 GB (Size (RAM)), 256 GB (Storage), 512 GB (Storage) | 6 GB (Size (RAM)), 128 GB (Storage) |
| Memory card slot | | | | | |
| Battery | 3300 mAh | 3400 mAh | 4100 mAh | 4300 mAh | 4000 mAh |
| Fast charging | | | | | |
| Wireless charging | | | | | |
| Audio jack plug | | | | | |
Complete comparison between the Xiaomi Mi 9 and these alternatives or compare with other models
---
Questions and answers about the Xiaomi 9