---
Reviews about the Xiaomi Mi 9 SE
| | | |
| --- | --- | --- |
| 5 stars | | 1 review |
| 4 stars | | 0 reviews |
| 3 stars | | 0 reviews |
| 2 stars | | 0 reviews |
| 1 star | | 0 reviews |
Want to earn $50?
Every month we select a winner among all user opinions that were submitted. That person wins a voucher of $50. The only thing you need to do to is write your very own user opinion and let us and others know what you think about this product. Click the button below to start.
---
---
Xiaomi Mi 9 SE product details
The Xiaomi Mi 9 SE is a handy alternative to the Xiaomi Mi 9. Even though it's cheaper, it shares many of the same features including the same display type, fingerprint scanner and camera. But there are some differences. Which ones and if that still makes it interesting to purchase is something we try to find out.
Large screen, compact housing
At the front of the Mi 9 SE we find a 5.97 inch AMOLED screen from Samsung. You wouldn't immediately think you were dealing with a compact device like that. However, because of the ridiculously thin screen edges, it is. The screen-to-case ratio even exceeds 90%, which makes it very high. Because of this, Xiaomi had to place a drop-shaped notch at the top of the screen for the 20 megapixel selfie camera with built-in Beautify mode. Besides a smaller screen, the Xiaomi Mi 9 SE also has a slightly less powerful processor, the still powerful Snapdragon 712, and a slightly smaller battery of 3070 mAh.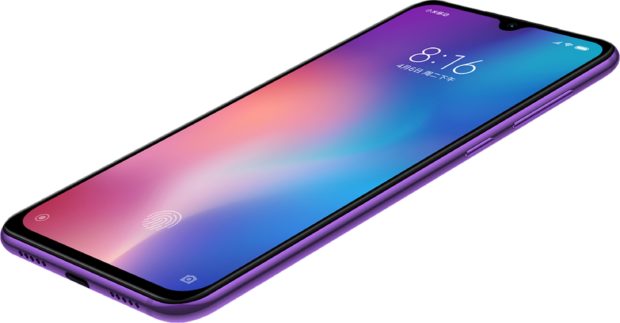 Modern triple camera
Because of its slender appearance, it looks quite modern. Xiaomi has also built in modern features including a fingerprint scanner under the screen glass. Charging is also modern and fast thanks to the included 18 Watt charger. But the most modern is the camera. It consists of three separate sensors, the most important of which is a 48 megapixel one from Sony. It shoots so many pixels that even after zooming in, there is still enough detail left. Still, it is better to use the 8 megapixel camera for zooming in. This camera is equipped with a telephoto lens that brings images up to 2x closer without loss of quality. Finally, there is a third sensor of 13 megapixels that is equipped with a 123° wide-angle lens. This allows you to capture landscapes, large buildings or the horizon. Plenty of choice for all kinds of situations.
Main Xiaomi Mi 9 SE specifications
Large bezel-less 5.97 inch Dot Drop Full Screen Display
Triple rear AI camera with zoom and wide-angle lens
20 megapixel Beautify selfie camera
Triple core processor (Snapdragon 712) at 2,3 GHz
Fingerprint scanner built into the screen
Fast mobile 4G internet
Using two nano SIM cards thanks to Dual SIM support
Models with 64 and 128 GB storage
Xiaomi is the first to use the Snapdragon 712 processor in a phone. Although it is a bit less powerful than the 855 in the more expensive Mi 9, it still stands his ground. This one is optimized for gaming. More important is that the Xiaomi Mi 9 SE is equipped with a lot of RAM memory so the processor does not have to calculate everything over and over again. If you are considering a copy, it would be a good idea to opt for the model with 128 GB of storage. The price difference with the 64 GB model is only small. What's more, you can't expand the memory yourself by inserting a memory card. So the amount of storage you buy is fixed.
---
Most important Xiaomi Mi 9 SE specifications
Dimensions
147.5 x 70.5 x 7.45 mm
Weight
155 grams
EAN code
7448111156163, 6941059622505, 6941059622499, 6941059622482, 6941059622369, 6941059622352, 6941059622345
Fingerprint recognition
Android
8.1
Color display
5.97 inch, Full HD+ Super AMOLED, notch
Camera
13 MP, 48 MP, 8 MP
Processor
2.3 GHz, Qualcomm Snapdragon 712, octa core
Secondary camera
20 MP
Dual SIM
LTE (4G)
Internal memory
6 GB (Size (RAM)), 128 GB (Storage), 64 GB (Storage)
Memory card slot
Battery
3070 mAh
Fast charging
Wireless charging
Audio jack plug
---
Alternatives of the Xiaomi Mi 9 SE
Scroll the table below to see more
| | | | | | |
| --- | --- | --- | --- | --- | --- |
| | | | | | |
| | | | | | |
| | Current product | | | | |
| Fingerprint recognition | | | | | |
| Android | 8.1 | 9.0 (Pie) | 9.0 (Pie) | 9.0 (Pie) | 9.0 (Pie) |
| Color display | 5.97 inch, Full HD+ Super AMOLED, notch | 6.1 inch, Curved Dynamic AMOLED Quad HD+, hole-punch display | 6.4 inch, Curved Dynamic AMOLED Quad HD+, hole-punch display | 6.3 inch, Dynamic AMOLED Infinity-O Display | 6.2 inch, Max Vision HD+, notch |
| Camera | 13 MP, 48 MP, 8 MP | 12 MP, 12 MP, 16 MP | 12 MP, 12 MP, 16 MP | 12 MP, 12 MP, 16 MP | 12 MP |
| Processor | 2.3 GHz, Qualcomm Snapdragon 712, octa core | 1.7 GHz, 2.4 GHz, 2.8 GHz, octa core | 1.7 GHz, 2.4 GHz, 2.8 GHz, octa core | Octa core | 1.8 GHz, Qualcomm Snapdragon 632, octa core |
| Secondary camera | 20 MP | 10 MP | 10 MP, 8 MP | 10 MP | 8 MP |
| Dual SIM | | | | | |
| LTE (4G) | | | | | |
| Internal memory | 6 GB (Size (RAM)), 128 GB (Storage), 64 GB (Storage) | 8 GB (Size (RAM)), 128 GB (Storage), 512 GB (Storage) | 12 GB (Size (RAM)), 8 GB (Size (RAM)), 1 TB (Storage), 128 GB (Storage), 512 GB (Storage) | 8 GB (Size (RAM)), 256 GB (Storage) | 4 GB (Size (RAM)), 64 GB (Storage) |
| Memory card slot | | | | | |
| Battery | 3070 mAh | 3400 mAh | 4100 mAh | 3500 mAh | 5000 mAh |
| Fast charging | | | | | |
| Wireless charging | | | | | |
| Audio jack plug | | | | | |
Complete comparison between the Xiaomi Mi 9 SE and these alternatives or compare with other models
---
Questions and answers about the Xiaomi 9 SE