---
Reviews about the Xiaomi Pocophone F1
| | | |
| --- | --- | --- |
| 5 stars | | 1 review |
| 4 stars | | 1 review |
| 3 stars | | 0 reviews |
| 2 stars | | 0 reviews |
| 1 star | | 0 reviews |
Want to earn $50?
Every month we select a winner among all user opinions that were submitted. That person wins a voucher of $50. The only thing you need to do to is write your very own user opinion and let us and others know what you think about this product. Click the button below to start.
---
---
Xiaomi Pocophone F1 in the news
---
Xiaomi Pocophone F1 product details
The Xiaomi Poco F1 (also known as the Pocophone) is Xiaomi's answer to the ever growing popularity of OnePlus. Just like the OnePlus, this powerful device has a very competitive price. What advantages Xiaomi offers compared to OnePlus and all other brands is something we will examine here.
Powerful, even under pressure
The Chinese Xiaomi is already known as a price breaker. That's why the Pocophone F1 may seem like a crazy machine. However, what Xiaomi is doing especially well is releasing affordable mid-range devices with premium housing and slick interface. This Pocophone F1 is different because it uses the very best hardware. Think of processor, memory, monitor and cameras. For example, there is a Snapdragon 845 processor inside; in 2018 the most powerful Qualcomm has to offer. Because processors can become hot, Xiaomi has used LiquidCool Technology. In this way it keeps its head cool even at high loads. No slow operation, jerky menu transitions and jammed screens. As far as we're concerned, this means the device lives up to its name and the reference to F1 is not a bluff. And in order not to have to make a pit stop in between, there's a 4000 mAh battery inside. This is considerably more than for example the OnePlus 6. If the Xiaomi Pocophone F1 has to go inside for a change, you can quickly recharge the battery thanks to the Quick Charge 3.0 support.
Main Xiaomi Pocophone F1 specifications
Large 6.18 inch Full HD+ screen with notch
Supports Dualsim (hybrid so choose between memory card and 2nd SIM card)
Choose between 64, 128 or 256GB of storage
Selfiecam of 20 megapixel large
Powerful Snapdragon 845 processor with up to 8GB of RAM RAM memory
High-speed mobile surfing on the go thanks to 4G support
12 + 5 megapixel camera with portrait mode and artificial intelligence
Spectacularly large 4000 mAh battery with fast charge function
Camera with intelligence
The most important function of a smartphone today is not that you can call with it but that it takes good pictures. On paper, the Pocophone F1 does that well. On the back there is a double camera of 12 and 5 megapixel. The 12 megapixel camera has an f/1.9 lens with dual pixel autofocus while the 5 megapixel camera has an f/2.0 lens. In practice, this means that it can still take clear and sharp photos in difficult exposure without flash. A special portrait mode makes convenient use of the dual camera and delivers professional-looking photos. Handy is that the Xiaomi Poco F1 can recognize no less than 206 different scenes and automatically select the right settings. This is all thanks to AI or artificial intelligence. The AI does the rest, so you can concentrate on getting the subject in the picture. Interestingly enough, we find most megapixels; 20. This 4-in-1 Super Pixel camera has an extra large pixel so that extra light is sucked in. As a result, your selfies rarely fall out too dark. And the AI Beautify 4.0 function that we see more often at Xiaomi makes your selfies just that little bit more attractive so you can put them on social media right away.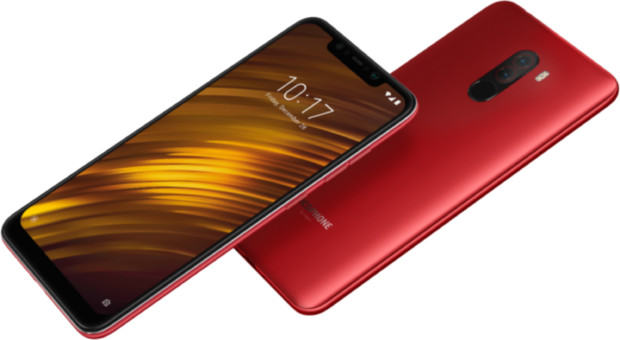 Kevlar housing, not waterproof
Now that the basics have been covered, we can talk about the currants in the porridge; the little extras that should ensure your choice for the Xiaomi Pocophone F1. There's just a regular headphone jack for your own favorite earbuds, a hybrid Dual SIM lock, face unlocking via safer infrared, at least 6GB of RAM memory and even 8GB on the 256GB model. The screen sits close to the edge with just a small bar at the bottom. At the top we find the well-known notch where Xiaomi has placed the various sensors and camera. Especially for the occasion, Xiaomi adapted its own EMUI interface to make it faster and smoother. Everything for a powerful experience. In terms of versions, we can't make it impossible not to discuss the Armored Edition. It has DuPont Kevlar on the back, this material we know from Formula 1 and is lightweight and extremely strong. The distinctive look gives Xiaomi a unique look with which it hopes to distinguish itself sufficiently. It is just a pity that Xiaomi didn't make the housing of the Pocophone F1 waterproof. Something that has become very common today.
---
Most important Xiaomi Pocophone F1 specifications
Dimensions
155.5 x 75.2 x 8.8 mm
Weight
182 grams
EAN code
6941059617655, 6941059617624, 6941059609957, 6941059609940, 6941059607878, 6941059607861, 6941059607786, 6941059607779, 4053199699827
Fingerprint recognition
Android
8.1
Color display
6.18 inch, IPS, notch
Camera
12 MP, 5 MP, dual camera sensor
Processor
2.8 GHz, Qualcomm Snapdragon 845, octa core
Secondary camera
20 MP
Dual SIM
LTE (4G)
Internal memory
6 GB (Size (RAM)), 8 GB (Size (RAM)), 128 GB (Storage), 256 GB (Storage), 64 GB (Storage)
Memory card slot
Battery
4000 mAh
Fast charging
---
Video about the Xiaomi Pocophone F1
Especially for the Pocophone F1, Xiaomi has adapted its MIUI interface for faster animations, simpler menu and plenty of personalization options.
---
Alternatives of the Xiaomi Pocophone F1
Scroll the table below to see more
| | | | | | |
| --- | --- | --- | --- | --- | --- |
| | | | | | |
| | | | | | |
| | Current product | | | | |
| Fingerprint recognition | | | | | |
| Android | 8.1 | 9.0 (Pie) | 9.0 (Pie) | | 9.0 (Pie) |
| Color display | 6.18 inch, IPS, notch | 6.1 inch, Curved Dynamic AMOLED Quad HD+, hole-punch display | 6.4 inch, Curved Dynamic AMOLED Quad HD+, hole-punch display | 6.5 inch, Infinity-O Display, hole-punch display | 6.3 inch, Dynamic AMOLED Infinity-O Display |
| Camera | 12 MP, 5 MP, dual camera sensor | 12 MP, 12 MP, 16 MP | 12 MP, 12 MP, 16 MP | 12 MP, 48 MP, 5 MP, 5 MP | 12 MP, 12 MP, 16 MP |
| Processor | 2.8 GHz, Qualcomm Snapdragon 845, octa core | 1.7 GHz, 2.4 GHz, 2.8 GHz, octa core | 1.7 GHz, 2.4 GHz, 2.8 GHz, octa core | 1.7 GHz, 2.3 GHz, Samsung Exynos 9611, octa core | Octa core |
| Secondary camera | 20 MP | 10 MP | 10 MP, 8 MP | 32 MP | 10 MP |
| Dual SIM | | | | | |
| LTE (4G) | | | | | |
| Internal memory | 6 GB (Size (RAM)), 8 GB (Size (RAM)), 128 GB (Storage), 256 GB (Storage), 64 GB (Storage) | 8 GB (Size (RAM)), 128 GB (Storage), 512 GB (Storage) | 12 GB (Size (RAM)), 8 GB (Size (RAM)), 1 TB (Storage), 128 GB (Storage), 512 GB (Storage) | 6 GB (Size (RAM)), 128 GB (Storage) | 8 GB (Size (RAM)), 256 GB (Storage) |
| Memory card slot | | | | | |
| Battery | 4000 mAh | 3400 mAh | 4100 mAh | 4000 mAh | 3500 mAh |
| Fast charging | | | | | |
Complete comparison between the Xiaomi Pocophone F1 and these alternatives or compare with other models
---
Questions and answers about the Xiaomi Pocophone F1