---
Reviews about the Xiaomi Redmi 7
| | | |
| --- | --- | --- |
| 5 stars | | 0 reviews |
| 4 stars | | 0 reviews |
| 3 stars | | 0 reviews |
| 2 stars | | 0 reviews |
| 1 star | | 0 reviews |
Want to earn $50?
Every month we select a winner among all user opinions that were submitted. That person wins a voucher of $50. The only thing you need to do to is write your very own user opinion and let us and others know what you think about this product. Click the button below to start.
---
---
Xiaomi Redmi 7 product details
The Xiaomi Redmi 7 is an affordable starter with some interesting specs. For example a large modern screen and a double camera. What other specs it has and if it justifies its price is something we will find out here.
Large screen with also large battery
The Xiaomi Redmi 7, not to be confused with the even larger Redmi Note 7 and much smaller Redmi 7A, is a rather atypical phone. For a remarkably low price tag, you already have a large screen, large battery, dual camera and a reasonable processor at your disposal. To be exact, the screen measures 6.26 inches, which is large but in line with modern phones. Due to thin screen edges and a notch for the selfie camera at the front, the housing is not even oversize. With a battery capacity of 4000 mAh, Xiaomi promises two days of use. Fast charging is supported but stays stuck at up to 10 Watt.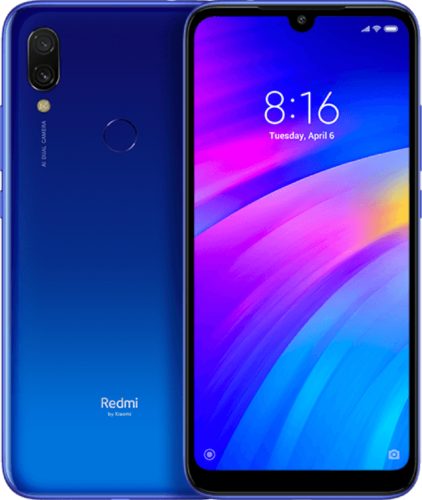 Selfie camera with palm recognition
The camera on the back of the Redmi 7 has a 12 megapixel sensor and a second 2 megapixel sensor. This second sensor is mainly used to distinguish background from foreground. This allows the Dual AI Camera to blur the background extra, which results in beautiful portrait photos. Zooming in is not possible unless you do it digitally, but it does reduce the image quality. Pixels have to be made up. The camera of the Xiaomi Redmi 7 recognizes up to 27 different scenes and automatically selects the best settings. Think of landscapes, portraits and night shots. In the foreground we find an 8 megapixel selfie camera that can recognize and improve facial characteristics. Selfies can be shot not only by pressing the shutter button but also by raising the palm of your hand.
Main Xiaomi Redmi 7 specifications
Large 6.26 inch Dot Drop Screen with Gorilla Glass 5
12 + 2-megapixel rear camera with AI scene-recognition and portrait mode
8 megapixel selfie camera with AI Beautify 4.0
Dualsim support (hybrid so choose between 2nd sim or memory card)
Capable Snapdragon 632 processor up to 1.8 GHz
Access to 4G so fast mobile internet on the go
Possibility to insert your own memory card (up to 512GB)
Good looking with a fine set of brains
That the Xiaomi Redmi 7 is mainly aimed at a young audience is evident from its housing. It is available in various colors with a subtle gradient. Not only are the edges neatly rounded, the back also has a slight bulge. Because of this he lies fine in the hand. It also looks very premium. The Redmi 7 is powered by a Snapdragon 632 processor which is a mid-range chipset from Qualcomm. For this price category this is above average because Xiaomi could also have gone for a model from the Snapdragon 4xx series. So expect reasonable performance. Do we still have something to complain about? If we had to come up with something, it's the slightly lower screen resolution of 1520 at 720. This gives a pixel density of under 300. That could be sharper but it is still more than good enough for daily use.
---
Most important Xiaomi Redmi 7 specifications
Dimensions
158.73 x 75.58 x 8.47 mm
Weight
180 grams
EAN code
8948019620142, 7433638441410, 7433638341383, 6941059623496, 6941059622642, 6941059620181, 6941059620174, 6941059620150, 6941059620143, 6941059620136, 6941059620105
Fingerprint recognition
Android
8.1
Color display
6.26 inch, IPS, notch
Camera
12 MP, 2 MP, dual camera sensor
Processor
1.8 GHz, Qualcomm Snapdragon 632, octa core
Secondary camera
8 MP
Dual SIM
LTE (4G)
Internal memory
3 GB (Size (RAM)), 32 GB (Storage), 64 GB (Storage)
Battery
4000 mAh
Fast charging
---
Alternatives of the Xiaomi Redmi 7
Scroll the table below to see more
| | | | | | |
| --- | --- | --- | --- | --- | --- |
| | | | | | |
| | | | | | |
| | Current product | | | | |
| Fingerprint recognition | | | | | |
| Android | 8.1 | 9.0 (Pie) | 9.0 (Pie) | | 9.0 (Pie) |
| Color display | 6.26 inch, IPS, notch | 6.1 inch, Curved Dynamic AMOLED Quad HD+, hole-punch display | 6.4 inch, Curved Dynamic AMOLED Quad HD+, hole-punch display | 6.5 inch, Infinity-O Display, hole-punch display | 6.3 inch, Dynamic AMOLED Infinity-O Display |
| Camera | 12 MP, 2 MP, dual camera sensor | 12 MP, 12 MP, 16 MP | 12 MP, 12 MP, 16 MP | 12 MP, 48 MP, 5 MP, 5 MP | 12 MP, 12 MP, 16 MP |
| Processor | 1.8 GHz, Qualcomm Snapdragon 632, octa core | 1.7 GHz, 2.4 GHz, 2.8 GHz, octa core | 1.7 GHz, 2.4 GHz, 2.8 GHz, octa core | 1.7 GHz, 2.3 GHz, Samsung Exynos 9611, octa core | Octa core |
| Secondary camera | 8 MP | 10 MP | 10 MP, 8 MP | 32 MP | 10 MP |
| Dual SIM | | | | | |
| LTE (4G) | | | | | |
| Internal memory | 3 GB (Size (RAM)), 32 GB (Storage), 64 GB (Storage) | 8 GB (Size (RAM)), 128 GB (Storage), 512 GB (Storage) | 12 GB (Size (RAM)), 8 GB (Size (RAM)), 1 TB (Storage), 128 GB (Storage), 512 GB (Storage) | 6 GB (Size (RAM)), 128 GB (Storage) | 8 GB (Size (RAM)), 256 GB (Storage) |
| Battery | 4000 mAh | 3400 mAh | 4100 mAh | 4000 mAh | 3500 mAh |
| Fast charging | | | | | |
Complete comparison between the Xiaomi Redmi 7 and these alternatives or compare with other models
---
Questions and answers about the Xiaomi 7