---
---
Pro and cons Redmi Note 8 Pro
Affordable gaming phone
Versatile 64 megapixel camera system
Large battery with neat battery life
Premium glass housing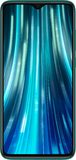 ---
Reviews about the Xiaomi Redmi Note 8 Pro
| | | |
| --- | --- | --- |
| 5 stars | | 1 review |
| 4 stars | | 0 reviews |
| 3 stars | | 0 reviews |
| 2 stars | | 0 reviews |
| 1 star | | 0 reviews |
Want to earn $50?
Every month we select a winner among all user opinions that were submitted. That person wins a voucher of $50. The only thing you need to do to is write your very own user opinion and let us and others know what you think about this product. Click the button below to start.
---
---
Xiaomi Redmi Note 8 Pro product details
The Xiaomi Redmi Note 8 Pro is an affordable phablet; a big phone for not that much money. But one with an extremely high 64 megapixel camera. If you would print a picture in full resolution you would get a 3 meters tall poster. The practical advantages of such a camera are explained here.
Impressive specs
First some boring numbers. The Redmi Note 8 Pro has a 6.53 inch screen, a Full HD+ resolution, a 64 megapixel main camera and the battery has a capacity of 4500 mAh. Loosely translated, this means that it is large. Big even. But not unnecessarily large. That's because of the thin screen edges, which means that much of the front side consists of display. The selfie camera has been given space in a notch; a tiny place at the top of the screen. All this ensures that the so-called Dot Drop Display takes up no less than 91.4% of the entire front. An impressive feat.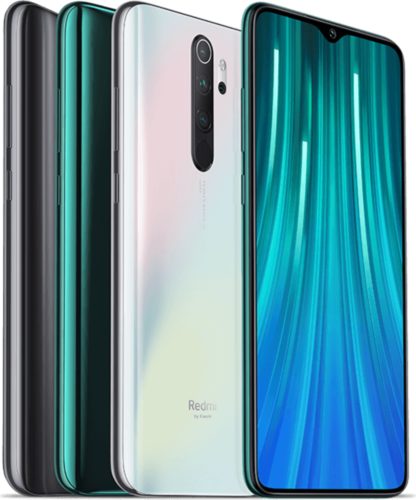 Impressive camera setup for less money
Xiaomi proves that you don't have to buy a very expensive phone to get an impressive camera setup. The main camera of the Redmi Note 8 Pro consists of a 64 megapixel sensor. This results in incredibly large photos (both physical and virtual) but they provide a lot of detail with sufficient sharpness. You can zoom in yourself without immediately becoming out of focus. It is not the only camera; we also find an 8 megapixel camera with 120° wide-angle lens for landscapes, 2 megapixel macro camera for sharp shots from 2 centimeters close by and a 2 megapixel depth camera with which you can blur backgrounds. Enough to choose to be creative.
Main Xiaomi Redmi Note 8 Pro specifications
6.53 inch large Dot Drop screen with sharp Full HD+ resolution
Place multiple SIM cards thanks to Dual SIM support
MediaTek Helio G90T processor up to 2.05 GHz and 6 GB RAM memory
64 + 8 + 2 + 2 camera system with wide-angle, macro and depth camera
Cannot be ignored
A phone is only useful as it has charge left. And you don't want to run to a wall socket every night because the battery is dead. That problem is largely solved by the 4500 mAh battery. More than enough for 2 days of normal use. But what if you want to play games? Xiaomi thinks that with a full battery you can play for up to 10 hours. The LiquidCool technology keeps the Redmi Note 8 Pro cool. Heat from the processor is efficiently dissipated so games run smoother, even when the going gets tough. To reduce costs, Xiaomi has not used a Qualcomm processor. Instead the MediaTek Helio G90T has been chosen. A mid-range chipset specially optimized for gaming. The Note 8 Pro can also handle games effortlessly thanks to its generous 6 GB of RAM memory. This whole package of benefits makes the Xiaomi Redmi Note 8 Pro a phone you simply can't ignore.
---
Most important Xiaomi Redmi Note 8 Pro specifications
Dimensions
161.35 x 76.4 x 8.79 mm
Weight
199.8 grams
EAN code
6941059634645, 6941059634638, 6941059634621, 6941059633921, 6941059633686, 6941059633655, 6941059629726, 6941059629665, 6941059629658, 6941059629641
Fingerprint recognition
Android
10
Color display
6.53 inch, Dot Drop Full Screen Display, notch
Camera
2.0 MP, 2.0 MP, 64.0 MP, 8.0 MP
Dirt and waterproof housing
Processor
2.0 GHz, 2.05 GHz, MediaTek helio G90T, octa core
Secondary camera
20.0 MP
Dual SIM
LTE (4G)
Internal memory
6 GB (Size (RAM)), 128 GB (Storage), 64 GB (Storage)
Memory card slot
Battery
4500 mAh
Fast charging
---
Alternatives of the Xiaomi Redmi Note 8 Pro
Scroll the table below to see more
| | | | | | |
| --- | --- | --- | --- | --- | --- |
| | | | | | |
| Photos relative in size | | | | | |
| | Current product | | | | |
| Fingerprint recognition | | | | | |
| Android | 10 | 9.0 (Pie) | 9.0 (Pie) | 9.0 (Pie) | |
| Color display | 6.53 inch, Dot Drop Full Screen Display, notch | 6.4 inch, Curved Dynamic AMOLED Quad HD+, hole-punch display | 6.8 inch, Dynamic AMOLED Infinity-O Display | 6.3 inch, Dynamic AMOLED Infinity-O Display | 6.67 inch, Fluid AMOLED |
| Camera | 2.0 MP, 2.0 MP, 64.0 MP, 8.0 MP | 12.0 MP, 12.0 MP, 16.0 MP | 12 MP, 12 MP, 16.0 MP, VGA camera | 12 MP, 12 MP, 16.0 MP | 16.0 MP, 48.0 MP, 8.0 MP |
| Dirt and waterproof housing | | | | | |
| Processor | 2.0 GHz, 2.05 GHz, MediaTek helio G90T, octa core | 1.7 GHz, 2.4 GHz, 2.8 GHz, octa core | Octa core | Octa core | 2.84 GHz, Qualcomm Snapdragon 855, octa core |
| Secondary camera | 20.0 MP | 10.0 MP, 8.0 MP | 10.0 MP | 10.0 MP | 16.0 MP |
| Dual SIM | | | | | |
| LTE (4G) | | | | | |
| Internal memory | 6 GB (Size (RAM)), 128 GB (Storage), 64 GB (Storage) | 12 GB (Size (RAM)), 8 GB (Size (RAM)), 1 TB (Storage), 128 GB (Storage), 512 GB (Storage) | 12 GB (Size (RAM)), 256 GB (Storage), 512 GB (Storage) | 8 GB (Size (RAM)), 256 GB (Storage) | 12 GB (Size (RAM)), 6 GB (Size (RAM)), 8 GB (Size (RAM)), 128 GB (Storage), 256 GB (Storage) |
| Memory card slot | | | | | |
| Battery | 4500 mAh | 4100 mAh | 4300 mAh | 3500 mAh | 4000 mAh |
| Fast charging | | | | | |
Complete comparison between the Xiaomi Redmi Note 8 Pro and these alternatives or compare with other models
---
Questions and answers about the Xiaomi Note 8 Pro