This realme 9 5G is, not entirely surprisingly, the 5G version of the realme 9. It is the only one in the 9 series to feature a blazing fast 120Hz Ultra Smooth Display. Something that even the 9 Pro+ doesn't have. But there's more to tell about the realme 9 5G and we'll do exactly that here
Ultra Smooth Display: extra smooth screen
Despite the fact that there is also a realme 9 4G, this realme 9 5G is still the leader of realme's 9 series. It features an extra smooth screen thanks to the high 120Hz screen refresh rate. This earns it the title Ultra Smooth Display. Animations like scrolling through a list looks faster because of this than with a traditional 60Hz screen. It also feels instinctively faster because of it. Also quick is the fingerprint scanner. You'll find it on the side and therefore not in the screen. This one gives you quick and secure access.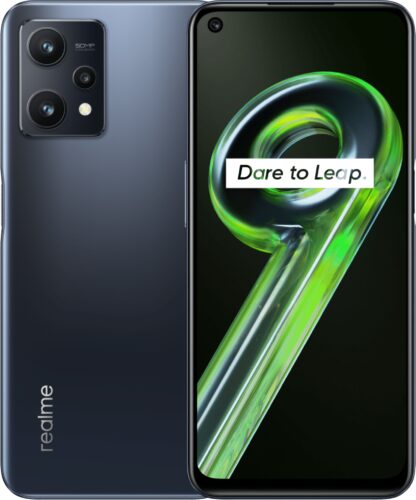 Dynamic RAM Expansion technology
Realme promises even more speed thanks to its Qualcomm Snapdragon 695 processor. That's a mid-range 5G processor. It is not intended for gaming. We also find the amount of memory somewhat meager: only 4GB. Although Realme can increase this to 7GB by using 3GB of storage memory if necessary. You must have the 128GB version because this is not possible with the 64GB version
Most important realme 9 5G specifications
6.6-inch large Ultra Smooth Display with fast 120Hz playback and sharp FHD+ resolution
AI Triple Camera: 50+2+2MP with black and white portrait lens and macro mode
16MP selfie camera with filters
Snapdragon 695 processor with 5G support
Range 5000mAh battery with 18W fast charging
4+64GB or 4+128GB of RAM+storage space (memory expandable)
Dual SIM: accommodates 2 nano SIM cards
Usable camera trio
On the back of the 9 5G we find a 50MP main camera with fine f/1.8 lens, a 2MP portrait lens that can only see in black and white and a 2MP macro lens. The latter allows you to take close-up shots from 4 centimeters. The selfie camera features a 16MP large sensor and with a bright f/2.05 lens for well-exposed self-portraits, even at dusk. The battery of this device is a generous 5000mAh in size and can be quickly charged at 18W. Considering the fast-charging technologies that realme all has in house, that's a bit sparse. The realme 9i, for example, can be charged quickly with 33W.