The realme GT neo 3 150W is a version of the neo3 with lightning fast 150W fast charging. This is fast enough to charge the battery by half in just 5 minutes. But that's not the only thing in which this GT neo 3 150W excels.
Faster charging for an extra cost
Charging even faster is pretty much the only difference between this GT Neo 3 150W and the Neo 3 80W. If you then look at the price difference, it is quite substantial, so you will have to make the tradeoff as to whether it is worth it to you. Incidentally, the UltraDart Charge method at 150 Watts is unique in its kind. This neo 3 150W is the first to be equipped with it. A half-full battery in just 5 minutes is, at the time of writing, the fastest a phone can go and ensures that you are never tied to the wall socket for hours. Do note that the battery of this neo3 is slightly smaller than the 80W version of the neo3. The neo3 150W may be faster to charge, but you can last longer with the other one.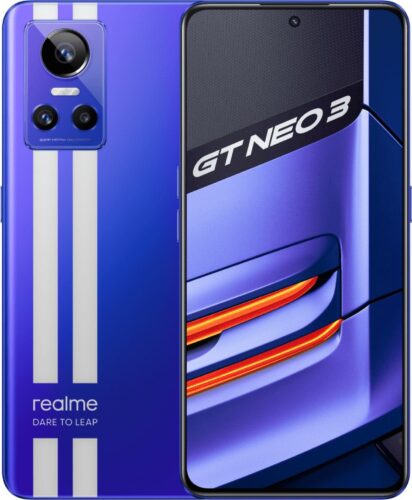 Powerful performance, fast playback
But this GT neo 3 150W is also a speed monster in other areas. For example, inside, it uses a MediaTek Dimensity 8100 processor with 5G support and speeds up to 2.85 GHz. This delivers performance that belongs to a flagship. Gaming is hassle-free, especially if you turn on the GT Mode 3.0 mode. This prioritizes your game so you can enjoy your favorite game without frame drops. The screen is also fast, with a refresh rate of 120Hz. To continuously achieve these speeds, realme has applied a separate processor that only has to occupy itself with the screen. This Dedicated Display Processor thus ensures continuous smooth images, especially during gaming.
Main realme GT neo 3 150W Specifications
Large 6,7" Reality Display with smooth 120Hz display
Extremely fast charging with 150W UltraDart Charge (50% in 5 minutes)
50+8+2MP camera system including 119° wide angle and macro lens
16MP selfie camera sits in center of screen
Dual SIM and 5G support (on both SIM cards)
Powerful MediaTek Dimensity 8100 processor with 12GB of RAM memory
Non-expandable 256GB of storage (UFS 3.1)
Camera combination too quickly chosen?
The racing colors on the back already reveal that this is a fast device. We also see the triple camera back there. As the main camera, realme has chosen the Sony IMX766 sensor. It is a proven 50MP sensor that captures a lot of light and converts it into sharp and detailed images. Underneath is an 8MP wide-angle camera with 119-degree lens and a macro camera for close-ups from 4 centimeters up close. Loyal readers know by now that we're not fans of those little 2MP macro cameras; they're mainly meant as padding and in practice hardly shoot a usable picture. Fortunately, the main camera makes up for a lot.