LG hardly plays a significant role in the telecom market these days. Nevertheless, we are always looking forward to new models, because every now and then the South Koreans knows how to surprise us in a positive way. Moreover, LG often tackles things in a slightly different way than the rest. Equipping a flagship with a headphone port, for example.
That we can now report some specifications of the LG V60 ThinQ we owe to Evan Blass. He published some stills from a promo video of the alleged V60 ThinQ. It highlights a few plus points.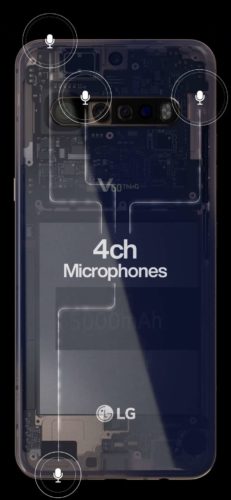 These are four microphones for multidirectional sound, a large 5000 mAh battery and a headphone port. With this, LG is clearly committed to high-quality audio qualities. We also see four cameras on the back. Bad news for those who like transparent phones; that color option will not be available soon. The pictures shown here are for illustrative purposes only.
V60 ThinQ announcement
LG has yet to officially announce the V60 ThinQ. Earlier it was thought that the launch would take place in September 2019 around the IFA. That date came and went but a V60 ThinQ launch failed. LG already announced that there will be another 2nd screen cover. It is still uncertain whether LG has plans to bring the V60 to the Netherlands. The V50 ThinQ never came out of this.