Lenovo prepares a new Motorola flagship series called Edge. This will consist of at least this Edge as the Edge+. Images and specs of that first one can now be shown to you.
Motorola was once a brand that competed effortlessly with the big boys. In recent years, however, a high-end flagship with Motorola is hard to find. It is mainly mid-range and premium models but the real flagships are missing. However, that will soon change. The company is quietly preparing a new generation of premium flagships under the name "Edge".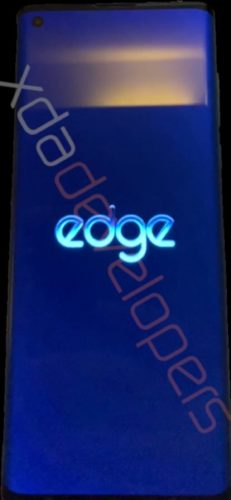 That name has not been chosen by chance, as can be seen from these published photographs. Just like Samsung's early Edge models, the screen is rounded at the sides. The screen seems to be relatively narrow (or elongated) with a modest Full HD+ resolution, but with a high 90Hz refresh rate. The screen of this Motorola Edge measures an impressive 6.67 inches, but with an expected 21:9 screen ratio this does not necessarily mean that it is oversized.
Triple Camera setup
There would be three cameras on the back with a 64, 16 and 8 megapixel. These sensors are used for the main camera, the ultra-wide-angle camera and the telephoto camera respectively. At the front there would be a 25 megapixel self-shooter behind a screen hole. Flagship or not, the Motorola Edge just has a 3.5mm audio input. That port has been abandoned by many manufacturers in recent years.
High-end or not, the Motorola Edge uses a mid-range processor. Lenovo would have opted for the Snapdragon 765; on paper a neat SoC but in practice it can't compete with the heavyweights of the Snapdragon 8xx series. Combined with 6 GB of working memory and a 4500 mAh battery, this should be sufficient for the vast majority of people to use as a daily phone.
(via)