With the announcement of the Mix Fold, Xiaomi has officially entered the foldable market. The phone can be opened like a book, revealing a spacious 8-inch screen. The design may look familiar, but that does not apply to the camera with its liquid lens.
Flipped open, the Xiaomi Mix Fold is an 8.01-inch smartphone. Xiaomi does not apply a camera on the inside, so there is plenty of room for the screen. When folded, the device still features a large 6.52 inch screen. Foldables usually have a complex hinge system, leaving little room for a battery. Despite that, Xiaomi still managed to equip the Mix Fold with a 5020mAh battery.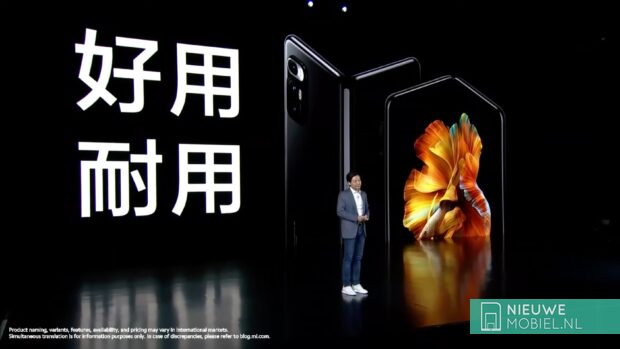 On the back, the Mi Mix Fold features three different cameras; a 108MP main camera, an 8MP telephoto/macro and an 8MP ultra-wide-angle camera. What makes the telephoto camera special is its lens. It is the first phone to be equiped with a Liquid Lens. This makes it capable of both zooming in and taking macro shots at very close range. Inside, we also find a Snapdragon 888 processor and a self-developed C1 chip that can take over some tasks of the processor, especially some camera functions.
Xiaomi Mix Fold in stores
Xiaomi is releasing the Mix Fold for a price of 9999 Chinese Yuan, which converts to 1295 euros. This entry-level model comes with 12GB of RAM memory and 256GB of storage. There will also be a more expensive Ceramic variant with a special kevlar finish. This one features 16GB of RAM memory and 512GB of storage. The amount is also after; 12999 Chinese Yuan. It is still unclear when the Xiaomi Mix Fold will be in stores.