Xiaomi has announced the photography- and video-focused Mi 11 Ultra. It is the first smartphone to feature Samsung's new GN2 camera sensor. This not only gives it some interesting specs but also a top score on DXOMARK.
That the Xiaomi Mi 11 Ultra focuses on photography is not only evident from its specifications, it also becomes apparent by just looking at it. The camera module is almost as wide as the device itself. On it sits a 50MP main camera. The Mi 11 Ultra has the honor of being the first smartphone to use the Samsung GN2. This sensor is so big that it can take a pictures with just 0.02 lux. For comparison; 1 lux equals the light of just 1 candle.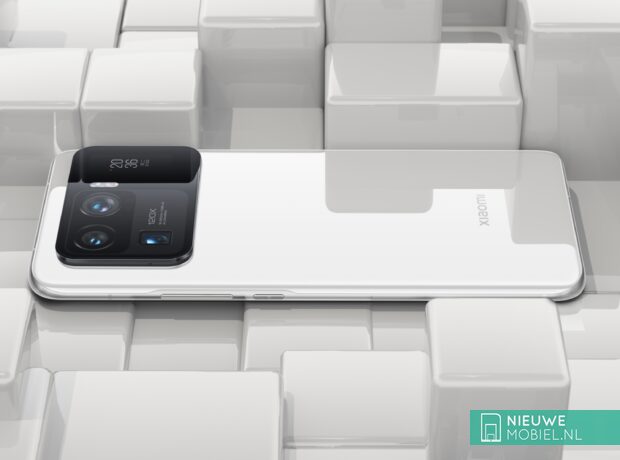 But there's more room than just a 50MP main camera. We also find a 48MP telephoto camera with periscope lens that allows you to zoom 5x optically. There is a 2nd 48MP camera present but with ultra wide-angle lens. This allows you to capture images with an angle of 128°. The Mi 11 Ultra focuses with a separate ToF sensor (Time-of-Flight) that, thanks to laser, can accurately focus on 64 separate areas. Focusing is therefore fast and can also be adjusted after the photo has been taken.
DXOMARK top score
All these camera features give the Xiaomi Mi 11 Ultra a high score by the testers of DXOMARK. This company tests cameras and compares them with each other. The Mi 11 Ultra immediately takes the top spot with a score of 143. The previous top scorer, the Mate 40 Pro+, scored 'just' 139.
Selfie mirror
Besides an excellent camera, the Xiaomi Mi 11 Ultra features a 6.81-inch Super AMOLED display with high WQHD+ resolution and fast 120Hz refresh rate. The screen is slightly curved on all four edges, something you have like or not but which gives it a premium look. The screen is protected by the new Gorilla Glass Victus which offers better drop protection.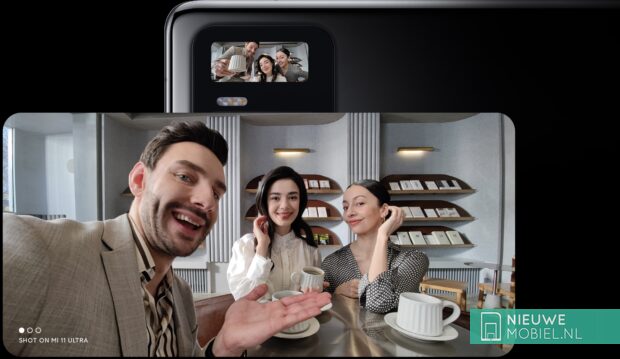 It's not the only screen on the Mi 11 Ultra. There is also a small screen on the back near the camera. This 1.1 inch screen can keeps you informed of the time or with notifications, but also helps you take better selfies using the main camera. A kind of selfie-mirror.
Price Xiaomi Mi 11 Ultra
The Xiaomi Mi 11 Ultra is powered by the latest and most powerful Qualcomm processor; the Snapdragon 888. The 12GB of RAM memory is among the largest in the market and the non-expandable storage memory is 256GB in size. The battery has a capacity of 5000 mAh and can be charged wired and wirelessly up to 67 Watts. Xiaomi will release the device with Android 11 with MIUI 12 on top. The recommended retail price is €1199. It is not yet known when exactly the device will be for sale.