We now know that the OnePlus 8 and 8 Pro will be announced on April 14th. Thanks to a new leak we also know in which colors the OnePlus 8 Pro will launch. Prepare for some striking colors.
The OnePlus 8 and OnePlus 8 Pro will be unveiled on April 14th at 17:00 Dutch CET via live stream. Entirely in style of OnePlus they have even announced some specs. For example 5G support and a fluid 120 Hz screen. Now thanks to Roland Quandt from WinFuture we also know what the OnePlus 8 Pro will look like and what colors it will come in.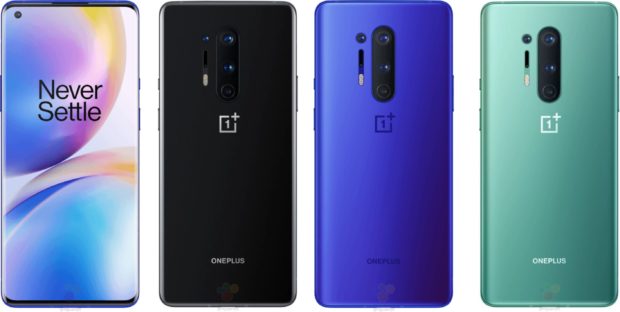 In addition to the boring and usual black version, we also get an Ultra Marine Blue and Glacial Green version. Blue and green are not very unusual as colors, but the color tones OnePlus chooses are. Aside from the new colors we mainly see evolutionary improvements. For example, the screen bezels have become thinner and a camera sensor has been added. The smoother screen with a refresh rate of 120 Hz was announced earlier. Also the presence of 5G support is no longer a surprise; OnePlus already announced that.
Bullets Wireless Z
The device itself together with the OnePlus 8 will be announced on April 14th at 17:00 CET and can be viewed by everyone via the web. Next to this device also wireless Bullets Wireless Z earplugs are expected. These earplugs are wired but connect wirelessly to your phone. So they are not true wireless earbuds.