Huawei has announced the P40 series consisting of the P40 with Triple, P40 Pro with Quad and P40 Pro+ with Penta camera. All three units will have a larger 1/1.28 inch camera sensor. This is larger than any competitor, making it more light sensitive. Ideal for taking pictures in the evening.
Huawei has always focused on photography, but lately it's been lagging behind. With the P40 series, it is matching and sometimes even surpassing the competition. The series consists of the P40, P40 Pro and the P40 Pro+. As expected you will find the most advanced camera features at the latter.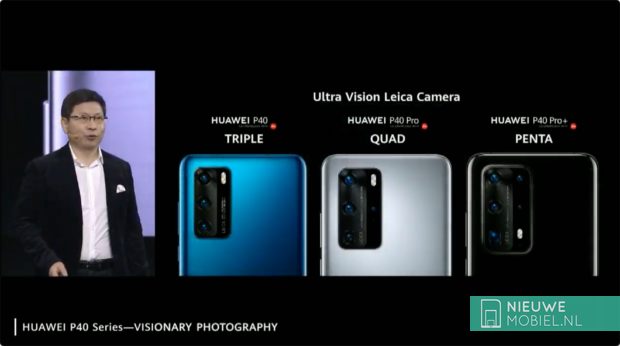 The Huawei P40 is equipped with a triple camera consisting of 16MP wide angle, 50MP ultra wide angle and 8MP telephoto with 3x optical zoom. The camera system of the P40 Pro consists of a 40MP wide angle, 50MP ultra wide angle, 12MP telephoto with 5x optical zoom and a ToF depth camera. The P40 Pro+ surpasses everyone with a Penta camera consisting of a 40MP wide-angle, 50MP ultra-wide-angle, 8MP telephoto with 3x mid-range optical zoom, secondary 8MP telephoto with long-range 10x optical zoom and a ToF depth camera. The P40 Pro+ also features an 8-channel color temperature sensor for capturing colors up to 45% more accurate.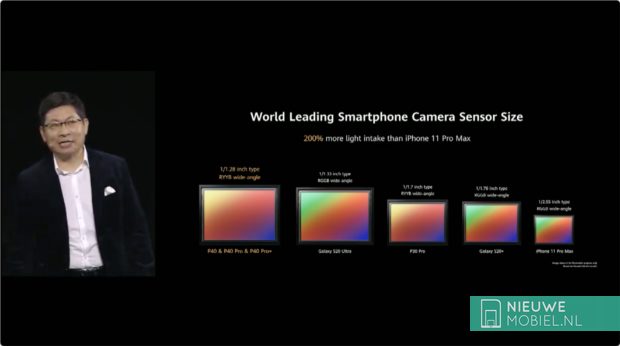 1/1.28 inch large RYYB sensor
The RYYB sensor used by Huawei has a size of 1/1.28 inch which is larger than the 1/1.33 inch of the previous champion; the Samsung Galaxy S20 Ultra. A larger sensor means better light absorption. Huawei has also invested in better software. Google and Apple have been investing for years in Computational Photography where multiple images are combined into one super image. Huawei copies this idea and calls it XD Fusion Engine. It doesn't stop there, the P40-series also has Golden Snap, Remove Passersby and Remove Reflection. The first one chooses the best moment to take a picture, the second removes bystanders from a portrait image and with the latter you can remove your own reflection for example when you shoot something through glass.
Everywhere no Google services
The P40 series gets an enhanced 32MP selfie camera accompanied by an infrared depth camera. This combination allows you to take enhanced portraits with blurry backgrounds. Also you can shoot selfie videos up to 4K resolution. Huawei also promises wireless charging of up to 40 Watts, a personal assistant named Celia and the updated EMUI version 10.1. What is missing are Google apps and services. Huawei thinks it can offer sufficient alternatives with its own AppGallery.